When Z was a baby he had awful eczema. There were patches all over his tummy, which got infected. Eventually we worked out that he is sensitive to citrus fruits which aggravate his skin. These days he still has red patches behind his knees, and often complains about them itching. Baby H also has lots of dry patches on her skin.
E45 sent me some products from their junior range to try on Z and baby H. Z was immediately drawn to the child friendly packaging, especially the two layers in the bath milk.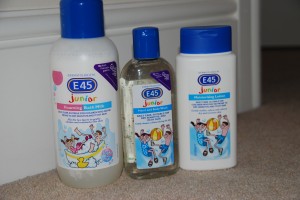 The foaming bath milk is fantastic. It bubbled up nicely which we don't get with other dry skin bath products and left the children's skin feeling lovely and soft. The foaming bath milk is:
Soap Free
Hypoallergenic
Colour Free
Dermatologically tested
Perfume Free
Non Greasy
The hand and body wash was great for Z as he likes to have a shower. He loved the brightly coloured beads which contain a rich mineral oil to clean the skin. It also left his skin lovely and soft without drying it out.
The moisturising lotion is also fantastic, and can be used as often as you need without feeling greasy. I keep it in my bag and apply whenever the children need some extra moisture.
I have noticed an improvement especially in Baby H since using these products, her dry patches on her feet have almost disappeared.
We loved all these products from E45 and would definitely buy them again.
E45 sent me one each of the above products to try. All words and opinions are my own.