Today I bring you another advertorial guest post from the fantastic Verbaudet.
Baby Clothes Basics
When selecting baby clothes, there are a few things that should be kept in mind. Knowing what to look for and what to expect from the clothing you buy can save a load of frustration down the line, both for you and for baby.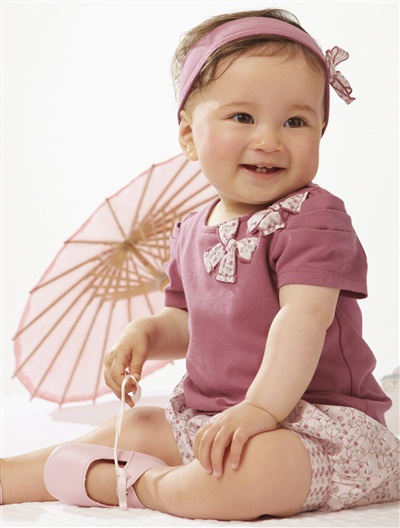 Image courtesy of Vertbaudet
What are the best fabrics to select?
Both baby clothes and generic, outfits come in a wide variety of fabrics and combinations. The most often used is cotton, which is both gentle on baby's skin and absorbent. Full cotton clothing tends to shrink on first wash by as much as 10 percent, so when selecting cotton, always go for a slightly larger size.
Cotton and polyester blends provide a fabric that dries quickly and resists wrinkles. Cotton/poly blends also tend to be less expensive than 100% cotton. Shrinking is usually not a factor with this blend of fabric.
Cotton and spandex blends provide the ultimate in comfort, stretching and moving with baby. Look for this when selecting baby's tights and/or leg warmers.
Fleece is a common fabric found in baby outerwear. Available in a range of weights, fleece is perfect for layering to ensure baby is always at a comfortable temperature. It dries quickly, is resistant to staining, easy to care for and a perfect vegan alternative to wool.
Other fabrics used include cashmere, linen, and hand-knits. While they all create beautiful clothing, they are not recommended unless it is for a one-off occasion. Clothing made from these fabrics is expensive, hard to care for and baby will grow out of them too fast to justify the expense.
How do I determine what size to buy?
Baby clothes come in standard sizes; however, just as with adult clothing, different brands have different ideas as to what constitutes a size. Babies also come in different sizes and grow at different rates; some never fit a 0 – 3 months range, while others tend to wear sizes marked younger than their months. To make things easier, when selecting the right size for baby, factor in how much he/she weighs and how long she/he is. Most major brands include a weight and length guide with their clothing to help guide you.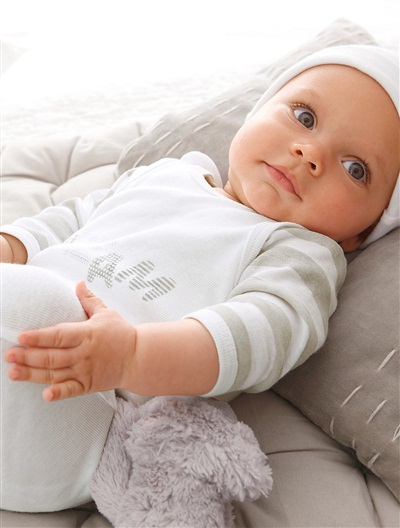 Image courtesy of Vertbaudet
What should I be looking for when buying baby clothes?
Baby clothing tends to get washed a lot, so the first line of business is to look for quality clothes that can withstand use and abuse. Especially in daily wear, look for items with shoulder snaps and wide head openings. Infants have wobbly necks, so you will want items that reduce the amount of head movement necessary to get them off and on. Because baby cannot tell you what is making them uncomfortable, also be sure to check for things like room at wrists and ankles; clothes fitting too tightly in these areas can make for a highly-frustrated baby. Also consider buying footed items; while baby may not be able to remove their own socks and shoes (yet), they still seem to have a knack for losing them.
Vertbaudet offers a range of baby clothes, children's clothes, maternity wear and home collections for you and your little one's and with their Mid Season Sale is now on, there's various items reduced by up to 50% off. Visit Vertbaudet now at www.vertbaudet.co.uk
This is an advertorial post.