I'm not the most fashionable person, in fact recently the thought of a holiday wardrobe has almost literally been making me lose sleep, so I'm very excited to be sharing these fab tips in this great guest post today. 
There's no doubt about it. When you become a mum, the space you have in your holiday suitcase for your own outfits suddenly diminishes. Whereas once, you may have spent weeks carefully selecting what you were going to wear each day and packing matching shoes and accessories, now you're probably lucky if you can squeeze in the odd kaftan among cuddly toys, colouring pads and electronic gizmos.
That's when the capsule wardrobe really comes into its own. After all, if everything goes with everything else, even if you can only fit in a handful of your own items, you should still have plenty to wear. Here are some of the best essentials to give you inspiration for your family holiday capsule wardrobe.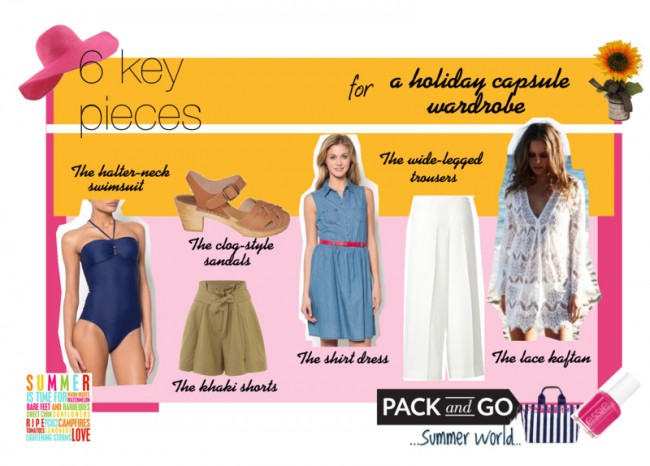 Khaki shorts
It's not hard to see why a pair of khaki shorts is a suitcase staple. They go with just about everything. You could team with your swimsuit or tuck a white shirt into them for seeing the sights, or you could opt for a silky camisole top and high heels for a dinner date, if you manage to get a babysitter that is. The vintage pair from Covetique offer a slightly different take on the trend, with wide legs and a flattering cinched in paperbag waist.
The halter-neck swimsuit
While the cast of Towie may totter around in swimsuits with more cut outs than there are fabric, this one-piece from La Redoute is much more versatile – and it won't give you strange tan lines. Unlike a bikini, you'll feel comfortable in it if you're going to a sports centre swimming pool rather than simply lounging by the beach. And, with the on-trend star detailing on the bust, you could wear it underneath trousers or a skirt as a halter-neck top.
The clog-style sandals
While flat sandals may be predominately for day and high heels for night, the low-heeled clog manages to encompass both. This wooden Betty clog by celebrity favourite Moheda has a 2.5-inch heel, so it's comfortable enough if you're walking to the beach, the shops or the must-visit attraction. They would look gorgeous teamed with the denim shirtdress. They come in just about every colour of the rainbow but the tan or white versions are perfect with suntan.
The wide-legged trousers
A pair of wide-legged pants are an absolute essential on holiday and this white pair from Parisian label Vionnet, which is famous for its flattering draped fabrics, simply exude Riveria-style chic. Unlike skinny jeans, they'll keep you cool and you can wear for daytime with your kaftan or for evening with metallic heels and a matching clutch.
 The shirt dress
A shirt dress is the perfect holiday option because you can button up over your swimwear when you're heading away from the beach for lunch, you can wear open over trousers or shorts and a swimming costume for a bit of sightseeing, or you can team with heels and a clutch for evening. This belted denim one is super cute and you could use the belt that comes with for your trousers or shorts too.
The lace kaftan
This kaftan from beachwear designer Melissa Odabash is fairly pricey, but it's also absolutely beautiful and could well be the most hardworking item in your holiday wardrobe. You could wear with just about everything – over your swimsuit, or with your white trousers for a bang-on-trend all-white look, or you could team with a slip and wear as a dress accessorised with those tan clogs and chunky jewellery.
It just goes to show with a bit of thought, your holiday wardrobe doesn't have to suffer because of lack of space. It can be small, yet perfectly formed.
Thanks for the tops tips, what do you keep in your capsule wardrobe?