Today I bring you a guest post all about furnishing your nursery safely.
Nursery Furniture – Furnishing the Nursery Safely
I took a long time buying the furniture for my baby's nursery.  This is because I believe that for any parent, one of the chief considerations when purchasing nursery furniture should be the safety factor.  If your child is in any danger of getting hurt because of the furnishing in question, the furnishing should never see your child's nursery.  Lucky for new parents there are several options that are safe for the nursery of any baby.  The following are the best of what I've found.
I think it goes without saying that any furnishings you put in your child's nursery should be furnishings that are actually made for children.  There are several companies that offer products in this area, such as the UK Company Vertbaudet.  I used several of their furnishings with my child's nursery, as they have an emphasis on safety.  One item that's indicative of this is the fabric storage chest.  I used a couple of these to keep the toys in the nursery all in one place.  Believe me that comes in handy when everyone who comes by comes bearing toys.  Of course, keeping the toys off the floor is safer for everyone, but the fact that these storage chests are fabric means they aren't heavy, and don't have sharp corners that your child can get hurt from.
Another item from Vertbaudet that I found really helpful on the safety front is the four compartment storage shelves.  The reason why these are safe is because they're so low to the ground.  This virtually eliminates the possibility of something falling on your child from a height.  My baby likes to grab at things randomly, and this isn't a problem when his toys are at head level for him.  These shelves are available in a selection of colours, including white medium solid, grey medium solid, green medium solid, and pink medium solid.  There are also two shelve models available.  I personally got a small combination of two and four shelf storage shelves, since it suited our nursery best for how many toys we had.
For those things that must be kept out of the sight of the baby, there is also a 2-door unit available from Vertbaudet.  The company recommends that this unit be bolted to the wall, and that's exactly what I did.  Once I made sure it was bolted on properly, the thing didn't move.  I also found out that the lacquer job is non-toxic, so this unit is doubly safe.  I think the graphic on this unit is kind of neat, too.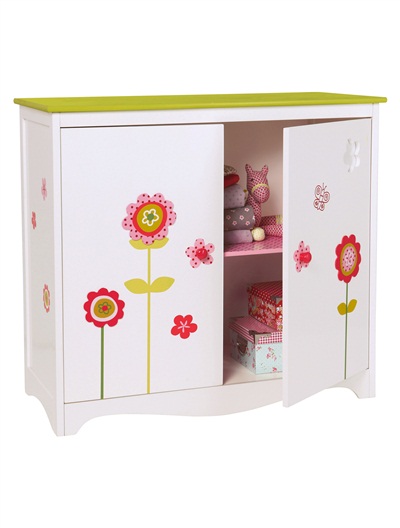 Image courtesy of Vertbaudet
I used the Storage cube for storage on a smaller scale.  I actually stacked a few of these up, since a stack can fit in a variety of spaces due to how small their dimensions are.  I personally chose the unpainted version, but there's also a version of the Storage cube with non-toxic lacquer on it.  I guess the furnishing of the rest of the nursery sort of dictates which one you choose.  I think the coolest thing about this item is the fact that the front of the unit is removable.  I put a picture in one of them, and hung it on a wall.  There were notches on the back for that.  There are also feet that can be bought separately, but I personally didn't really need that.  Like the 2-door unit, the Storage cube should be attached to the wall in some way, for the sake of safety.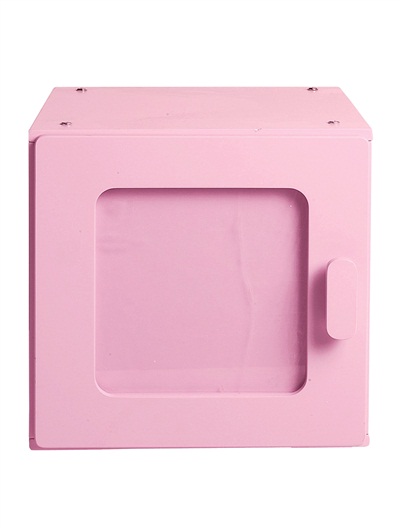 Image courtesy of Vertbaudet
The necessity for safety can never be overstated when it comes to nursery furniture.  Once I had my first baby, I realised how mischievous they really can be.  Armed with my advice, you can now seek out the safest nursery furnishings around, so that your baby is never in danger.
Vertbaudet offers a range of baby clothes, children's clothes and home collections for your little ones and with their Final Clearance sale now on, there's hundreds of items reduced by up to 70% off. Visit Vertbaudet now at www.vertbaudet.co.uk
This is an advertorial post