Our amazing holiday with James Villas in April seems like a a very long time ago already, and I can't quite believe that Summer is almost over but as we head into the latter half of the year dreaming about next years holiday I find myself looking at food and recipes for inspiration. Luckily my social media feed is full of yummy looking recipes thanks to a new campaign from James Villas.
#MyHolidayDish is a series of videos featuring chef Jo Pratt showing you how to create holiday dishes at home, keeping that holiday feeling long after you return.
After such an early holiday this year our Summer has felt quite long, but I have loved following everyone else's holiday photos and updates, especially the food and recipes from Helen at The Crazy Kitchen all the way from her James Villa in the Costa Blanca.
I'm not a huge fan of Mussels myself, but my husband would love this Pasta Con Le Cozze from Puglia, which is top of my list for next years holiday destination. I haven't been to Italy since our pre-children week in Rome and Venice many years ago, but would love to visit Lake Como in Summer or the Dolomites for skiing in Winter.
We've had a couple of great holidays in Greece before and I love the fresh Mediterranean ingredients and flavours in this Whole Baked Snapper from Rhodes, it looks so fresh and healthy, a perfect Summer dish.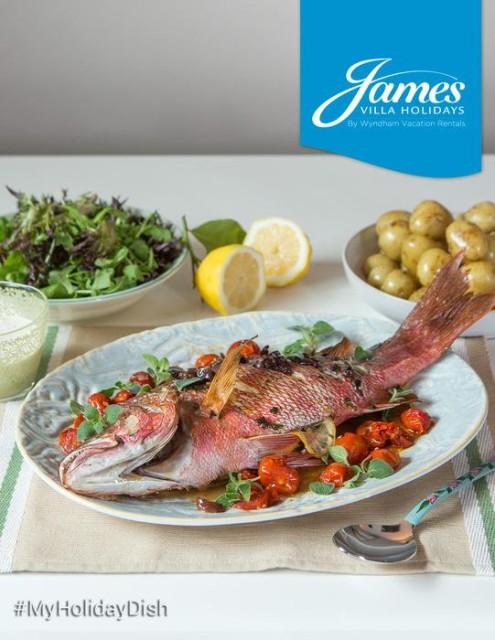 What food reminds  you of your Summer holiday?  I loved all the fruit and salad we ate in Florida. The supermarkets had such a great selection to choose from and it all seemed so much more brightly coloured than what we have here. The steak and burgers were pretty good too of course, and pancakes and french toast. I know what's going to be on my shopping list this weekend.
Don't forget to share your holiday recipes with James Villas on Twitter using #MyHolidayDish and our tag @JamesVillasUK