I've got a lovely guest post today all about modernising classic Thanksgiving traditions. What are your Thanksgiving traditions?
How to Modernize the Classic Thanksgiving Traditions
If your holiday traditions could use some sprucing, here are the perfect ideas to make Thanksgiving more fun for all of your family and friends. I'll show you just how easy it is to bask in the warmth of this holiday of gratitude and breathe some life back into your late November festivities. You can start by letting people know you are thinking of them with Thanksgiving ecards at Hallmark, and if you then add some different feasting options, new games, and different ways to remember the reason for the season, you can make this a celebration to remember.
Beyond Turkey
So turkey is the mainstay of Thanksgiving feasts, but are you truly a fan of this notoriously dry meat? If the answer is no, then switch things up this year and try some different meats to please all the hungry folks gathered around your dining table. Whether it's chicken, ham, or ground beef, make what you like and what you think your guests would enjoy. You can still add a small turkey on the side for traditionalists, but make your other choice the main offering and form your own tradition.
If you are a turkey fan, try a different spin on the Thanksgiving bird. Make mini turkey burger sliders that the family can chow down on, and add some Thanksgiving feast staples like cranberry sauce and gravy that they can pile onto the bun for a handheld taste of this holiday. Try a different glaze on this year's bird, or really go for a new taste with a beer-fried turkey that will blow your guests' taste buds away.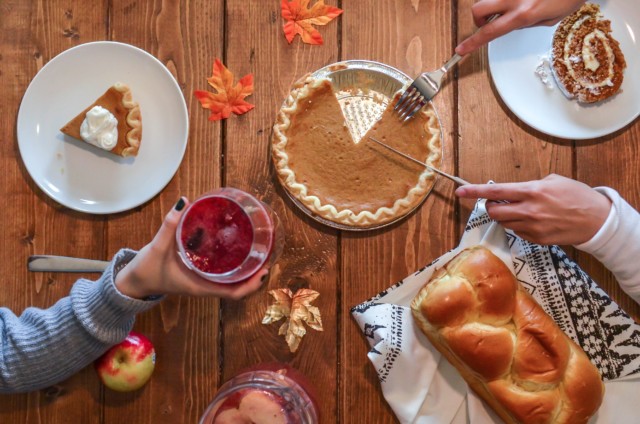 The Dessert Table
It's rare you see a Thanksgiving spread without the dessert classic known as pumpkin pie. Instead of doing one pie this year, try individual sized pies that will make eating them easier on your guests, and makes portions a lot more doable. If you'd love to still incorporate the taste of pumpkin pie but try a different offering, then think about doing a pumpkin pie flavored milkshake, or try out a delicious pumpkin pie creamy dip that guests can put onto cookies or dessert vehicle of choice.
Keep the Drinks Flowing
Don't spend all your time refilling drinks, and make a beautiful bar where guests can easily serve themselves. It will be great for mingling, and you can find all the modern bar accessories you could need at a website like www.touchofmodern.com. From beer chillers that keep bottles icy cold to cool cocktail glasses, this tradition will be one your guests talk about for years to come.
The Reason for the Season
Switch it up this year. Too often we're self-involved, overly concerned with our own lives and problems that we forget about all of the blessings we have. Since Thanksgiving is all about gratitude for what we have, what better way to be thankful than to gain some perspective? Spread good cheer and spend a day working at a soup kitchen this Thanksgiving. Take the kids with you and teach them a lesson in caring for others. If you'll be traveling this holiday, be sure to drop off some Thanksgiving staples at a local food bank or church drive to ensure they go to needy families this holiday.
Bring Back the Games
If your family is a bit rambunctious and you want to incorporate some fun games into the day to make sure everyone is kept entertained, then try any of these turkey day-approved ideas. Stick to the classic parlor games like charades but stick to a Thanksgiving theme, or play your own version of Thanksgiving Day Bingo. You can incorporate a kid's table with various children's board games that will have them laughing all day and night, or have everyone play together.
The Centerpieces
Finding the right centerpiece can be stressful. With various seasonal gourds available, you can create a kitschy or classy look on your dining table. Find some white pumpkins and dip them into some jewel-toned paint, or leave as is for the classic centerpiece style. Make it easy on yourself and order a Thanksgiving arrangement straight to your door. Getting it the day before will ensure it's still as fresh as can be and you won't have to stress about crafting any table dressings—besides the delicious main meals.
If you're looking for ways to reinvent your Thanksgiving traditions, these suggestions are wonderful places to start. Switch it up and make turkey day exciting again for everyone. Your family will love the different spin on a variety of traditional foods, and new games and centerpieces will guarantee the holiday is one you'll remember.