We are still very new to the world of Playmobil, but all three of my children love this set. It features a bank and sheriffs office complete lots of great features such as a safe and gun cabinet. You also get 2 horses, a sheriff, bank teller and a bandit.
The thing that has surprised and pleased me the most about Playmobil is the attention to detail. The jail in the sheriffs office has a tiny bolt on the door  and the sheriff even has a clip on belt complete with a holster for his gun.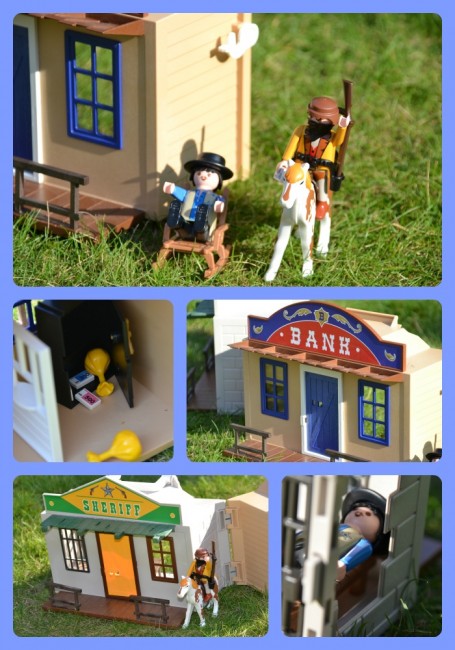 The set is recommended for children aged 4 and over, but even my almost two year old has spent many a happy hour playing the horses, pulling the people on and off and making them talk to each other. Not so long ago toys like this would have been banished to my 5 year olds bedroom, but thankfully H has finally stopped putting things in her mouth.
What interested me the most watching my children play with the Playmobil was the different ways they played with it. Z was very keen to get it all built up correctly, and even made a little animation with it. He is more interested in building toys than actually playing with them. However, S who is almost 4 can spend hours moving around the furniture and people, making them 'talk' to each other in different voices and swapping around accessories. This set is perfect for her. When we are finished playing all the bits fit inside the bank/sheriff office keeping everything safe for next time.
This set can help:
encourage creativity
improve fine motor skills
and improve hand  – eye coordination.
My Take Along Western City retails at £19.99 which we think is good value the level of detail and years worth of play you get from this set.
We received the Take Along Western set for the purpose of this review.
To win one of your own thanks to Enchanted Wood Toys, just complete the form below.
Competition end 19/09/2012 4am
<a href="http://www.theprizefinder.com" title="ThePrizeFinder.com – home of competitions and prize winning" target="_blank">ThePrizeFinder – UK Competitions</a>