Are you ready for Christmas yet? Have you bought or made crackers? We were recently sent a pack of crackers to make, with some fun language inserts and a subscription to Rosetta Stone, which I kindly gave to my husband.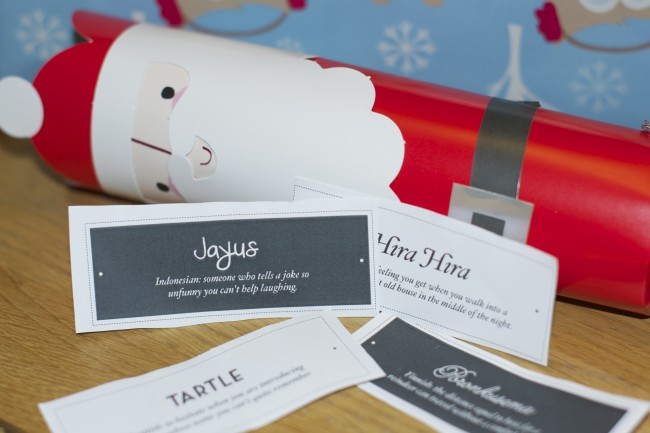 So, what did he think of his generous gift? I'll let him tell you.
I recently started to learn Spanish using Rosetta stone.  I have been wanting to learn a new language for some time and this opportunity has really kick started this process as I have always wanted to try Rosetta Stone but there's always been something holding me back – laziness probably.  Now though, especially as I have a 6 month subscription I have to act fast.  My early impressions are very positive.  In less than 10 minutes I was doing my first course, so there is virtually no wait before being able to access the resources.  I don't have to wait for a weekly class to start.
The way Rosetta Stone works is you sign up for one of their packages – you can choose from a set of CD ROMS, A Download or a Total E Course which is subscription based.  All are priced very competitively but the "Totale"-Course allows you access Apps live online tutoring, Apps and Games all as part of the subscription.  You can add those as optional extras to the other courses.
The learning style is very straight forward – you dive straight in without any native language there to distract you – "If you want to learn to swim, you need to get in the water – It's the same with learning to speak another language. Without your native language for help, you'll learn actively—which makes you more successful." – taken from their Method section on their website. 
The first modules are very easy to do and I am really keen on the native language agnostic aspect of learning – i.e. there is no English translation, the concepts are communicated entirely pictorially (Saying Hello, Goodbye written in Spanish next to pictures of people greeting or waving off.  The boys are running  written in Spanish, next to a picture of some running boys, the girl is eating, next to a picture of a girl eating…and so on).
As you would expect there is plenty of audio there to listen to, and the online version recognises your speech so you get marked on how well you say the Spanish too.  I think this is a very good way for me to learn, I feel immersion will be the best way and I am looking forward to finishing these courses so I can interact with a real person (which you can schedule once you have reached level 3 of the modules).
First impressions are definitely good, and we'll keep you posted as to how he gets on.
We were sent a cracker set, and a 6 month subscription to Rosetta Stone
So in summary for me it has been an exciting and good start, I will be reporting back (more and more so in Spanish) as my language proficiency progresses.