This review is written by my husband, the gadget geek! Who a few years ago made me buy him a Seagate Hard Drive instead of an engagement ring*.
I was possibly not the intended "average user" for the Seagate GoFlex Satellite drive.  We don't own an Ipad and as a rule we don't normally watch movies on mobile devices.  Yet, I am utterly addicted.
My laptop is full, I am forever juggling files etc around and constantly performing demos of software for prospective clients which tend to require large movie files and presentations.  What I have managed to use the Satellite for is some additional storage which is very fast and convenient to access.  Oh, and when I said we don't tend to watch movies from mobile devices – that was before we had the Seagate GoFlex Satellite!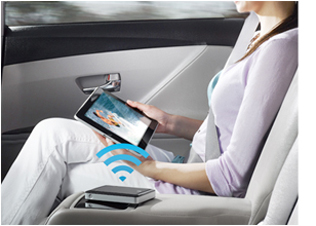 The very cool small enclosure makes the external drive look like a quality space-age product.  It has USB3 connectivity which is very fast. I didn't have a USB3 port and had to use USB2 but the 500Gb capacity, and the size of movie files made this a lengthy process so I bought a USB3 card.  Now I can transfer my files (and now movies) to the device very quickly.
So now, when I am at a client site and I want to display a large demo presentation to an audience I just get them to link up to the GoFlex directly and play it on their devices.  They love it.
But what is most awesome, when I am away on business, stuck in my hotel room and refusing to pay for movies on the TV, that's not a problem.  I just fetch the GoFlex Satellite out of my bag, press a button and run the app on my phone or laptop.  No wires, no fuss all very cool!
I think he liked it!
The GoFlex Satellite is basically a wireless streaming device which allows you to take your media library with you wherever you go and stream wirelessly to your iPad®, Android® tablet or smartphone.
You can:
Take more than 300 HD movies with you on the go.
Stream media over Wi-Fi to eight devices at the same time.
Sync media and documents automatically from your PC or Mac computer.
Access and stream your media easily using the free app or your device's web browser.
Up to seven hours of battery life ( depends on the model )
We were sent a Seagate GoFlex Satellite free of charge to review. 
*He is also now minus a wedding ring after losing it at the train station. 🙂