Let me paint you a picture. I'm in the car taking my son to school, we are running late. Z is counting to 500, S is singing her own made up rap song and H is saying 'Mummy, Mummy' over and over. Staying focused on the road is not an easy task.
If I was driving a Volvo V60 however, it would be monitoring the traffic in front of me and waiting to detect pedestrians walking in front of the car, ready to apply the brake if I didn't respond in time. Now thats clever and very impressive.
I have to admit that usually I have very little interest in cars, but some of the features of the Volvo V60 are brilliant, and it looks pretty great too.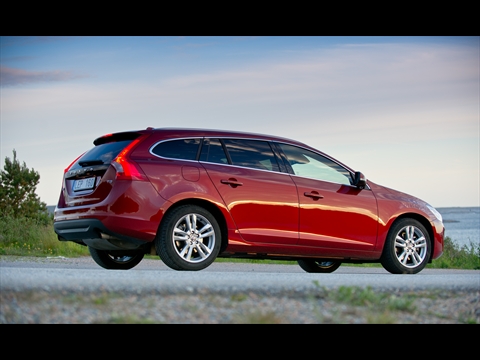 Features that would appeal to my husband ( the car enthusiast ) are:
Low fuel consumption ( he likes to save money really)
Stop/Start technology ( he does like a good button )
6 speed gearbox
High performance 2.4 litre 5-cylinder turbo diesel engines ( on some models )
Features that appeal to me
Low emissions.
Advanced groundbreaking safety innovations to help avoid collisions and alert a distracted driver.
Traffic monitoring technology. This can lessen or avoid collisions at speeds up to 30km an hour.
It looks very sleek and sporty.
I'm feeling quite excited about the Volvo V60, I wonder if it'd fit all my children?
Volvo are running an exciting twitter promotion from the 27th May when they will be giving away prizes throughout the day such as a Kindle, Merlin annual passes and a family adventure weekend away.
To enter just make sure you are following Volvo on twitter at @VolvoCarUk and follow the V60 promotion using #V60getaway, watch out for a series of questions throughout the day such as 'Where was your best family holiday?'.
Before children our holidays always involved a long plane journey and then a snowy mountain and a lot of Apre Ski, since having children we haven't been further than France and this summer will be our first trip on a plane. One day we'll be brave enough to take them on a fancy holiday more than an hours flight away…
I am a member of the Netmums Parent Bloggers Network, a unique community of parent bloggers from around the UK who have been handpicked by the Netmums team from our database to review products and brands on their behalf. I am paid an expenses fee to cover my time (and childcare if the fee is big enough!) but Netmums have no editorial control whatsoever about what I blog about. Being a member of the Netmums Blogging Network means that I get to try out products and brands and get my expenses covered but that I retain full editorial integrity.