Just before Mother's day P and G sent me this lovely e-mail, which was much needed.
What did you do today? 
You may think you did "the usual" – a few loads of laundry, washed the dishes… Nothing out of the ordinary?
Actually, we think that the everyday things you do for your family make all the difference.
Did you realise that when you made Easter hats with your children not only did they have something scrumptious to eat but they had something fun to tell her friends the next day in class.
We believe that the "ordinary" things mums do every day have an amazing impact for the whole family, which is why our mission is to make products that help towards making everyday life that little bit better. We're calling this the Everyday Effect.
This video  shows that ordinary things can actually be extraordinary, which I think is a lovely way to look at things.
P and G kindly sent me a mother's day  present, if you would like to win your own please complete the form below.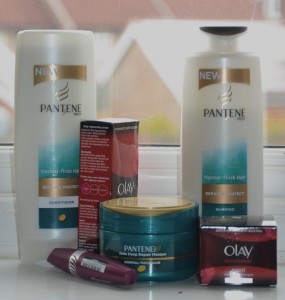 Prize is Pantene shampoo and conditioner plus a mask for your hair, an Olay night cream PLUS an Olay day cream and a Clump defy mascara.
Uk Delivery address only. Winner must respond to e-mail within 2 weeks or the prize will be redrawn. Delivery is the responsibility of the PR Company not Mummy..Mummy..MUM!! Competition closes 31/03/2013 12am
P and G sent me the pamper pack above.