We are big fans of WOW toys. I love that they don't have batteries, and the kids love the noise and functionality of them. We have 'Dudley Dump Truck' which they have spent hours pushing up and down the hallway. S also loves her 'Poppy's Pony Adventure'.
They were very excited when 'Mario's Pizzeria' arrived. This lovely set comes with 3 pizza's, 2 figures, a trike, a pizza oven and the pizzeria. You can put Mario on the Pizzeria to select the toppings and then send Marco off on the trike to deliver the pizza. The set led to lots of imaginative play and lots of discussions about the best pizza topping, which was lovely to hear.
Like all WOW toys, Mario's Pizzeria is brightly coloured and durable, it has already survived a lot of 'rough' play.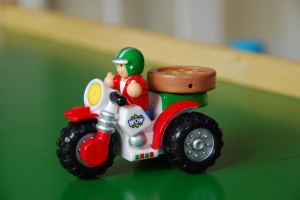 The toy is excellent quality and will last a long time, but it didn't quite catch the interest of Z and S as much as the other WOW toys we have, but from an imaginative, role play point of view it is a good asset to our collection.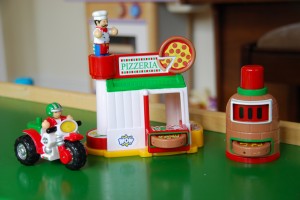 The only negative is that the packaging was very hard to get into, with lots of ties to undo. When you have 3 impatient children buzzing around you it can be quite frustrating.
This video shows Mario's Pizzeria in action.
[youtube=http://www.youtube.com/watch?v=_L2-6rdHo0Q]
We received Mario's Pizzeria free of charge, all words and opinions are my own.