With screens occupying most kids' free time, it may not seem like they have either the time or the inclination to pick up a good book and get lost in its pages. You may also worry about your kids not having the attention span to ponder a piece of artwork and give it the appreciation it deserves.
In Singapore, where the body of knowledge that comprises science, technology, engineering, and mathematics (or STEM) is king, is there a place for literature and arts? And if your children have their hearts set on non-creative careers, is it still important to get them interested in these two humanities subjects? The resounding answer is "yes."
Art will provide ways for a child to develop their imagination, self-expression, and creative thinking. These are skills that your child will require in whatever career they eventually choose to pursue. Meanwhile, the closely related field of literature promotes effective communication, reading comprehension, and language fluency. Your child's facility for language and literature is something they can carry with them from the academe to the workplace.
So, how can a parent spark their kid's interest in reading and the arts? Here are some methods that borrow from both traditional and contemporary methods of learning:
1) Read Bedtime Stories Together
One of the best bonding times to have with your kids is story time in bed. Read fairy tales and other wonderfully written stories aloud to keep your kids engaged and encourage them to follow along. Make this your nightly ritual to enrich their vocabulary and improve their reading ability. 
Moreover, did you know that parents also benefit from reading stories? The experience of story time with your kids can help you relax and strengthen your parent-child bond, among other benefits.
Storytime is best done with physical books, but you have the option to use e-Books and age-appropriate online research as well. If you need the internet to access these, you can do a mobile data plan comparison Singapore parents would also do for their homes. 
2) Set Up Their Own Mini Library
Transform a corner of a child's room into a mini library. Organise books in an enticing and accessible manner using systems like the Montessori bookshelf. In a Montessori bookshelf, books are placed with the cover facing forward, enticing children to open and peruse their pages.
As your kids' interests evolve, gradually expand their book collection. Indeed, having their own library space will empower them to explore books independently and develop their tastes.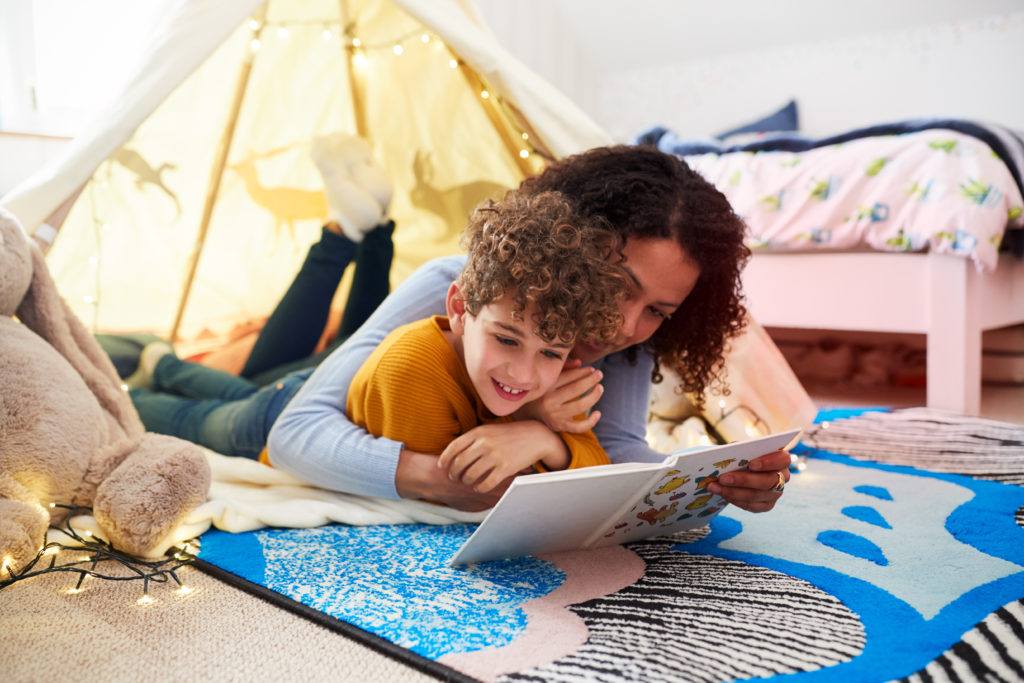 3) Encourage Your Kids to Journal
Journalling is a fantastic outlet for a child's budding sense of creativity. Encourage your child to keep a journal, whether they will write in it, draw in it, or a combination of both. Aside from giving them the opportunity to improve their writing, grammar, and communication skills, journalling will serve as a therapeutic avenue for them to express their thoughts and emotions.
4) Paint and Craft Together
Why not learn to paint or do some crafts together? You can scour the internet for free sources of inspiration, such as YouTube tutorials and Pinterest boards, or you can simply bring your materials outside and be totally spontaneous about your outputs. Regardless of the method, your children will enjoy discovering their inner artist.
5) Practice Taking Photos Together
Don't forget that photography is also an art form that you and your kids can explore together. It's also something that won't require a lot in terms of material. Start with a child-friendly camera or smartphone, then suggest fun photo themes or challenges to bring out their photographer's eye.
6) Visit Museums and Galleries
Singapore boasts a wealth of museums and galleries. Take your kids on enriching adventures through the Lion City that involve art, history, and culture. You can also make museum and art gallery visits more engaging and interactive by asking your children questions and encouraging their curiosity.
7) Watch Theatre Productions and Musicals
Live theatre and musical performances are simply a must-do for the family that values the performing arts. Attend family-friendly shows in Singapore, and let your child be enchanted by the world of the stage.
8) Suggest That They Join School Plays
If one or more of your children shows an interest in drama and acting, suggest that they join school plays or similar opportunities to explore theatre. Participation in these activities not only boosts their confidence and acting chops, but also encourages them to develop their teamwork and communication skills with everyone else involved in the production.
9) Take Your Kids to See Live Bands
Expose your children to the world of live music and concerts at an early age. There are various family-friendly venues in Singapore where you can enjoy live music together. Bring your kids there and let them experience the joy and spontaneity of music performed in a communal setting.
10) Learn to Play an Instrument Together
Take a leaf out of the Von Trapps' book and incorporate music into your family's daily life.
Embark on a musical journey as a family by learning to play an instrument together. First, choose beginner-friendly instruments, and then explore the world of music as a team. A musical education will instil discipline in your children as well as nurture their creativity, and they can apply their love for learning and dedication to practice in other aspects of their lives.
As parents in Singapore, you'll have a unique role to play in nurturing your children's passion for literature and the arts. Not everyone will grow up to be a virtuoso, professional artist, or bestselling author, but these two fields are still worth studying for the valuable life skills and perspectives they can impart on your kids.