Baby H is guest posting today with her view on being the smallest of three children on a birthday.
I am one now, I think Mummy has already told you that. I had my birthday party at Build a Bear last Saturday, Mummy was very lucky and won the party from The Gingerbread House. All my friends loved it. Z built my bear for me as I was too small to press the pedal. Mummy really wanted me to have the pink 'Hello Kitty', but Z picked a pink bunny with flowers on. Daddy even took him out of the shop to try to tell him I wanted 'Hello Kitty', but Z REALLY wanted me to have the bunny. I think she is quite cute, but I don't think Mummy likes her very much. Z even bought me extra clothes instead of making his own bear. What a fab big brother I have!Mummy said one day she will take me back for 'Hello Kitty' though.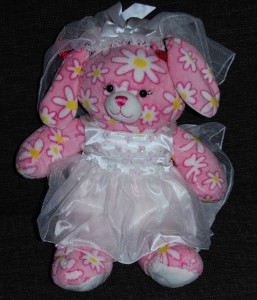 We tried to have a picnic in the park afterwards, but it rained, and we all got really wet, my cake got rained on too. It was still yummy though. Mummy said she is naughty for letting me have cake. Z didn't get cake till he was 2!!! Sometimes its good being the littlest. I do get lots of kisses. S even came in my cot today, Mummy shouted at her though.
I had a really great birthday too, little S was in nursery so it was just me, Mummy and Z. My little friend came to see me in the morning and we played with my new toys. Mummy didn't buy me much as she says I can use my big sisters toys, I hope she doesn't break them before I am big enough to use them. I got his really great puzzle from John Crane, and she keeps saying its hers, but its mine really. I think she has already lost one of the heads too :-(.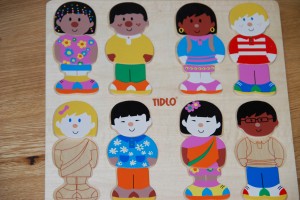 Lots of people gave me money, Mummy says that I will be the rich one. I hope she buys me some dolls though, my sister isn't very nice to hers.
I got some lovely HABA toys which Mummy loves, but Z keeps building towers with my blocks and then shouting when I knock them over. If I throw really hard I can make some of the bits go under the TV, then he gets REALLY cross.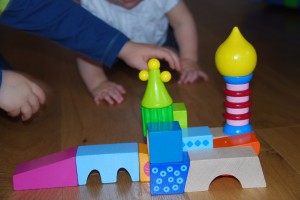 I'm very good at pretending to eat my HABA cereal too, it makes Mummy laugh when I say 'Mmmmmmm'. Mummy bought this from a lovely lady at Toyjeanius.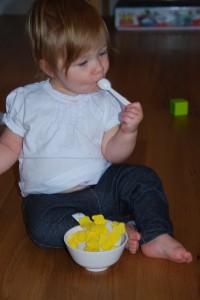 I also got this lovely bunny from my friends at Brother Max, he is very soft and I like to nuzzle into him when I go to bed. I have called him 'Max'. They said they sent it to me because I have helped them out a lot, but all I have done is smiled for some photos. I am the baby on their Facebook page you know.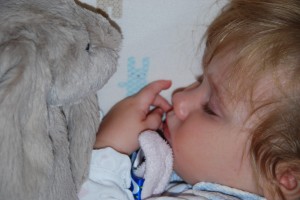 Mummy hasn't done a Friday Funny this week, because my brother and sister have not been especially funny, in fact they have been on the naughty step A LOT. Though there was the time when Z was teaching S to walk with her eyes shut and she walked into a tree, and when Mummy drove into the garage door, its not funny for Daddy though, he has to fix it.
Thanks for reading, Baby H.
xx