Yesterday we had the usual mad rush getting out of the car for school, I sat in the front with three grumpy children behind me. To cheer them up, I started talking about how lucky they were that one Grandma had sent them chocolate calendars and the other Playmobil, and that we were even luckier because Playmobil had also sent a calendar! That's a lot of calendars.
Z looked thoughtful and asked "Can you buy Daddy a chocolate calendar please". For a moment I smiled, thinking what a lovely, kind and thoughtful boy I had, and then I realised what was going on.
"Z, do you want Daddy to have a calendar so he doesn't eat yours?"
So while Z dreams of chocolate, little H is hugely excited about her Playmobil Advent Calendar, and actually so am I.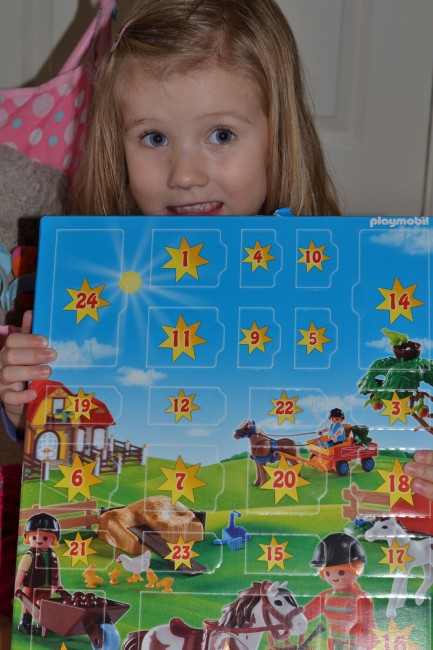 The Advent Calendar Pony Farm  contains twenty-four surprise items for each day of Advent. Also, includes backdrop, three figures, two ponies, one foal, cart with rolling wheels, two dogs, chicken and chicks, grooming tools, tree, fence, and other accessories to create a sweeping country scene. Once all the pieces are revealed, you can assemble the mini Pony Farm puzzle and add spots to the horse with the velvet adhesives.
We were sent the calendar above for being Playmobil Playologists
Linked to Wot So Funny