Back in September I booked us a pre Christmas treat to Woburn Center Parcs. I had a feeling it was going to be a long and stressful term, the kids all had huge amounts of sporting and school stuff going on and I knew I had massive amounts of work looming in front of me including a book to write and edit, so uninterrupted time with the kids where I could really focus on them would be in short supply.
I find that if we stay at home and do day trips, it's lovely, but hard to step away from my endless amount of work and the mess of the house, so getting away is the only real way to relax. I booked Woburn Center Parcs as it's not too far away and long car journeys with four kids are not especially pleasant. We are not a family who can sit around and do nothing so Center Parcs is perfect for us.
Christmas at Center Parcs
I booked our visit to Santa and two restaurant meals in advance, which was a good plan as Santa was almost fully booked and although the restaurants seemed quiet early in the evening they did get busier as it got later.
We arrived and found our lodge easily. Center Parcs allow you to park and unload outside the accommodation, but then you have to park in the car park. This means after everyone has arrived there are very few cars around which I loved as the it meant the big kids could run along in front of us safely. I didn't pay extra for a lodge close to the amenities, but it took less than 10 minutes to walk to the plaza and only another 4-5 to walk to the swimming area.
The outside areas were decorated beautifully, little Charlie loved all the lights and the big trees. It felt very Christmassy which was great for me as I had been struggling to find my Christmas spirit.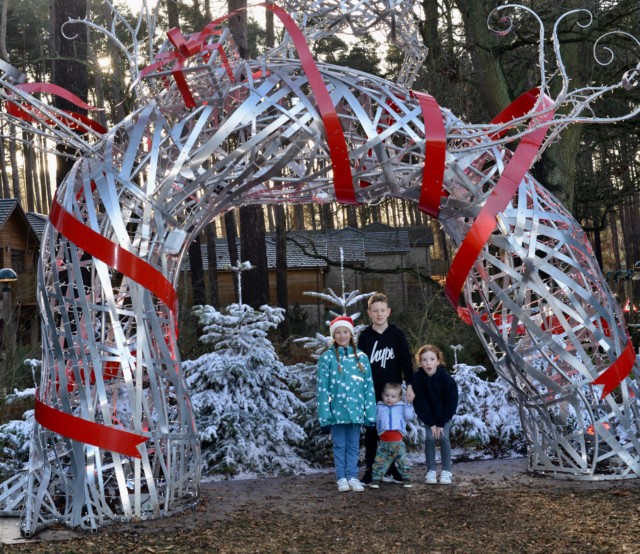 The kids wanted to swim straight away so we headed to the subtropical swimming paradise which luckily ( and completely unplanned )  was right by our restaurant for the night. The swimming complex was not quite as amazing as I was expecting. The changing areas were very clean, but the inside felt a little on the grubby side and it was smaller than I thought it would be, but saying that the kids loved it, especially the Wild Water Rapids, which they even managed to drag me on.
Activities at Center Parcs
I love that Center Parcs offer such a huge variety of activities, there really is something for everyone, but we did struggle to find things that didn't cost a fortune for three children.
Eventually we settled on the the Segway Adventure which I was worried would be too tame and young for Zak who is 11, but he loved it! I would 100% recommend to everyone with a child between about 7-11.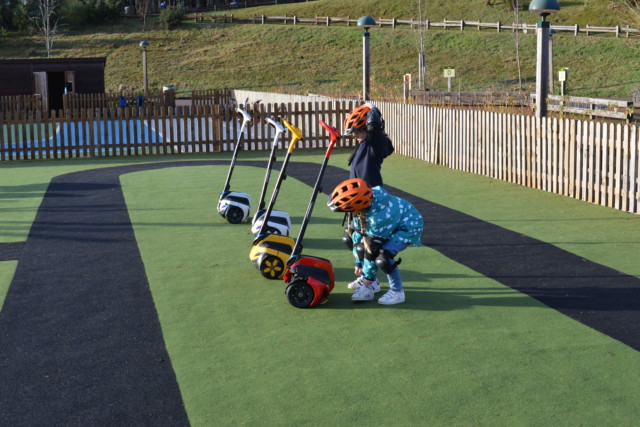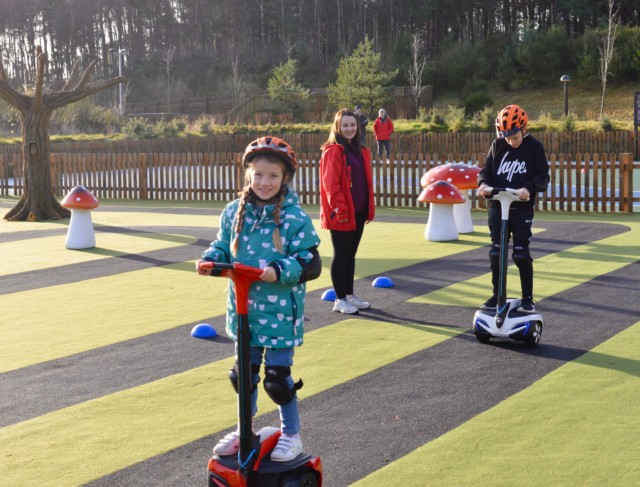 The kids also did the indoor climbing which they really enjoyed too. Last time we did something similar Sydney was very nervous, but this time it was like watching a different child, she was straight to the top of even the most challenging climbs. The instructors were all lovely and very encouraging. Zak liked that one of the walls had a timer with a leaderboard of the fastest times. He didn't give up until his name was at the top.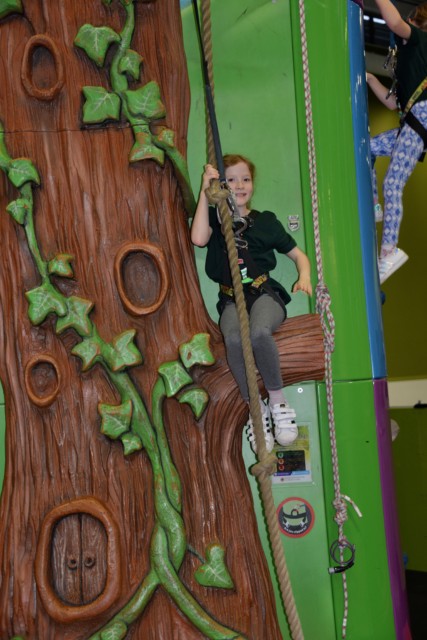 Badminton cost around £15 for 4 of us, including racquet hire.
The major downside of the trip for me was that we felt like we were always saying 'no' to the children. They wanted to try laser combat or the aerial high ropes, but these were over £25 each, which obviously when you're paying for three, is a huge cost.
We ended up playing a lot of pool for £1 a go, which luckily kept them all occupied for a long time!
Charlie loved the play areas, which we'd have spent more time in with slightly younger kids.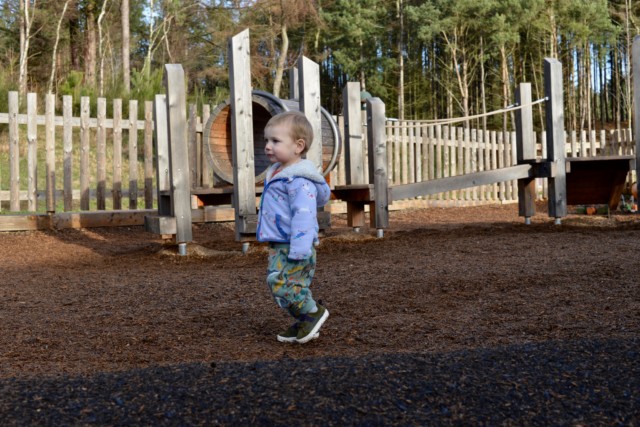 Eating out at Center Parcs
Woburn Center Parcs has lots of restaurants, you really are spoilt for choice. We ate at Cafe Rouge ( I recommend the burger ) and Las Iguanas both of which were great, very relaxed and great with the kids.
We had a snack meal in Leon and the kids desperately wanted to try Hucks, but we ran out of time. Breakfast in the Sports Bar also looked great. There were soft plays in Hucks, Cafe rouge and the Sports Bar to keep the kids busy.
I prebooked our meals before going as I wasn't sure how busy it would be at Christmas, this cost £5 per head, which was taken off the bill at the end.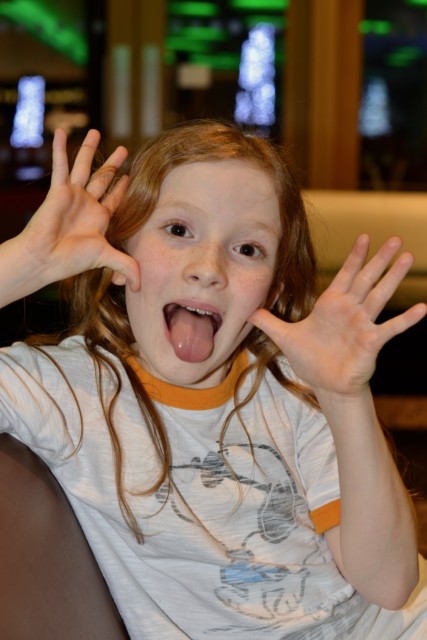 Christmas at Center Parcs
As I said above Center Parcs was wonderfully Christmassy and definitely made us feel extra festive. Would I go again? I would for a similar price, but I would book more activities in advance and be more prepared for the cost should we go again.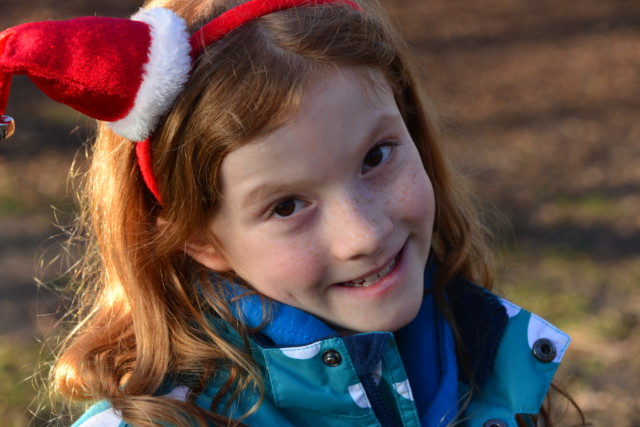 My girls were desperate to do pottery painting, which was fully booked for the weekend when we arrived and we loved the look of Football Pool, which we could've booked on arrival had we been organised, but by the time we got around to wanted to play it was full.
As long as you're prepared for the cost of the extra activities it's definitely a great way to start your Christmas festivities.