I've probably mentioned before that I am currently dreaming of a new kitchen. Our current one is 10 years old and starting to fall apart a bit. The plinths at the bottom fall off at the slightest touch, most of the cupboards are slightly askew and the worktops are looking very scratched and damaged. I've been slowly researching what we can do to spruce the kitchen up without getting a whole new kitchen as it's in good condition behind the front surface. One thought was to replace the worktops. I came across Silestone as a option which isn't something I'd heard fo before.
Apparently Silestone worktops are easy to fit and because of the huge range of colour and finish options available fit with any type and style of kitchen.
Hygiene is very important in our house as we have a little one who's seems to catch things easily, so the fact that Silestone has an antibacterial composition is another big positive for me!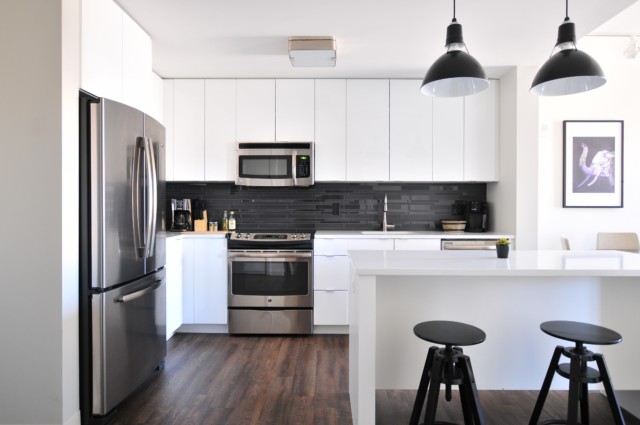 Features of my dream kitchen
An extra deep sink
It sounds basic and simple and not too fancy, but I would love an extra deep sink, preferably farmhouse style in my next kitchen!
Induction hob
A wipe clean hob is a thing of dreams. My current hob is messy 90% of the time.
Pan drawers
Custom built drawers for my pans would be a real treat, as currently they are all piled on top of each other, in a big mess, probably getting scratched as well.
Slab backsplash
We currently have tiles behind the hob which get all grimy very easily. A wipe clean splash back would be a huge timesaver, much more hygienic and so much easier to clean.
A big kitchen island
We're a bit shirt of workspace at the moment, so an island would not only create much needed cupboard space, but also extra worktop space too!
Storage, storage and more storage
I'm generally all about the storage, so I would love extra big cupboards, drawers and every inch of space to be utilised.
What features would your dream kitchen include? I have all my ideas, just need to save up and check out silestone prices now! I think I also need a cleaner ( or time to clean myself ) as most of my wishlist to seems to be related to things being dirty or messy.
Collaborative post