We all like our homes to look nice. As a result, we are prepared to invest a lot of time and money into keeping our décor up to date. Last year, on average, Brits spent £2,000 on DIY, furniture, trade services, and sundry items for the home.
That is a lot of money when most people are living on very tight budgets. So, today, I thought I would share with you a few ways you can keep your decorating costs down.
Take advantage of modern building materials
Before buying building materials it is worth doing a little research to see if you can use cheaper materials. For example, generally speaking, mdf skirting board is a lot cheaper than the traditional wooden kind. This is especially the case when you need to buy more ornate designs.
Five ways to get the best deals
When shopping for clothes, food, personal care products, and electronics most of us shop around for the best deals. But, when it comes to building materials many of us just go to our nearest DIY store and buy what we need. Next time you need paint, try going online and comparing the prices between the various stores. You will be stunned by the price difference.
A lot of DIY stores offer pensioners a discount on certain days of the week. So, you may be able to save money by asking a friend or family member to go through the till for you.
If you know you are going to be doing a lot of decorating or building work, sign up to receive newsletters from appropriate retailers. It is a good idea to do this using an email address you create for that specific purpose. That way you will not have promotional emails cluttering up your inbox.
Working out what you want to buy in advance and waiting until is another approach you could take.
Looking for coupon codes before you make your purchase also works well.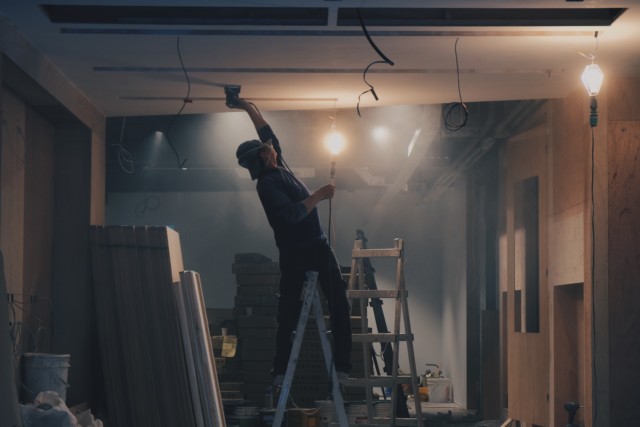 Join a tool lending club
Tools are expensive, especially if you only use them once every few years. So, it is always worth seeing if you can borrow or hire what you need. In some places, there are clubs that connect people who have tools they are prepared to lend out with those that need them. They are easy to find online.
Learn to repurpose
Instead of buying everything new consider re-working or restoring some of the items you own. Sanding down and re-staining a table is a lot of work. But, it is surprisingly satisfying to do with the added advantage that you are helping the planet when you take this approach.
Keep leftover building and decorating materials
Reducing how often you decorate is another way to save yourself a lot of time, hassle and money. Get into the habit of stowing away leftover paint, tiles, flooring materials,and wallpaper. Often you will be able to touch things up so that you can put off redecorating for another year or two.
Collaborative Post