La Baume and La Palmeraie is a camping resort located in the Côte d'Azur in France. The campsite is a five-minute drive from the picturesque town of Frejus and the gorgeous beaches of Saint Raphael. We flew into Nice airport and drove down to Frejus, which took about 45 minutes. The flight to Nice from London was around 2 hours, and we arrived to the most beautiful weather. I felt like we were much further from home than we were, and the Côte d'Azur is incredible. We barely scratched the surface of what the area had to offer in the time we were there.
The large campsite is a great base for families wanting an active holiday exploring the local area and is also perfect for those wanting a more relaxing break. There are children's clubs, various restaurants, pools, waterslides, nighttime entertainment and even a nightclub.
It's a great place for holidaying with teens who will love the independence staying on a campsite brings and also for younger children with toddler pools, playgrounds and lots of space.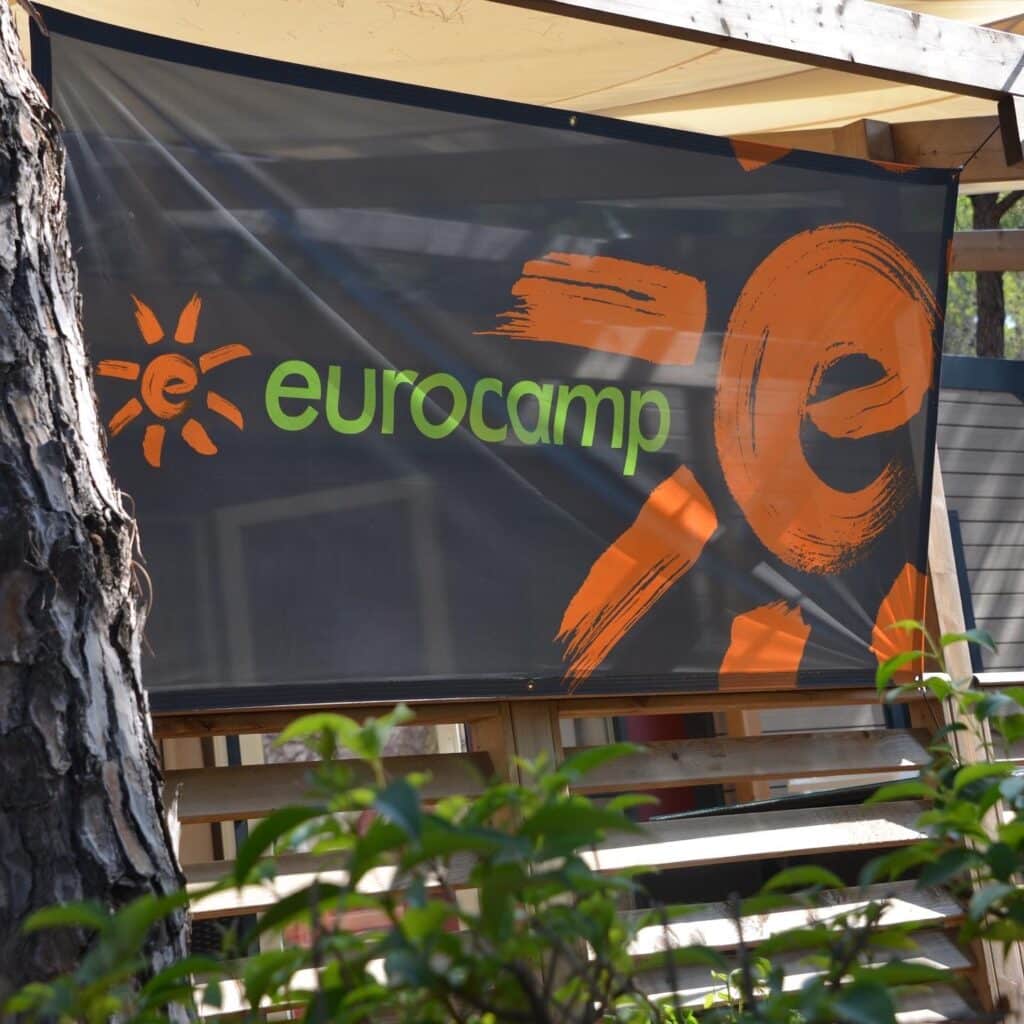 Arrival at the resort
The resort is well signposted from the main road, and check-in was easy and well organised. We were settled in our mobile home and in the pool within 30 minutes of arriving.
Mobile Homes
We stayed in a three-bedroom Aspect, which was big enough for the 6 of us ( 2 adults, three teens and a five-year-old). Our mobile home was about halfway between the pools of La Baume and La Palmeraie. Both were a 5-10 minute walk away, so very easy to get around.
The beds were very comfortable, the air con great ( and very much needed ), and the floor-to-ceiling windows made it feel very light and airy. The mobile home had a master bedroom, which was more spacious than any other mobile home we've stayed in, a bunk room and a twin room.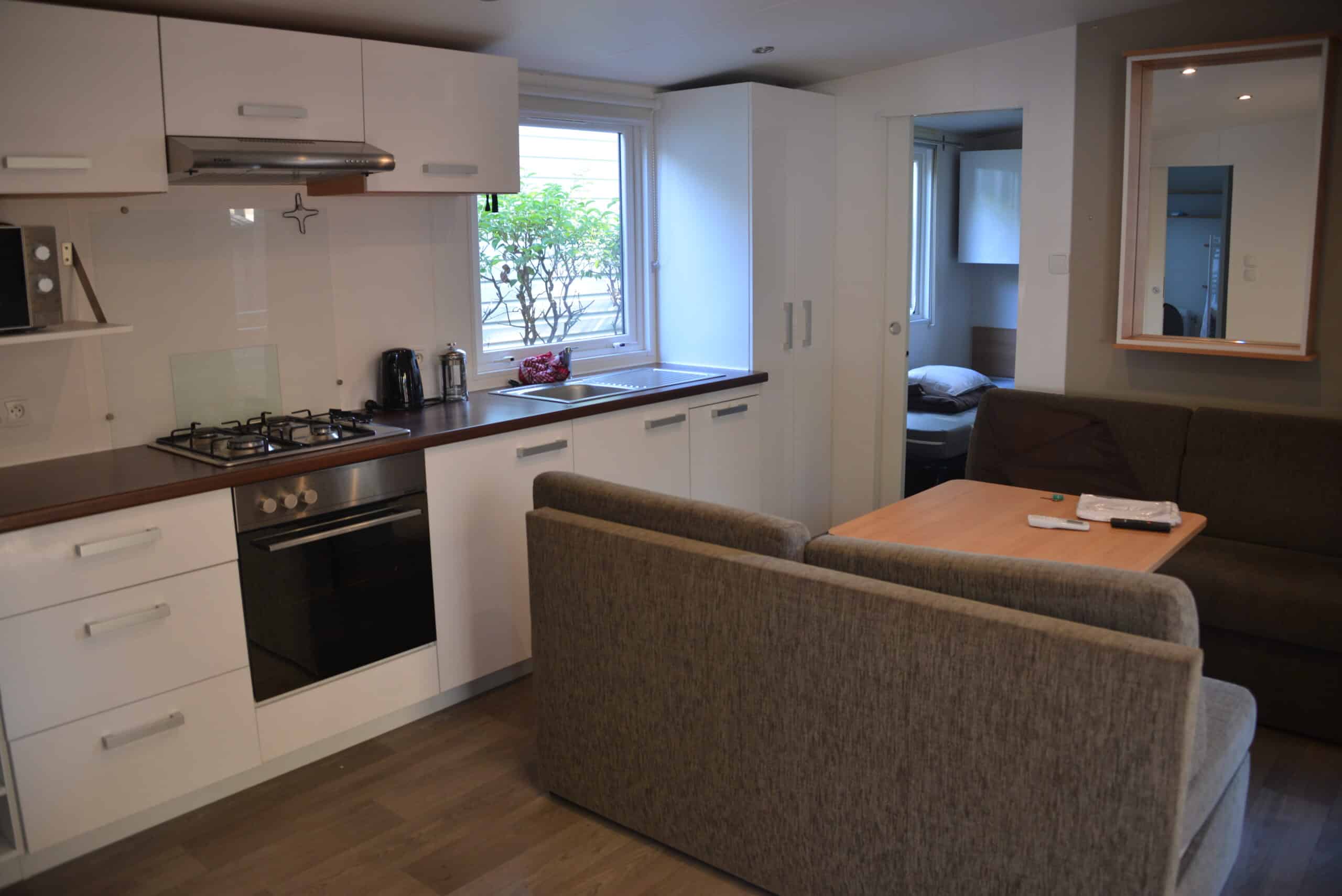 The Aspect has a LOT of storage space with a large wardrobe in the master bedroom and shelves and smaller cupboards in the other two bedrooms. In the past, when we've stayed in smaller mobile homes, I've felt very cramped, but this one allowed us to hide away most of our stuff.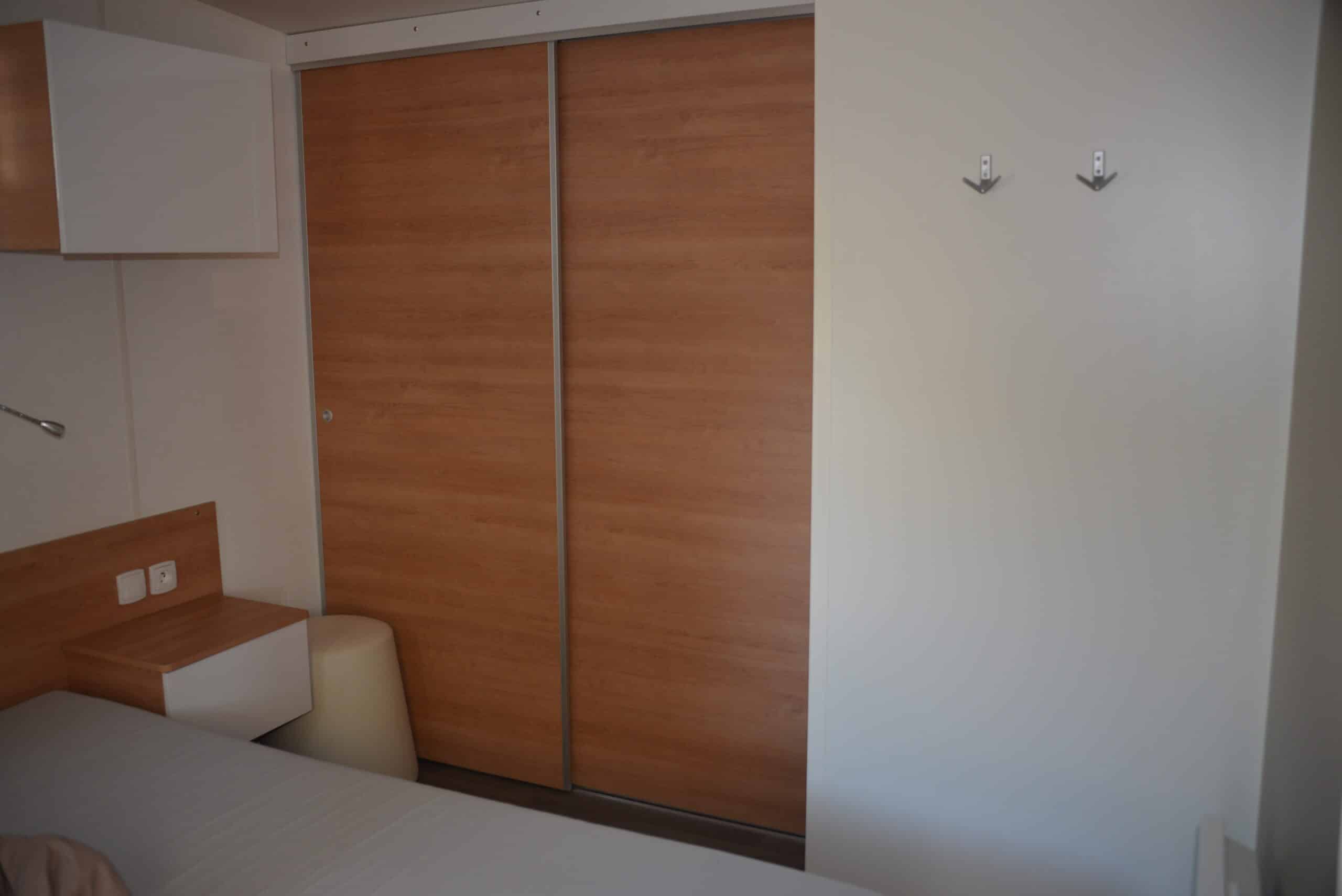 The decking was a great extra space and very shady too! We enjoyed lots of BBQs and family time in the evenings. If you're visiting the South of France in summer, I would definitely recommend a mobile home with a covered deck as it was blisteringly hot.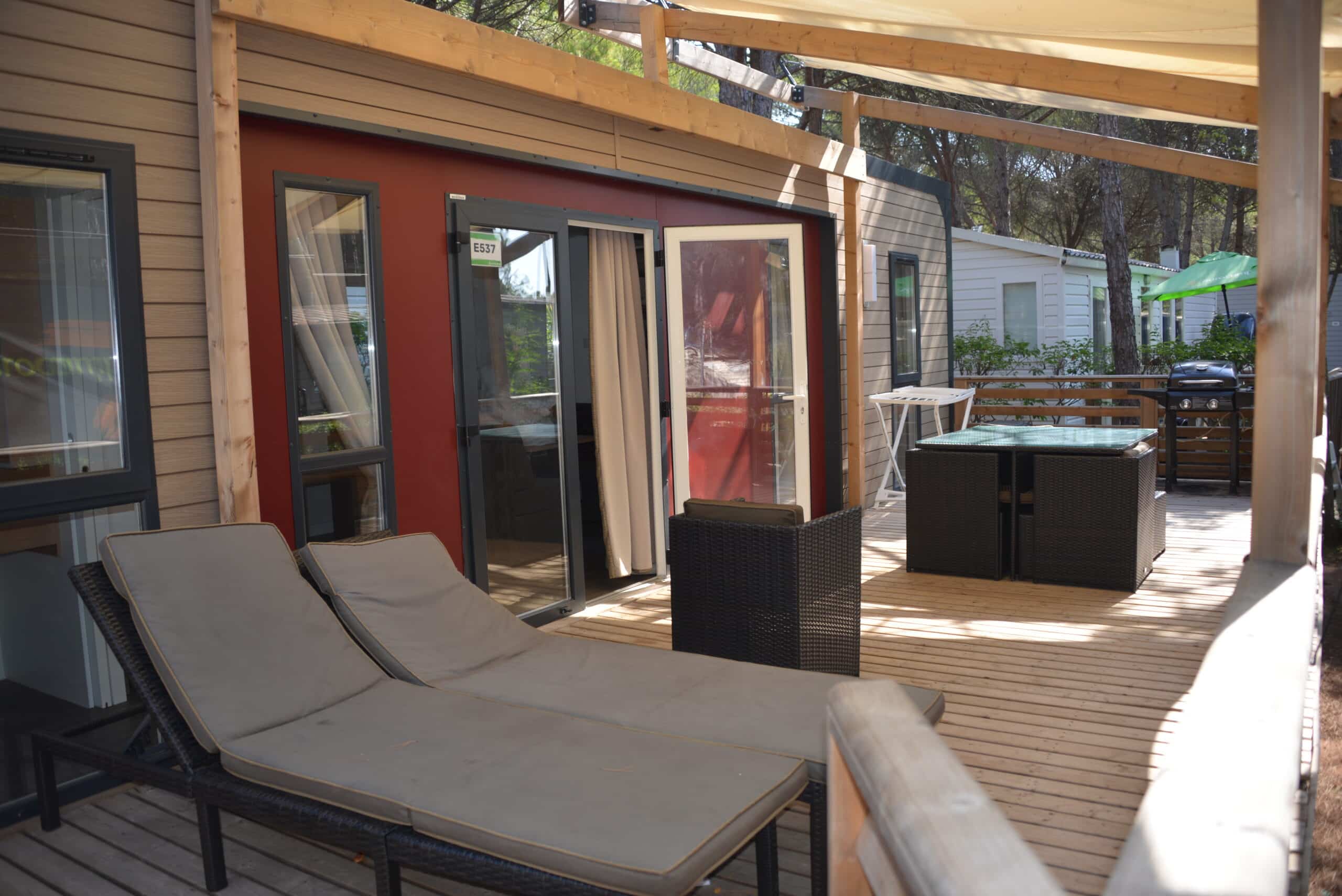 Swimming pools
The swimming complexes at La Baume are incredible. My children would go back tomorrow if they could. My teens also enjoyed the independence of being able to explore the park without an adult.
La Baume has a large outdoor pool with several large slides, a small indoor pool with a slide, whirlpools and a children's paddling area with small slide and play equipment.
La Palmeraie has a huge swimming pool with two water slides, all surrounded by palm trees. It's very accessible for young children with shallow paddling areas in the main pool.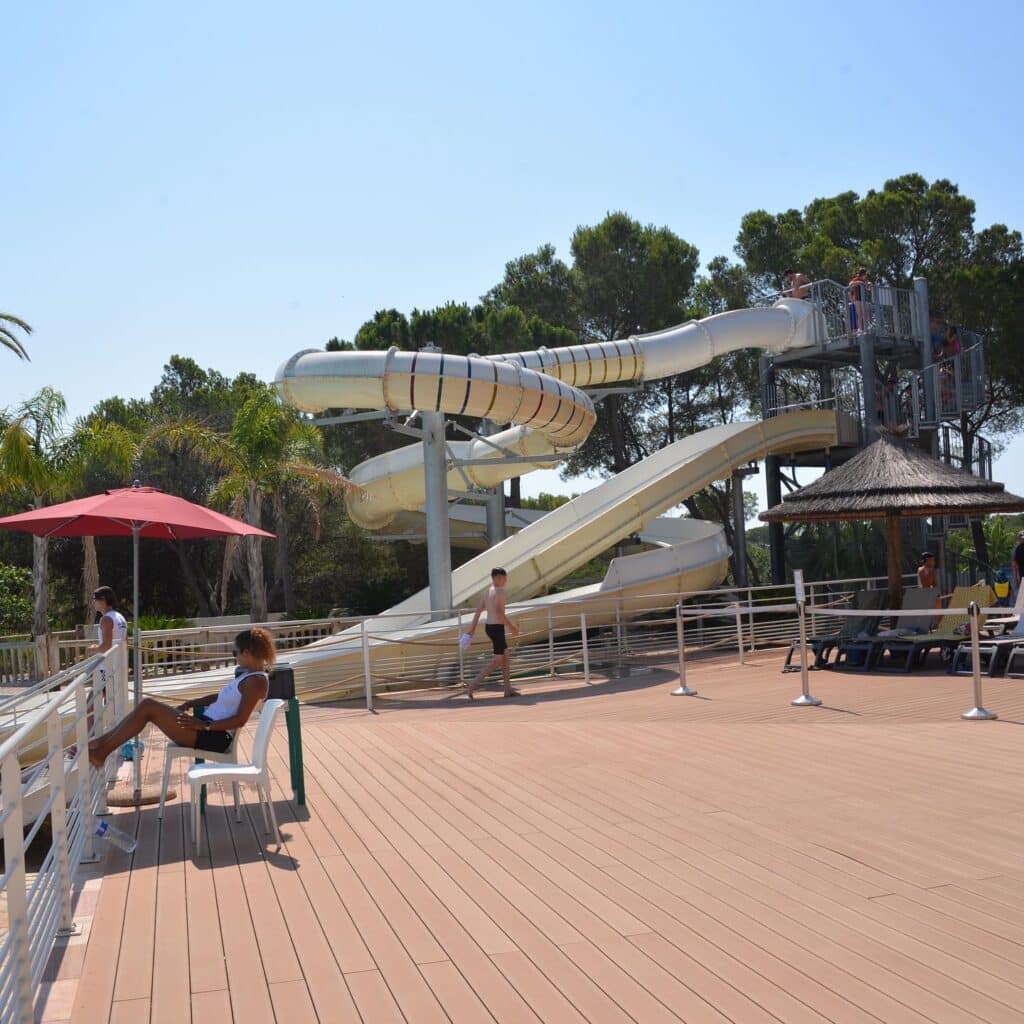 The pool areas in both parts of the campsite were very clean and well maintained. Shoes were not allowed on the poolside, and sun loungers were plentiful and free of charge.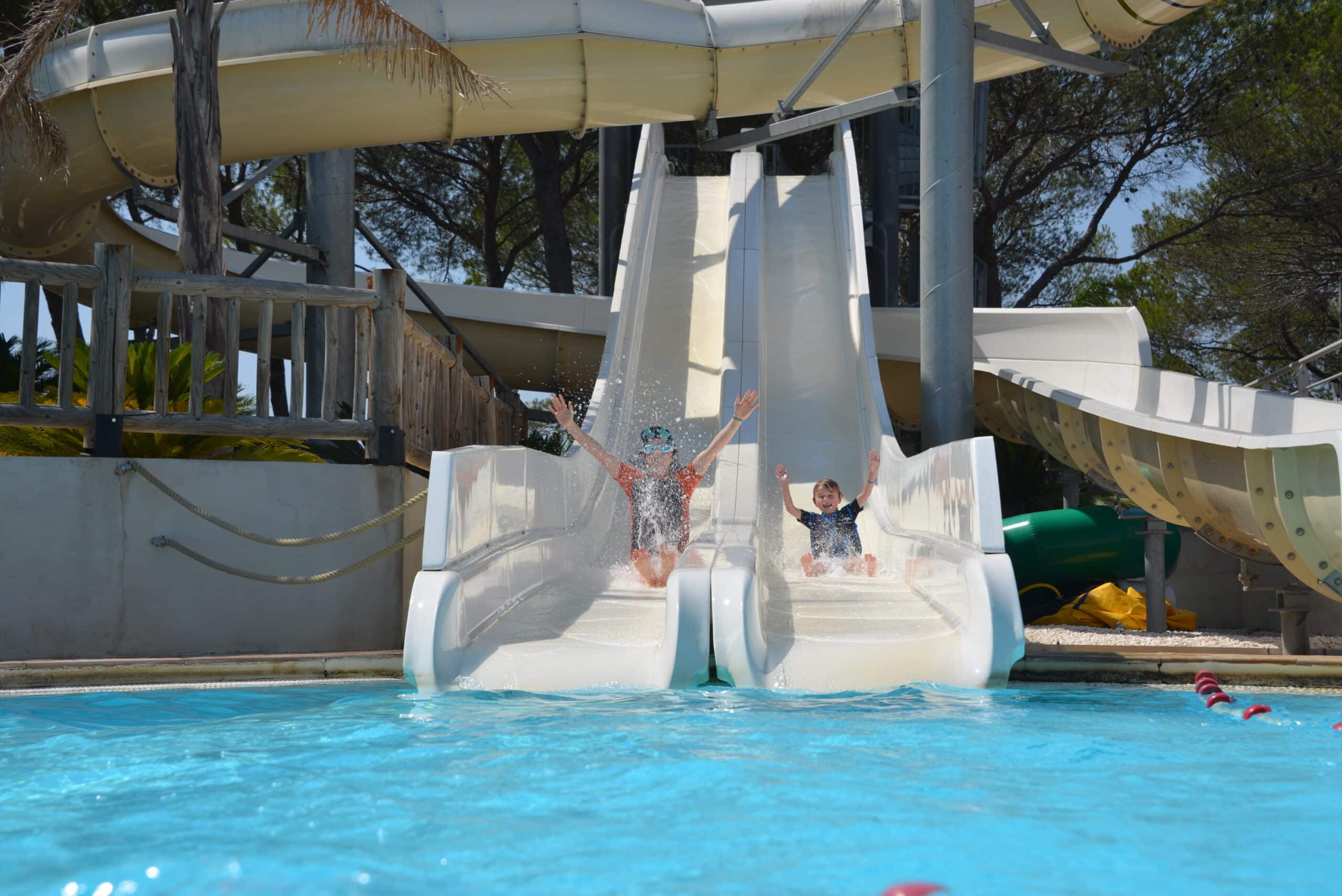 Both pools have lifeguards and specific opening hours. The only downside of the pool areas was that it could be tricky to find shade.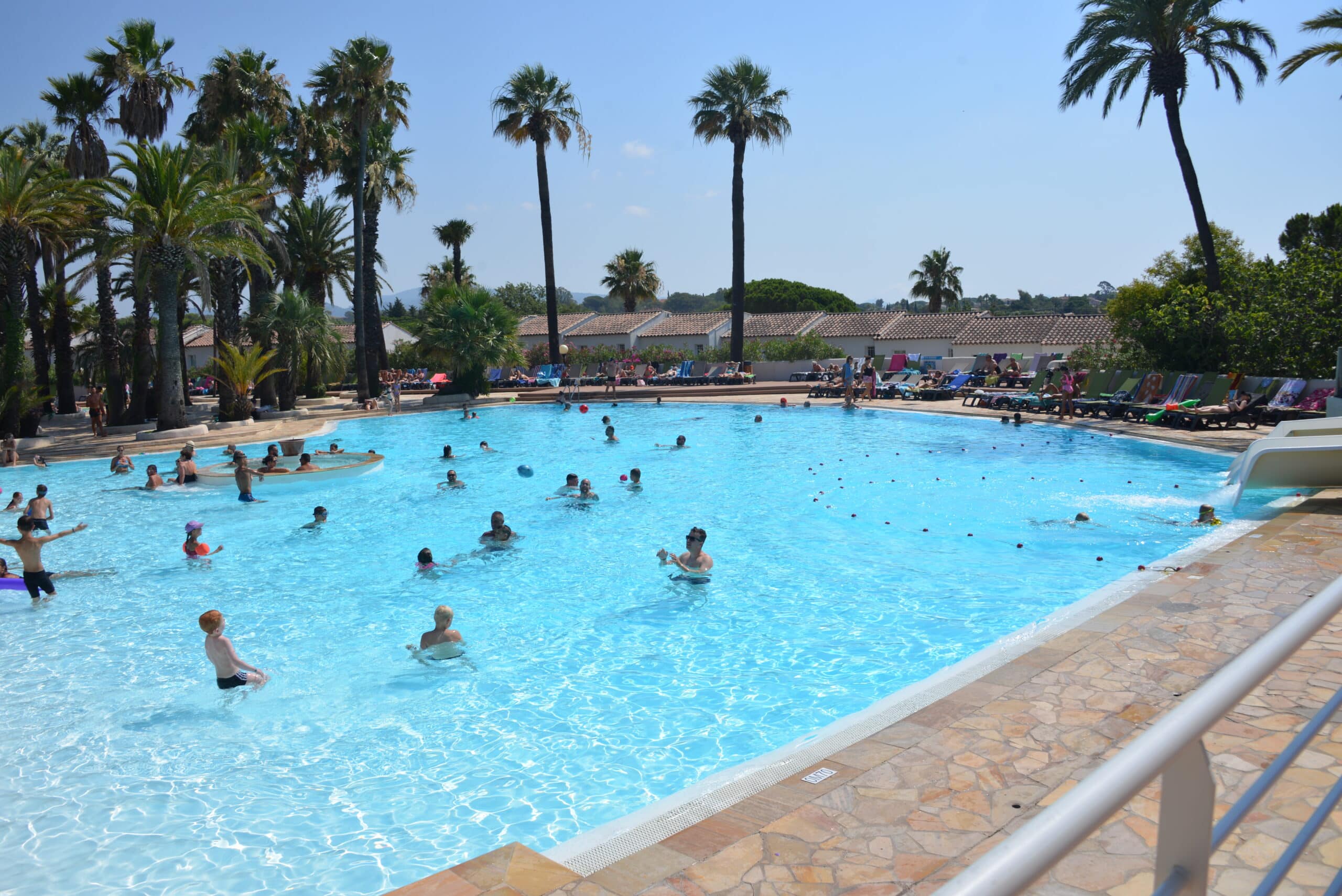 Entertainment
La Baume is a great location for kids wanting to try new sports, with tournaments in football, basketball, tennis, and even cross-training. We didn't try the kid's clubs as we were only there for four nights and wanted to explore the surrounding area.
Fitness classes in the gym aqua classes and pool games were also running when we visited.
Restaurants
We were a little disappointed with the food offerings at La Baume. The snack bar was fine, but it was definitely more of a snack bar than a restaurant. The restaurant at La Palmeraie looked better, but we didn't have a chance to try it, choosing instead to BBQ food on our deck or head into Frejus.
Shops
La Baume has a small but well-stocked supermarket, which was reasonably priced. The bakery was especially good. We walked there each morning to get fresh croissants and bread for breakfast. There's also a shop with clothing and swim accessories.
Overall impressions
The resort is huge, larger than any other we've stayed in. Some of the plots were fantastic, but some including ours, felt a bit cramped. We've stayed on campsites before where the kids have had an area at the front of the caravan to run around in, but that wasn't the case at La Baume for most plots.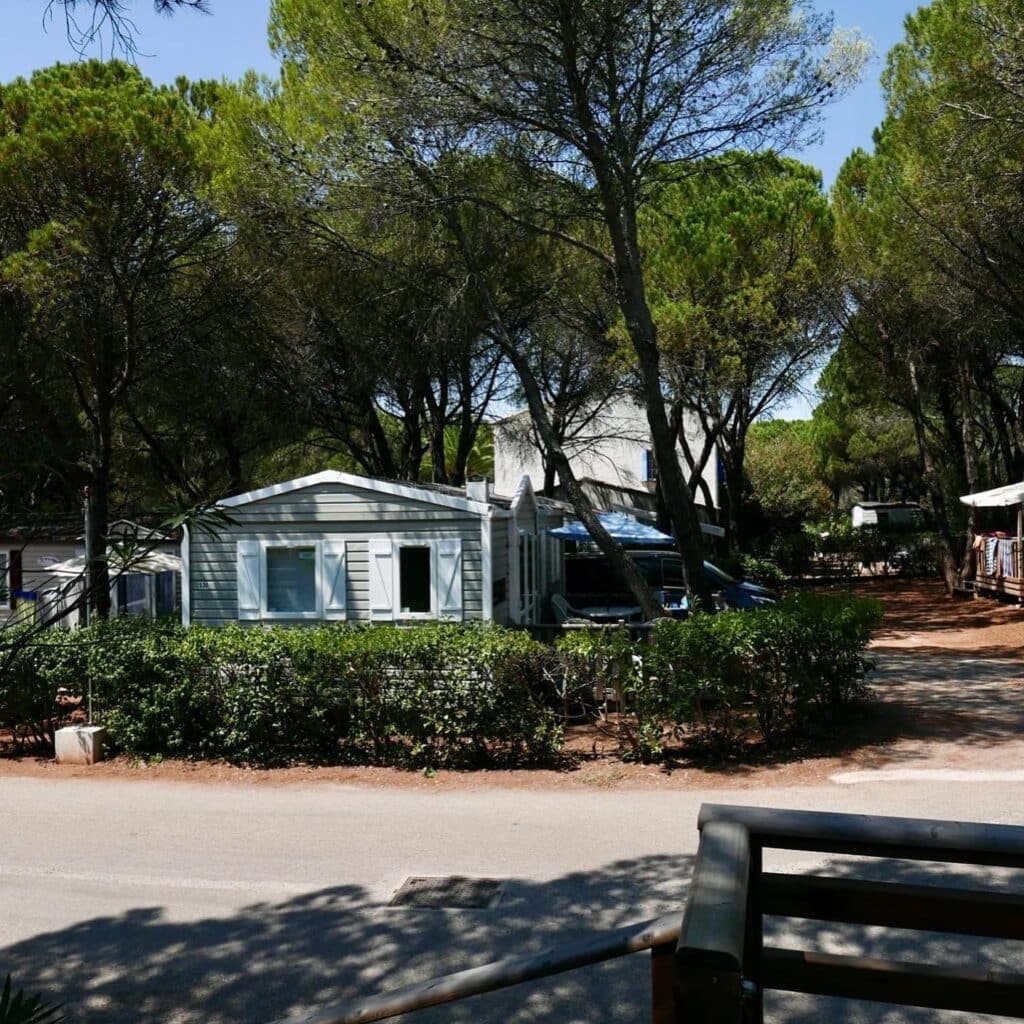 However, the facilities more than made up for the lack of space around the mobile homes, and my children thought the whole site was incredible and would happily have spent all day every day on the waterslides, but if we returned to the area, I would probably try one of the smaller sites in the same area. However, it was very handy to be so close to the supermarkets and shops in Frejus.
The local area
The town of Frejus has lots of restaurants, shops, markets and lovely beaches. Parking was plentiful and inexpensive. The area around the marina was fun to walk around at night with lots of bars and huge yachts to admire. I would recommend taking your own parasol for shade as the beaches were busy in the central area and very hot!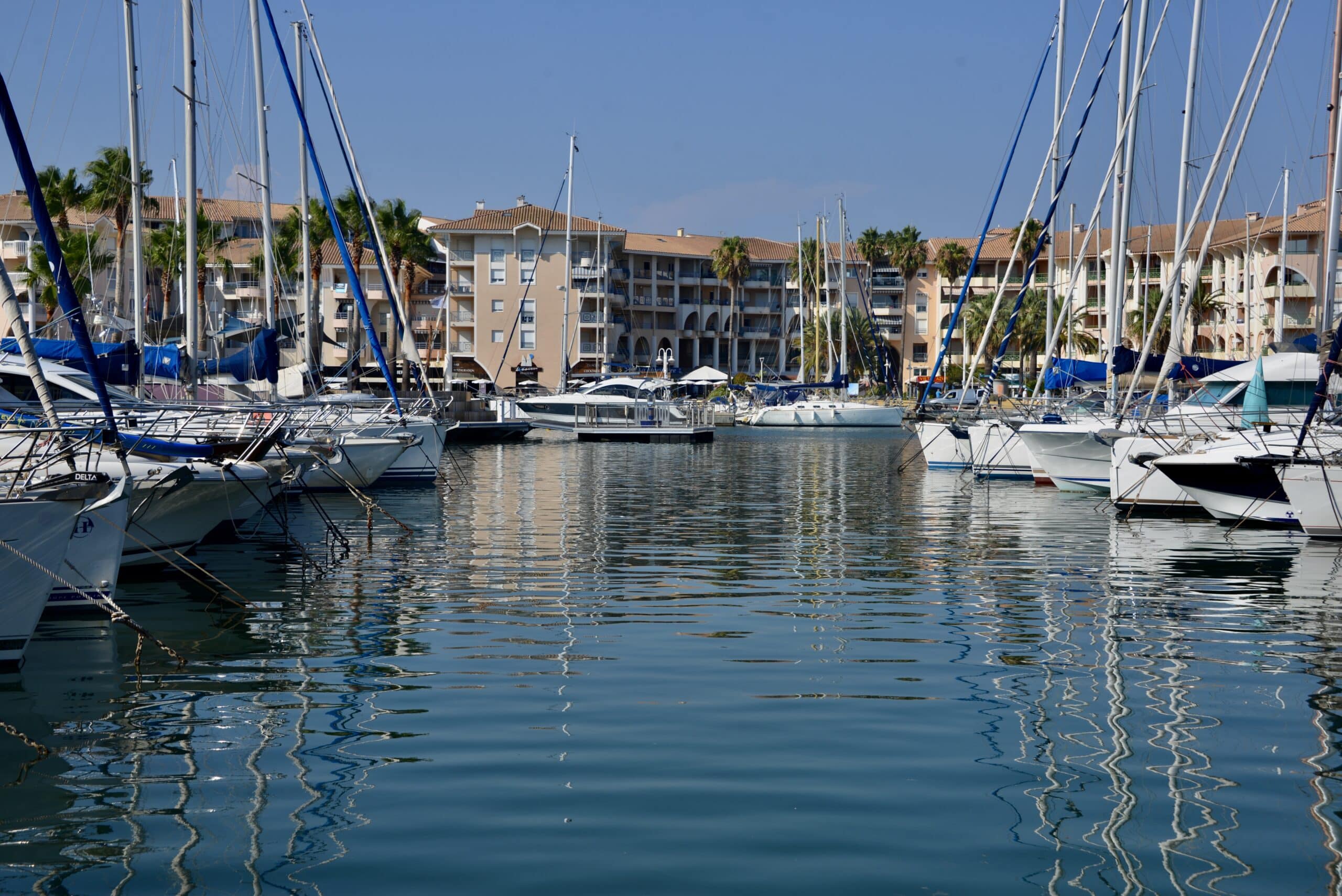 The old town has a collection of bars and restaurants selling all types of food, including traditional French cuisine. Frejus feels very family-orientated which was perfect for us, but if you want a more lively resort St Raphael is just down the road.
Nice, Saint-Tropez and Cannes are all easily visited from Frejus if you want an extra special meal or a new city to explore.
All in all, La Baume was a great base for our adventure along the French Riviera.