I'm always on the look out for a new health supplement in an attempt to thwart my everlasting tiredness from our busy life. I think it's amazing that natural products can have such a beneficial effect on general health and wellbeing, which is why I was intrigued to learn about Pycnogenol® a natural pine bark supplement found to improve varicose and spider veins following pregnancy by improving blood flow and reducing swelling.
Did you know around 30 per cent of women will suffer from enlarged veins as a side effect of pregnancy as the amount of blood increases to support the developing baby, putting an extra strain on the veins? Increased hormone levels can  cause the walls of blood vessels to relax, which may also increase the risk of bulging veins. I know I've spotted an increase in spider veins on my legs since having my children, which makes me quite self conscious.
A study, in which 133 women took part found that supplementing their diets with Pycnogenol® significantly reduced varicose veins and decreased minor pain and discomfort.
This infographic shows other health benefits of  Pycnogenol® which are not limited to varicose veins. I'm particularly interested in the immune boosting, memory and skin hydration effects and will definitely be buying some to try myself.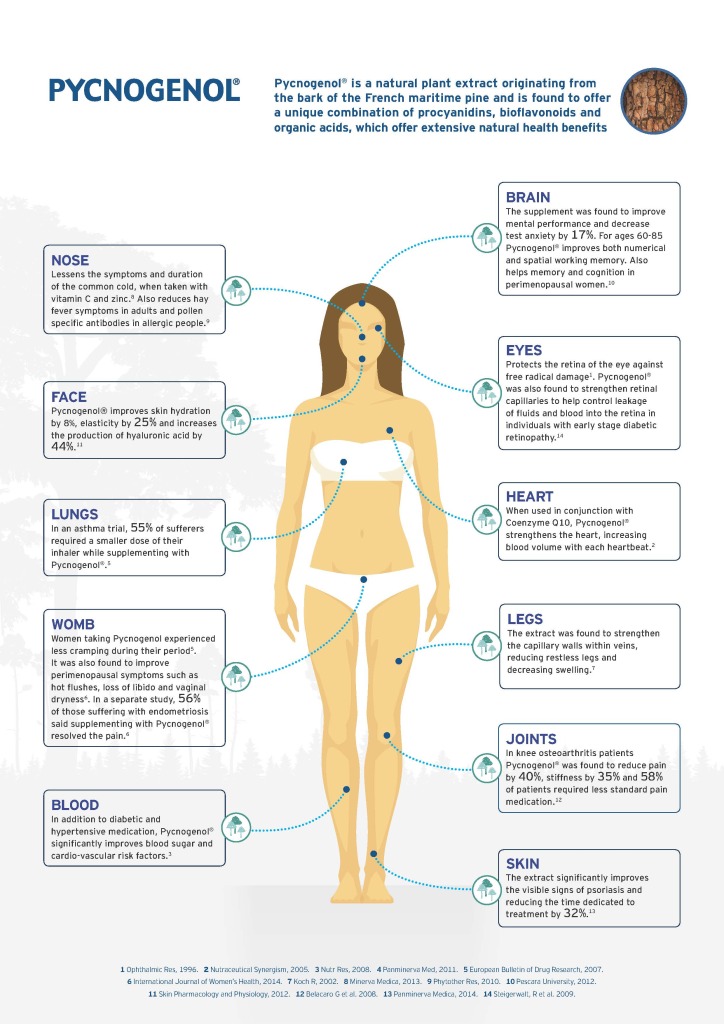 About Pycnogenol®:
Pycnogenol® is a natural plant extract originating from the bark of the maritime pine that grows along the coast of southwest France and is found to contain a unique combination of procyanidins, bioflavonoids and organic acids, which offer extensive natural health benefits. The extract has been widely studied for the past 40 years and has more than 340 published studies and review articles ensuring safety and efficacy as an ingredient. Today, Pycnogenol® is available in more than 700 dietary supplements, multi-vitamins and health products worldwide. For more information, visit www.pycnogenol.co.uk
Pycnogenol® is available from www.healthspan.co.uk £13.95 for 60 tablets.