While earwax is a natural substance that's in place to help protect your ears and your ear canal, it can soon build up which can result in various issues such as discomfort or hearing difficulties. If left untreated, this can lead to severe symptoms, such as ringing in the ear or dizziness. Performing the most basic of things may seem like an impossible task when you have difficulty hearing, so it's important to treat the problem as soon as possible. Here are a few ways on how to get rid of earwax, as well as remedies that you should avoid at all cost.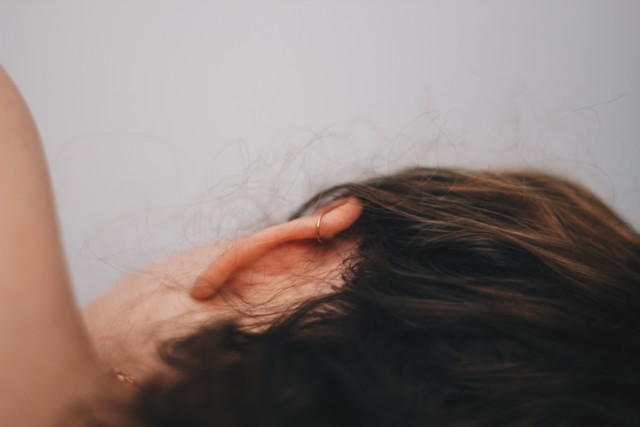 Liquid Solutions
There are several liquid solutions that you can use to help get rid of earwax build-up. Rinsing your ears with a saline solution is an effective solution for removing excess wax from your ears. To do this, simply soak a cotton ball with saline, then tilt your affected ear towards the ceiling, before squeezing a couple of drops into the ear. Make sure to keep your head tilted to one side for one minute, which will allow the saline to travel into your ear canal and soak in. Lastly, tilt your head to the other side to allow it to come out.
Hydrogen peroxide can be used too, especially if you have softened and stubborn earwax that shows no signs of coming out on its own naturally. Hardened earwax can be difficult to get out, so ensure you clean your ears first before dipping a cotton ball into a solution of one part water, and one part hydrogen peroxide. To make it easier, you can put a couple of the drops into a syringe bulb. Next, tilt your affected ear up to allow a couple of drops of the solution to flow into the ear canal. Lastly, wait five minutes and then tilt your affected ear down to allow the fluid to flow out.
Avoid Cotton Buds
While cotton buds can be effective to clean your outer ear, they should never be used in the ear canal. Many people make the mistake of using cotton buds or other foreign objects to get rid of earwax, but don't realise the damage they could be potentially doing. The tissue inside your ear is incredibly delicate, making it all too easy to cause temporary or permanent damage should you hit any of the tissue that's close to the eardrum.
What's more, using a cotton bud can push the ear wax further into your ear, making it much more difficult to get out. The deeper it gets into your ear, the more chance you have of causing a blockage, irritation, or damage. While it may be frustrating, it's always best to avoid cotton buds and use a liquid solution instead or seek professional help.
Stay Away from Ear Candles
While many people rave about ear candling, the procedure and its benefits have a mixed reaction from professionals. Although there have been tons of coverage regarding this technique, there are various concerns that it can cause several injuries, such as punctured eardrums or burns. Like cotton buds, ear candles can push the earwax deeper into your ear canal, causing blockages. Although you may have seen tutorials on ear candling online, it's always best to seek professional advice first.
Seeking Help
If you've tried out home remedies and find nothing is working, it's advised to make an appointment with your doctor or visit a hearing clinic to help nip the problem in the bud. London Hearing is a Harley Street clinic that can help with ear wax removal London, helping to get rid of problematic ear wax build-up. If you're experiencing itchiness, muffled or unclear hearing, tinnitus, or dizziness and earache, London Hearing provides same day appointments, helping you to get back on your feet in no time.
The Harley street ear wax removal team uses a procedure called Microsuction, which is used to remove wax from the ear canal. Regarded as one of the most comfortable and safest methods when it comes to ear wax removal, the procedure consists of a skilled clinician performing a suction technique in order to extract the wax from the ear. The procedure is painless and can be done in a matter of minutes. A doctor or clinician will also be able to rule out any infections or underlying conditions too.
While some level of ear wax is good for you, a build-up of wax can stop you in your tracks. If you're experiencing hearing loss, ringing in your ear, or dizziness (in extreme cases), it's important to treat the problem as quickly as possible.
Make sure to try out a liquid solution first, especially if you can't see a doctor or clinician straight away. Also, avoid using cotton buds in the inner ear, and steer away from ear candling as you could be causing more damage than you think. Thanks to the range of remedies and treatments available, excess ear wax can be treated quickly and effectively.
Collaborative Post