The last time we visited Disney World, it was the old Fastpass system, so I've had to spend some time this trip getting my head around Genie + and Lightning Lanes.
Disney tickets are expensive, so understandably, everyone wants to get the most out of each day. We used Genie + for one out of our five park days, and it was amazing, but on the flip side, if you don't pay, the standby lanes feel slow, and it's pretty annoying watching lightning lane people walk on rides as you queue. I definitely feel like the old FastPass system was much fairer.
As an example, the queue for Toy Story Mania was 90 minutes when our Genie + slot came up. We walked on the ride with no wait and felt very guilty, but by that point, we'd done a LOT of queueing on previous days, and it was nice to be the ones with the advantage for once.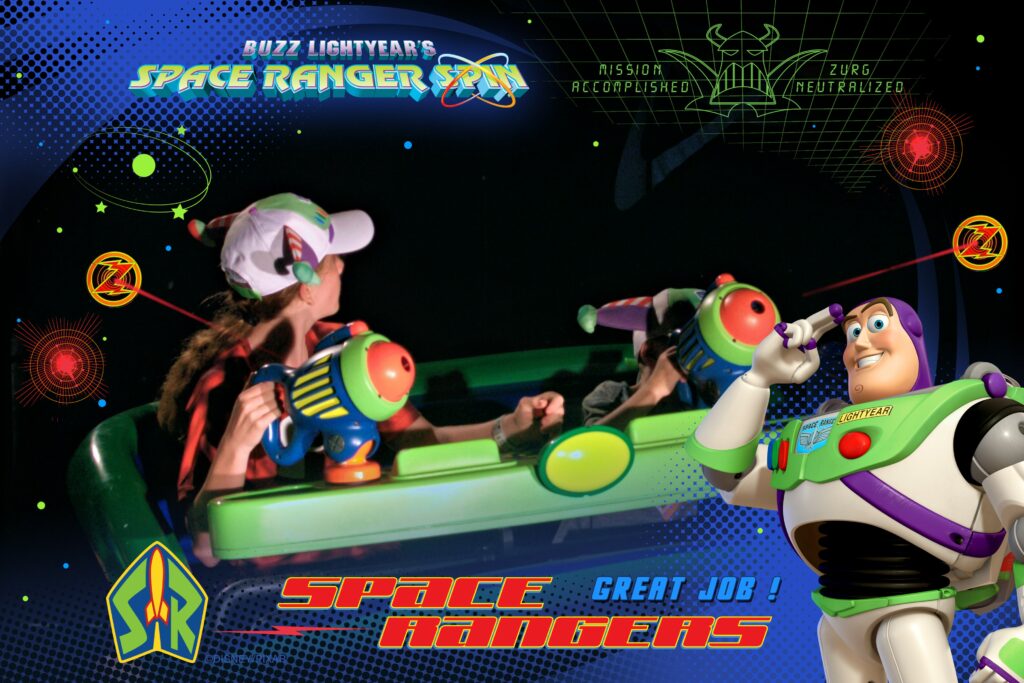 Top Tips for getting the most out of Disney's Genie +
The first thing you need to do is download the My Disney Experience App. I would do this in advance of your trip and use it to book park days, dining and other experiences. If you're staying at a Disney hotel, restaurants can be booked 60 days in advance. You can also check show times and make mobile food orders using the app, so it's pretty essential as you explore the parks.
What is Disney's Genie Service?
Disney's Genie service is a free service within the app that helps you plan your day and get the most out of each valuable day in the parks. It's super clever and very helpful.
The Genie knows which parks you've booked and offers a list of attractions, shows and dining so it can get to know your preferences. Then it creates a Disney Day using the chosen attractions and also recommends things you might have missed. This is brilliant for first-time visitors who might not be familiar with all the attractions in each park.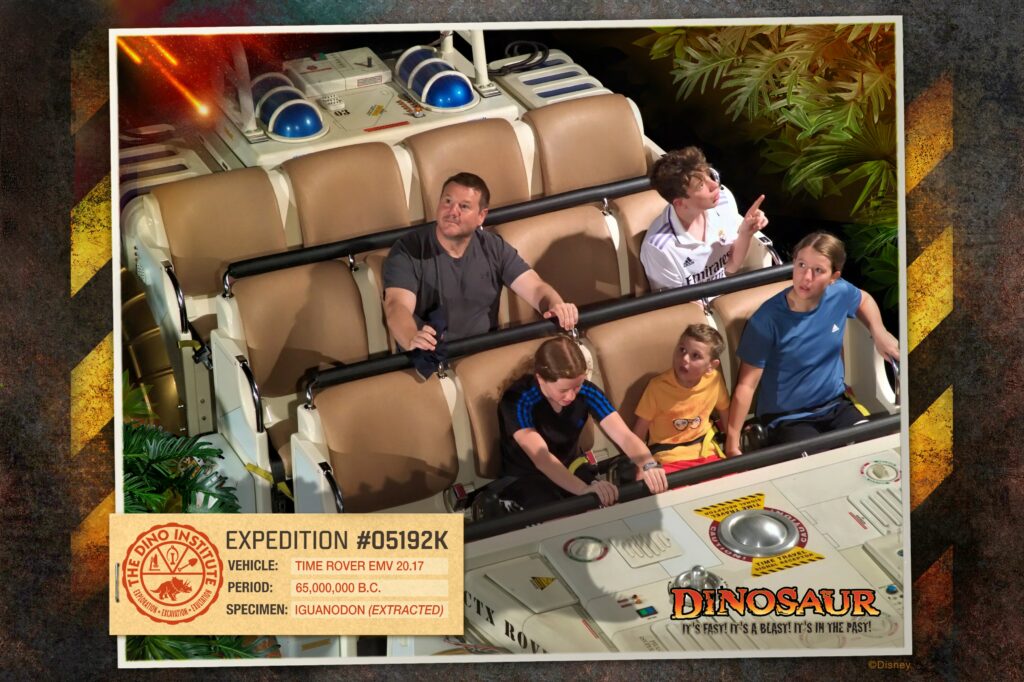 What is Genie + ?
Genie + is a paid-for service that allows visitors to bypass the usual queue lines and use a special entrance called Lightning Lane.
Genie + also gives users digital downloads of some PhotoPass attraction photos and special PhotoPass lenses, giving fun augmented reality effects.
How much does Genie + cost?
The cost varies depending on the day and the park. When we bought it for a midweek park day the cost was $24 each. For a park hopper Genie +, the cost would've been $27 each.
Is Genie + worth it?
If there are only a few people in your party, I'd say yes, the cost is absolutely worth it. However, for a family of 6 like ours, it was a substantial cost that we were reluctant to add to an already expensive holiday. We decided to use Genie + for Hollywood Studios, where we'd already seen that queues for Tower of Terro, Aerosmith, Slinky Dog Dash and Toy Story Mania were large and unavoidable. We knew we'd have to queue for Rise of the Resistance ( which you can't add to Genie + ) so we didn't then want to have to wait in line for the other rides too.
Genie + slots can be booked either after you've checked in for a ride or two hours after the last selection ( whichever is first ).
Our Genie + day went like this
7 am – woke up, bought Genie + and chose the first ride. I went for Slinky Dog Dash as we'd seen the huge queues on previous days. Our Slinky Dog Dash time was 1.10 pm.
Our second slot couldn't be booked till 10 am, 2 hours after the park opened.
8.30 am – arrived in the park and queued for Rise of Resistance.
10am – booked Tower of Terror for 3 of us – group 1 ( 12.45 pm ) and Toy Story Mania (10.45am ) for the other 3 – group 2 while in the queue for Rise of Resistance.
10.45 – Group 2 rode on Toy Story Mania and booked Alien Swirling Saucers
11.40 – Group 2 rode Alien Swirling Saucers and booked for Smugglers Run (3.45pm)
12.45 – Group 1 rode Tower of Terror and booked Aerosmith for 3.45.
1.10 pm – all rode Slinky Dog Dash
1.20-3.30 – Watched Indiana Jones, Muppets 3D and ate lunch.
3.45 – rode Aerosmith and Smuggler's Run.
Group 1 also managed a ride of Toy Story Mania in between.
You can see we managed four rides without queueing, which was about what we expected. You can only ride each ride once a day using Genie +.
We actually left the park at 4 pm as we'd done everything we wanted to do on previous days, and it was HOT, but there were still LL options for other attractions available, so we could've done more had we wanted to stay.
The downside was that we felt we spent a lot of time hanging around waiting for our LL slots to start, which was tough in the heat.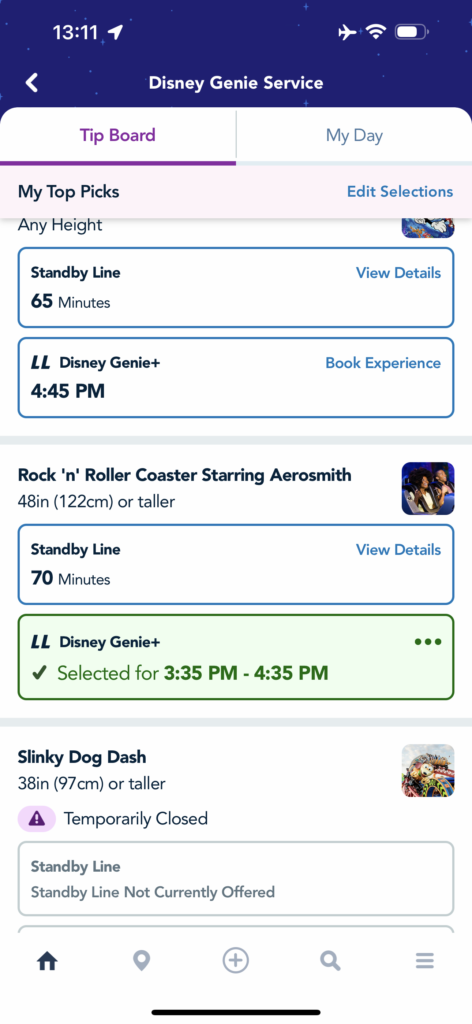 What is a virtual queue?
A virtual queue is just what it sounds like. You join a queue from within the app and are given a time slot to return to the ride. Virtual queues open at specific times. 7 am, 1 pm and 6 pm if you're staying in a resort hotel eligible for extended opening hours.
Currently, Tron in Magic Kingdom and Guardians of the Galaxy in Epcot are the only two attractions which offer a virtual queue, but check the app for up-to-date information.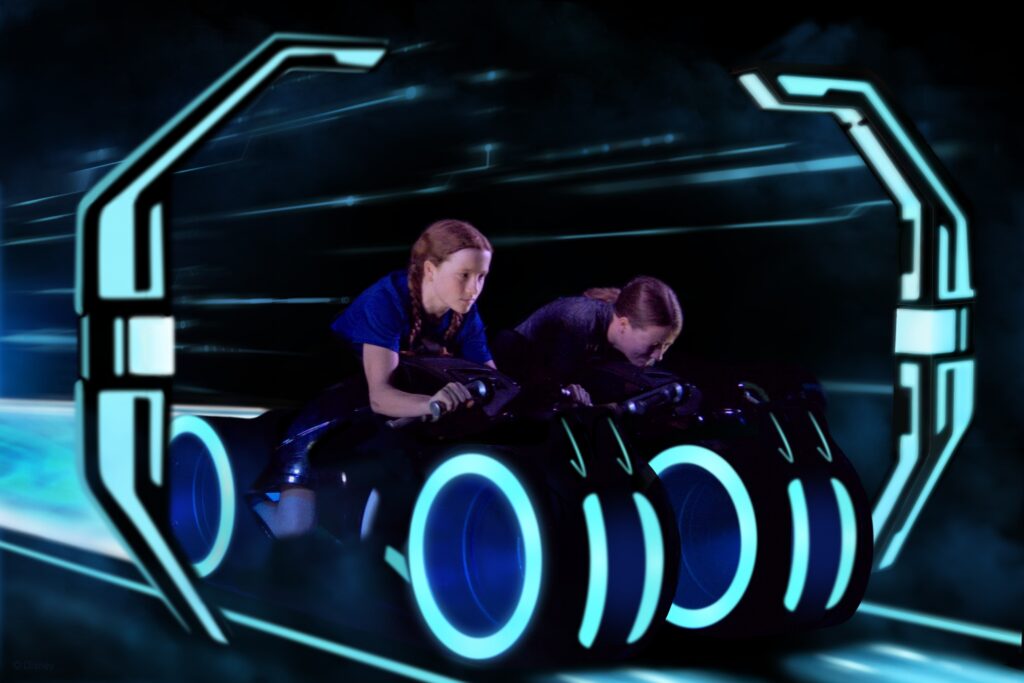 Setting the alarm for 7 am isn't ideal when you're on holiday, but Tron and Guardians of the Galaxy are worth it! Unfortunately, a virtual queue doesn't mean that there's no actual queue. It's more a way of controlling the lines to a reasonable level. We waited for 45 mins to an hour for both rides after arriving at our designated time.
You can see that our virtual queue time for Tron was 2.55 pm, and that was with a 7 am virtual queue booking, so you need to be quick.
Currently, the only way to ride both Tron and Guardians of the Galaxy is by virtual queue or individual lightning lane.
Note, for the 1 pm slot, you need to be in the actual park where the ride is to book a slot.
Guests in selected Disney hotels have the option of an extra 6 pm virtual queue slot on extended opening hour days.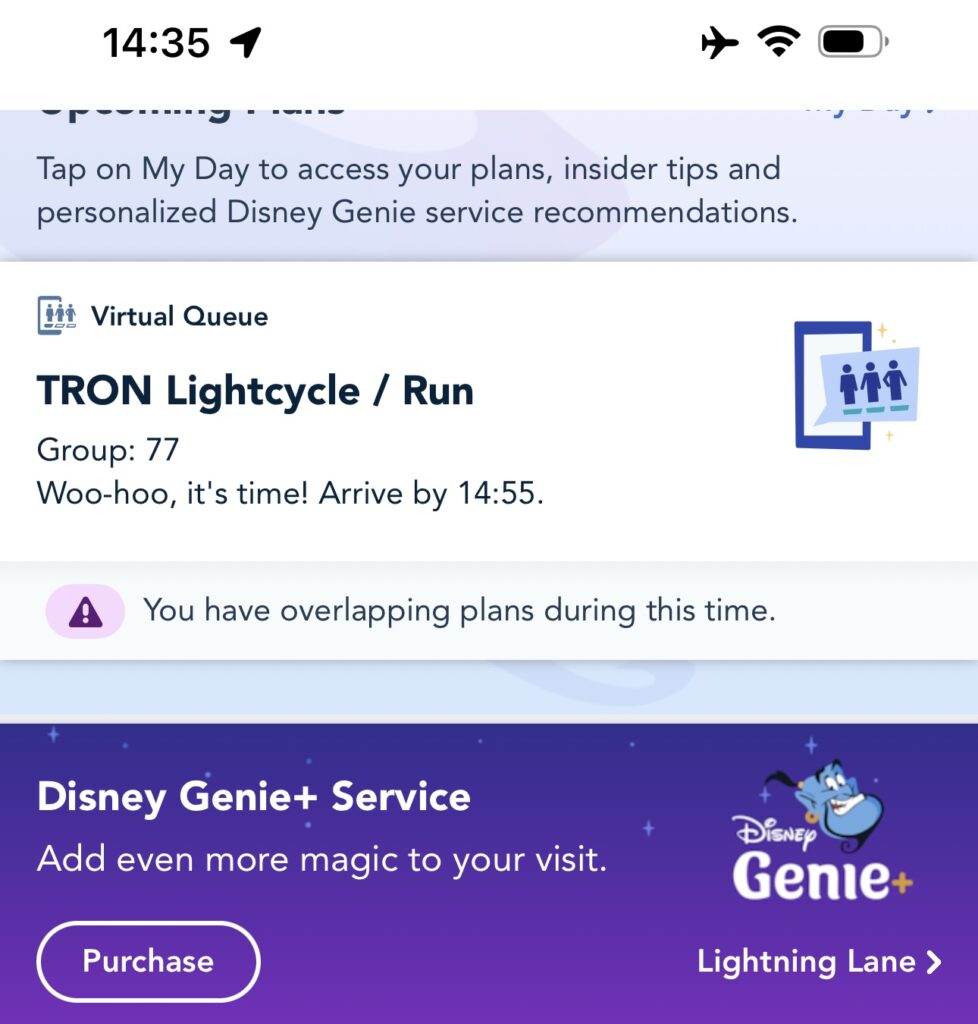 Which Disney rides have single-rider lanes?
Epcot – Test Track
Hollywood Studios – Millenium Falcon: Smugglers Run
Rock n' Rollercoaster
Animal Kingdom – Expedition Everest
It all sounds confusing, but the app is great and guides you through. With Genie+ it tells you what time you can book your next slot making it very straightforward. The trickiest thing is choosing which attractions to Lightning Lane first, as you don't want to risk them running out.
Always check the Disney website and app for up to date information.