I realised today, that I don't have any photographs of Christmas. There's no triumphant photo of presents neatly laid out on Christmas Eve, no video of excited children waking up, no photo of kids sat next to an open pile of presents, but what I do have is lots of lovely memories. The reason I don't have any photographs is that there simple wasn't time, we literally did not stop to think between the kids going to bed on Christmas Eve and 9pm Christmas Day. No time to think about getting the camera and definitely no posing for fancy shots.
Christmas Eve was spent building a flatpack kitchen from Great Little Trading Company, it's pretty awesome and I'll never forget the squeal of excitement from S when she saw it. We finally got to bed about 1am, half drink glasses of mulled wine discarded and a film completely unwatched.
I lay in bed Christmas morning listening to the kids open their stockings, it was possibly my favourite part of the day, the small stocking presents seeming to bring such a lot of pleasure and  being able to hear their conversation was hilarious. The rest of the day passed in a blur of wrapping paper, friends, bike rides and Playmobil building. It took me FOUR hours to build the school and everyday since I've reorganised it back to its former glory.
The BEST thing about Christmas, was not the presents, and we were all very lucky. It was watching the kids play, by themselves and together, without asking for help or snacks every five seconds. It was watching my girls play with their dolls and kitchen for hours on end, getting them dressed, taking them to 'school', 'LEGOLAND' and 'nursery', just generally being lovely to each other, with a bit of twister thrown in for good measure.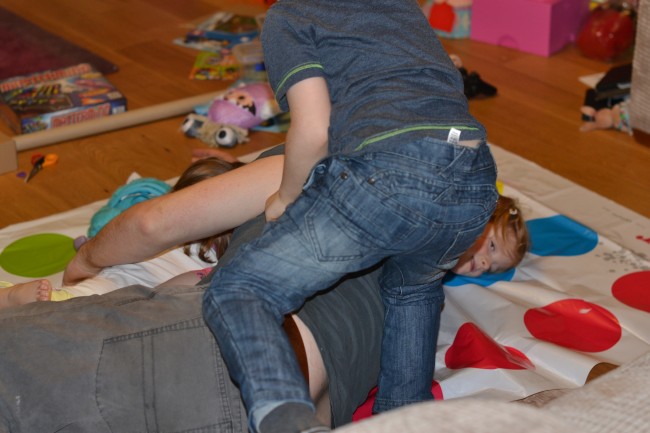 It was a break we needed, time and space to enjoy each others company without the stresses and strains of everyday life.