Are you constantly reminding the kids to stay hydrated, only to be met with eye rolls or the classic "I'm not thirsty"? We get it! Getting kids to drink enough water can sometimes feel like a game of cat and mouse. But what if we told you that hydration could be a fun and exciting part of their day?
We're going to explore creative and engaging ways to make water drinking a positive experience for your kiddos. Trust us, they'll be reaching for their water bottles faster than you can say, "Bottoms up"!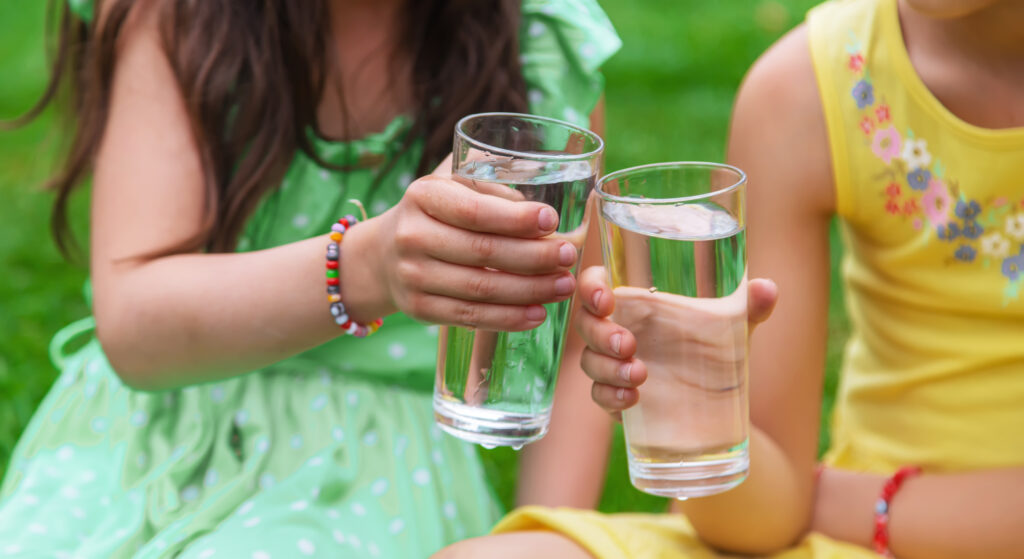 H2: 1. Dive into water-infused games
When it comes to getting kids excited about water, nothing works better than working it into playtime. Dive into these activities and watch your little ones sip, play, and learn!
Water relay race: divide the kids into teams and have them race to transfer water from one bucket to another using only the cup. The team that fills their bucket first or has the most water at the end of a set time wins!
Sponge toss: instead of water balloons, how about using sponges for a good old-fashioned toss game? Soak some large sponges in water and have the kids throw them into buckets placed at varying distances.
Water painting: give each child a cup of water and a paintbrush, and let them "paint" on the footpath or driveway. The water evaporates, leaving a clean slate for endless creativity. Plus, it's a mess-free activity!
H2: 2. Scavenger hunt and sip
First things first, you'll need a list of items for your young adventurers to find. Depending on where you're enjoying the scavenger hunt – your backyard, a local park, or even on a bushwalk – you can include items like:
Pinecones
Feathers
Smooth rocks
Dandelion or other wildflowers
Leaves with interesting shapes
Feel free to get creative and add challenges like "Find something that makes noise" or "Spot a bird in a tree".
Before setting off, make sure each child has a water bottle in hand. Not only will this keep them hydrated during their quest, but it also adds an extra layer of excitement. Every time they find an item on the list, it's sip time! As kids run around searching for treasures, they're also sipping water. It's a fantastic way to teach them the importance of drinking water, especially when they're active.
H2: 3. Create a funky DIY hydration station together
Are you and your kids tired of plain old water? Get ready to jazz things up with a DIY Hydration Station. Refreshing! Creating your own fruit-infused water station is easy. Here's what you'll need:
A large jug or reusable cups for serving
A variety of fruits like lemons, strawberries, and blueberries
Fresh herbs like mint or basil
Ice cubes to keep things cool
Arrange the fruits and herbs in small bowls, and let the kids go wild mixing and matching their favourite flavours. The sky's the limit when it comes to creating your own refreshing concoctions.
H2: 4. Make some flavourful ice cube creations
Are you ready to take your hydration game to the next level? Get creative with flavoured ice cubes! Imagine sipping on water that's been jazzed up with hints of strawberry, lemon, or even mint. All you need is:
An ice cube tray
Slices of your favourite fruits, like lemon, lime, or berries
Fresh herbs like mint or basil
Water
Simply place a slice of fruit or herb sprig into each section of the ice cube tray, fill with water, and freeze. Voila! You've got yourself some flavourful ice cubes.
Once your ice cubes are ready, pop them into your water and watch the magic happen. As the ice melts, it infuses your water with delicious, natural flavours. Once again, you can get creative and experiment with different combinations. How about cucumber and mint for a refreshing twist? Or a berry medley for a fruity delight?
H2: 5. Storytime Hydration
Here's a whimsical way to make sure your little ones are sipping water while lost in the world of fairy tales and superheroes.
The idea is simple. As you read a story to your children, incorporate "sip cues" at specific points in the narrative. For example, every time the brave knight draws his sword or the clever detective finds a clue, it's time for everyone to take a sip of water.
Kids are so engrossed in the story that they hardly notice they're drinking water, making it a fun and effortless way to stay hydrated. Plus, it adds an interactive element to storytime.
Feel free to get creative with your choice of stories and sip cues. You can even let the kids pick the cues themselves.
H2: A Hydration Adventure Awaits!
Who knew staying hydrated could be such an exciting adventure? Remember, the key to keeping your kids well-hydrated isn't just about reminding them to drink water; it's about making the act of drinking water fun and engaging.