One of our favourite activities on a weekend is all going out for a bike ride. Last weekend little H at just 3 managed to ride her big sister's pedal bike all by herself! I put this down partly to the amazing Islabike that is now on its third owner, the determination of my youngest daughter and a semi-pushy Dad.
I'll let him tell you our bike riding history so far.
About 4 years ago I bought my first quality bike.  Previous imposters had been steel framed behemoths that weighed a ton and whose components were most accurately described as budget.  I had been thinking that this must be a false economy and finally being in a position to purchase something half way decent I did.  I researched and fell fully for the sales patter.  T6 Aluminium frame (even I was not delusional enough to think I warranted carbon fiber) was a must have.  Well it turns out that for me, an expensive bike was definitely a luxury.  I did not benefit from the lightweight frame, mainly because I use it to ride to the station and with the kids.
My kids however were another matter.  About 3 years ago, my eldest son started asking about bikes (he had ridden on the back of my "awesome" mountain bike in a seat and was keen to get one exactly the same).  I did a search and still fully appreciative of the lightness of an aluminium frame came to find Isla bikes.
As this was Z's first bike I ordered a nice purple CNOC 14″ with stabilisers. The lady on the phone told me that I should not get the stabilisers.  She said that they had found them to be a hindrance more than a help and so, having read a bit more about teaching to ride bicycles I decided to take the plunge.  I also bought my daughter (2.5 years) a balance bike.
Christmas 2010 Z was the proud owner of a very shiny new bike.  I felt I had made the biggest mistake of my life as a parent!  Boxing day and the roads were still covered in snow and ice and our street was treacherous.  Z's best friend was knocking at the door with his shiny new bike, complete with Fireman's box and stabilisers.  As I brought Zak and his bike round I saw the incredulous look on my friend's face, a look that soon turned to pity.
Z's friend was a demon on his bike, peddling like crazy and zooming up the icy road.  Zak on the other hand was laboriously pushing himself along, his feet slipping, the bike sliding from under him with him shouting at me "I want stabilisers".  I felt humiliated.  But I perservered.  Icy roads are not right for learning to ride a two wheeled bicycle.  We waited.
Two weeks later, I removed the pedals and we used Zak's bike as a balance bike.  In a single day he was quite happy walking himself around.  This continued for the next couple of months (we probably only went out once a week) until in March he asked me to put the pedals on.  I can still remember the day he told me to let go of him.  Amazing!  He had just turned 4 (in March) and could ride a bike.  His friend was still using stabilisers and would be for a further few months.
While all this was happening S had been using her balance bike.  She loved it and became an expert.  She is a very small girl and it would be a very long time before she could ever use Z's bike.  She got the opportunity on his 5th birthday when we bought him the BEINN 20″ mountain bike with gears.  S took possession of his CNOC 14 in March.  The hardest thing for her was the peddling.
She just couldn't get the hang of peddling a full forward rotation.  It finally clicked when I found an old trike in the garage.  Because the action of peddling the trike has no free wheel she quickly learned peddling forwards drives you forward (sounds obvious right?). I guess this is what you quickly learn if you have stabilisers.  However balance is the thing I have noticed that is hard to get.  With the balance bike this becomes very natural very quickly.  She was cycling just after her 4th birthday in September.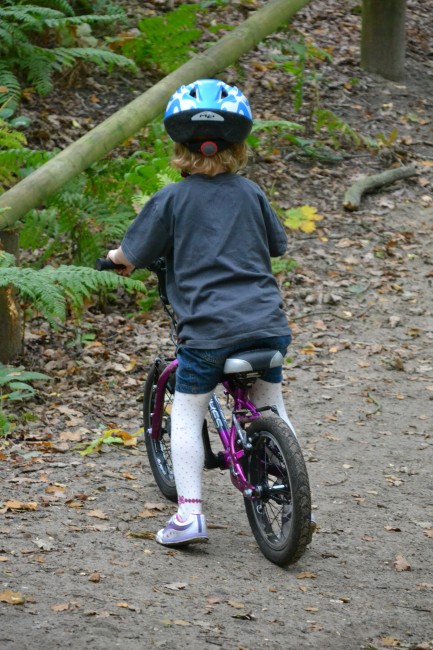 So, when child number 3 came along, we had a spare balance bike and our daughter H has never been what you would call shy.  She has been on that balance bike since she could walk.  Not only have the kids all grown in confidence earlier and earlier, my confidence and pushing them has also grown.  One day, while the S and Z were at school and while I had a day off so my wife could go to "Mums in school" day I decided to take H out on the CNOC 14.  I took the pedals off and we used it as a balance bike for a while, and then I put the pedals on.  H could already balance when moving so all we needed to work on was her peddling.
The next day we had another go, H is very determined as am I.  We had a great time and suddenly it clicked.  If there is a feeling that I will never forget it is when I am supporting a child while they're peddling along and feel them pulling away under their own power.  H did that today.  She turned three in August.
I attribute this to a number of things.
1) Isla bikes use lightweight quality materials.  This is very important for small children (not so much for fair weather commuter cyclists like myself!)
2) My kids are very determined.  I have tried to instill in them that they can do anything if they practice.  They truly can do anything.
3)The Isla bikes sales representative – "Do not buy stabilisers, we sell them but do not recommend their use".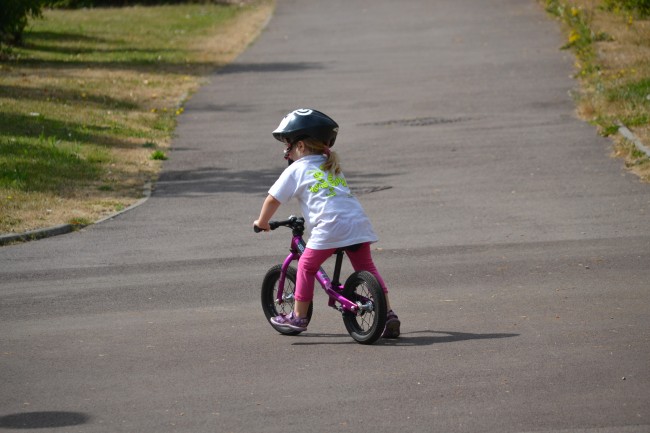 Awww, what a proud Dad. I recommend IslaBikes to all my friends, and now 4 of their children have their own IslaBikes. They are expensive, there is no doubt about that, BUT the quality is amazing. Our balance bike and CNOC 14 have had 3 little owners and are still going strong. I fully expect Z's Beinn to be passed down to both his sisters too, and will hopefully be buying a 16in CNOC for little S this Christmas. 

All bikes were bought for our children by ourselves, and we definitely recommend IslaBikes.