When I look back on my first year with Z it was blissful. We would wake up about 8am, go downstairs, make breakfast and eat slowly whilst watching GMTV. Mornings consisted of walks, shopping, baby music, gym classes or meeting friends. It was lovely, relaxed and peaceful. We had all the time in the world to sit, sleep and play.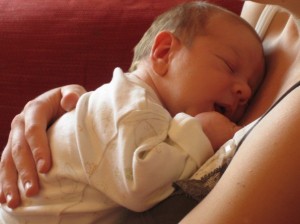 Fast forward to now, we wake up about 7am, the kids have breakfast while I run around searching for shoes, coats, socks, blankets, nursery bags, school bags, book bags and something for 'show and share'. If I'm really lucky I get to shovel down a bit of limp toast and some luke warm tea whilst making sure everyone has clean teeth, faces and clothes on the right way round.
Getting shoes on 3 small children is no easy task. Z complains that his feel funny, Little S tries to put on her sparkly party shoes even though its tipping down with rain, and Baby H takes hers off as fast as I can get them on. Eventually we manage to get out of the house with me carrying baby H plus the bags and coats Z and S have refused to carry/wear.
If its a nursery day we drop of S first then rush to school and park a 5 minute walk away as we are so late all the good parking spots have gone. When we eventually get to school Baby H comes in with us and we start the goodbye ritual of 10 hugs, 10 kisses and a wave at the window.
Baby H and I get home, breathe a sigh of relief and try to relax until it all starts again in reverse at 3pm, followed by swimming or maths club.  If its not a nursery day, We see friends or take S to gymnastics and swimming. Poor little baby H gets dragged around everywhere with her big brother and sister. I can't decide whether its good for her to be exposed to so many different environments and have such a lively house or whether she just longs for a quiet 5 minutes and a day when she doesn't have to get in the car.
I know I treasure the time when I can really concentrate on her beautiful little face. When we can read a book quietly and I can make her giggle. When Z and S are around her favourite words are 'Owww' with a sad little face and 'Mummy' as she reaches out to me pleading to be rescued from the chaos.
What do you think? Is it a good or bad thing to be the youngest? I'm just waiting for the day when she really finds her voice  and I have three children shouting at me 🙂