We've visited Moors Valley Country Park several times over the last few years and I'm always completely blown away by how amazing it is and that you only pay for parking, Moors Valley is hands down the best and most reasonably priced day out we've had all Summer. We paid just £8 for the whole day and explored miles of tracks through forest, entertained the whole time by fantastic play structures and lovely little touches like wooden toadstools and the infamous Gruffalo statue.
The Play Trail
The Play Trail is only a mile long, but the 9 play structures strategically placed along the route are so enticing that it always takes us at least 2 hours to get around, sometimes longer if we're with friends. We especially loved the new Crocodile Crossing sculpture, which has a giant crocodile mouth to climb through and stepping stones along the tail. I really wanted to get a photo but it was so much fun there were always lots of children on it.
This is the very cool Funnel Trap, a huge web structure that my children loved.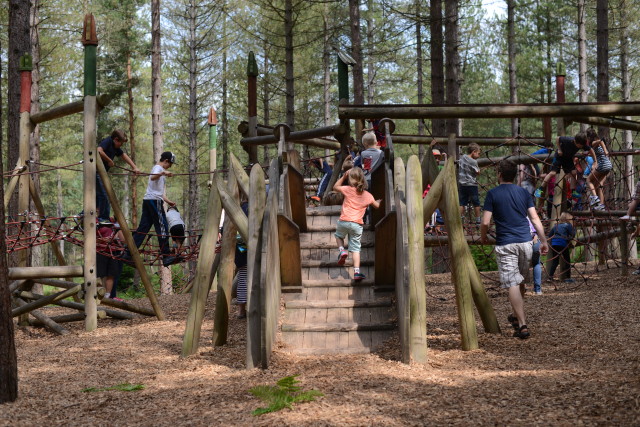 Here is Hannah exploring the Webs, another spider like structure. This time last year she needed a lot of help but did it all by herself this time, she is so much more confident and strong after a year at school.This photo doesn't do justice to the sheer size of the webs which are huge, providing huge amounts of climbing practice.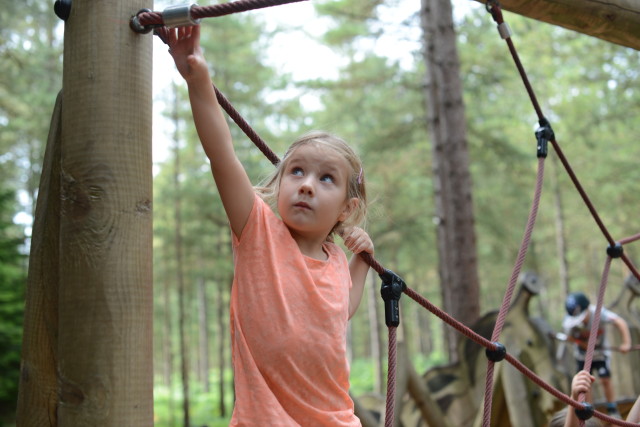 This play area ( Timber! ) goes right up the hill and was quite challenging even for my 8 year old, who was determined to complete the course without falling off. All the sculptures are just beautifully constructed, we really did have the BEST time.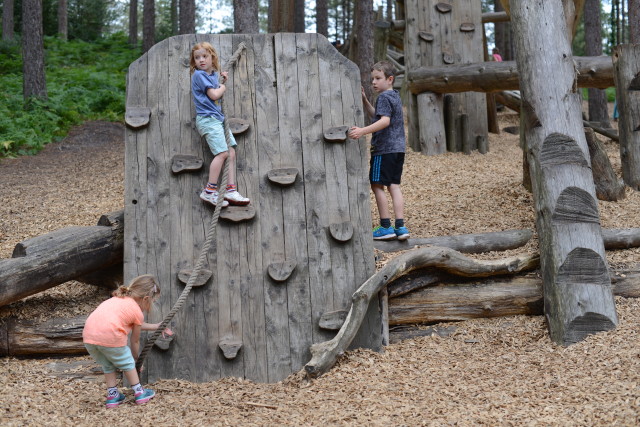 Hannah had a little rest on an ant while her big brother and sister explored the giant ants nest which is full of fun ladders, a slide and fireman's pole a bit further up the hill.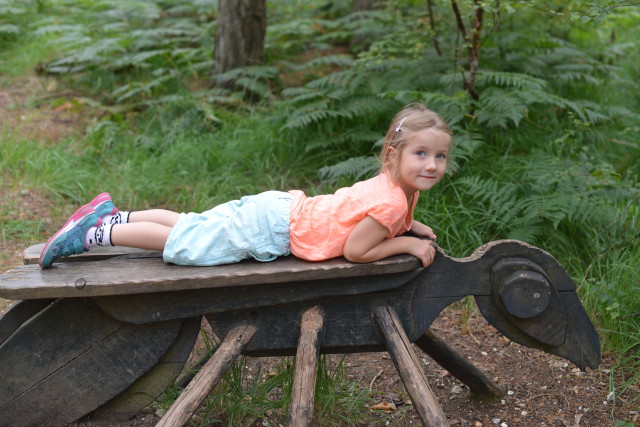 Other play structures include a network of tunnels and giant nests, each of the 9 structures are very different are great for children of all ages.My 8 year old loves it as much as my 4 year old.
The Fitness Trail
The fitness trail consists of 10 exercise stations complete with instructions along a 2 mile trail, we've never completed the whole trail, but always stop at one station just off the play trail as my children love the pull up bars.
I'm not suite sure what these two are doing here, but it made me laugh. They are definitely not following the instructions.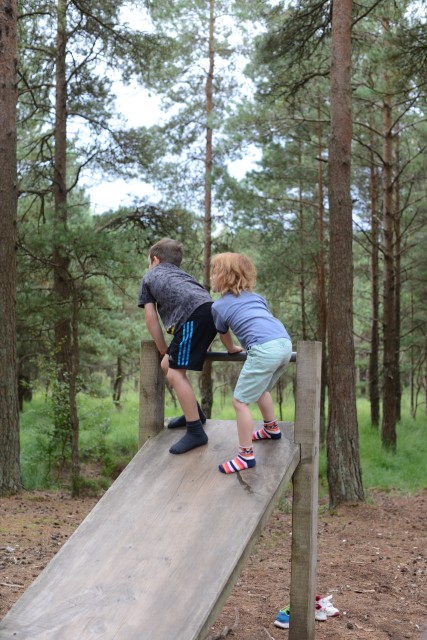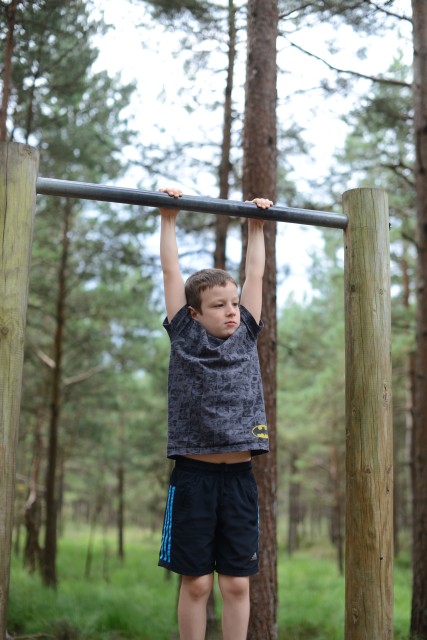 Play Areas
There are two play areas near the Visitors Centre that we only found for the during our last visit. I didn't manage to get any photos, but one is great for older children with a huge climbing boulder and zip wire as well as an area for younger children with sand, slides and swings all beautifully castle themed.
We even found The Gruffalo. It is the most amazing statue and so wonderful to find in the woods. The Gruffalo is such a treasured book in our house, that even though my children are a little old for him, we all have such fond memories of reading the book. It's been such a big part of their childhood so far.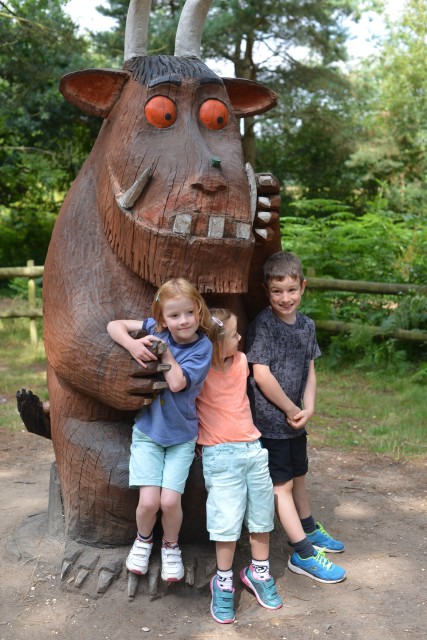 Superworm Trail
The Superworm trail at Moors Valley is open until September, and is suitable for ages three to eight. There are ten panels to be found along the 0.75 mile trail, each with a number of fun Superworm challenges to complete.
We weren't very organised and only found the trail at the end of the day, so rushed around a little bit, but there are lots of great ideas for activities to do along the the beautiful route around the lake so you could spend a good hour or so doing all the suggestions.
My children are generally not the best walkers so trails like this are perfect for keeping them entertained and not thinking about the actual walk.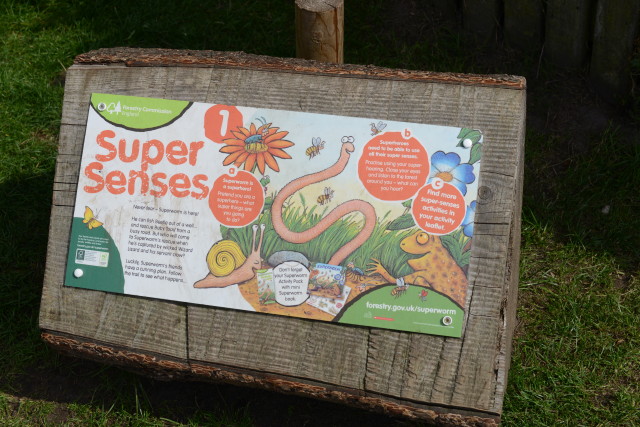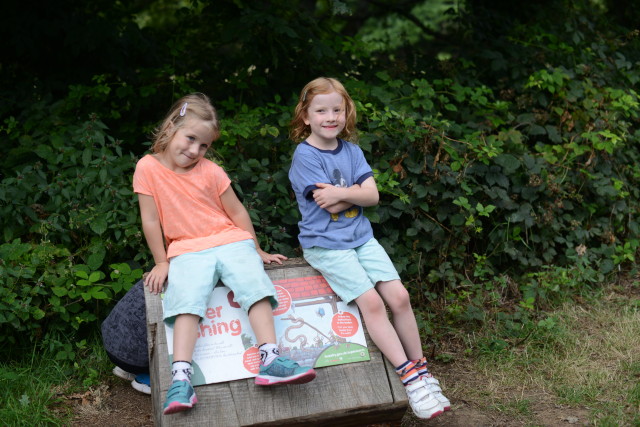 Facilities
Seasons Restaurant serves breakfast, lunch and snacks. We've only had coffee and cake there, but have found it to be very clean with helpful staff.
Mountain bikes, trailers and children's bikes are available to hire from the cycle Hire Centre on site.
The toilets are situated by the Visitors Centre and are always very clean.
There is a GoApe and GoApe Junior at Moors Valley too. We've tried GoApe Junior in the past and had a great time. You can read about our recent GoApe Junior adventure at Alice Holt ( another great Forestry Commission site here ).
Moors Valley Country Park is about an hour and 20 minutes from our house, but so worth the journey. We absolutely love it.
We are Ambassadors for the Forestry Commission, but paid ourselves for out day at Moors Valley.