I fully admit to being very nervous about taking three children skiing earlier this year. Many years ago I was a competent snowboarder, but after a nine year break I was pretty nervous about getting back on the slopes myself, without having to keep three children safe too. However, I needn't have worried, after just two days Zak was zipping up and down the nursery slopes alone begging to go somewhere harder and the girls had mastered the button lifts and could get to the bottom without sliding halfway on their bums. It was such a relief to see them all having so much fun and feeling so confident on the slopes. Part of their comfort on the snow was down to their kit, so here are my top tips for packing for a ski holiday with kids.
What to pack for a ski holiday with kids
Good Quality Socks
I know from experience that to ski or snowboard well you need to be warm and comfortable. In my younger years I struggled through several holidays with very sore feet and legs thanks for poorly fitting boots and cheap socks, so I made sure the children all had good quality ski socks and we didn't have a single complaint about sore feet all week!
Our favourite children's ski socks were from Wigwam, they were soft and cosy with insulating properties, cushioned throughout and a seamless toe. My children LOVED them, I will definitely buy more next time we ski.

Thermal Base Layers
Again, from experiece I know how miserable skiing can be if you're cold so I made sure the children had great base layers. These ones from Kozi Kidz were our favourites. It wasn't too cold during our holiday so the girls just wore these under their salopettes and ski jacket.
The blue base layer is the Kozi Kidz Vasa. Sydney found it to be warm and comfortable without making her sweaty. She's planning on wearing it to sleep in when we camp next year too. Priced at just £20 this is a really great value set.
The pink base layer set is made from merino wool, this one was wonderfully soft and cosy and felt very luxurious.
Did you know?
Soft, durable, warm wool comes from Merino sheep bred specially to produce premium quality fleeces rather than meat. Its versatility and superb performance in wicking away moisture, its warmth and breathability has made it an international winner.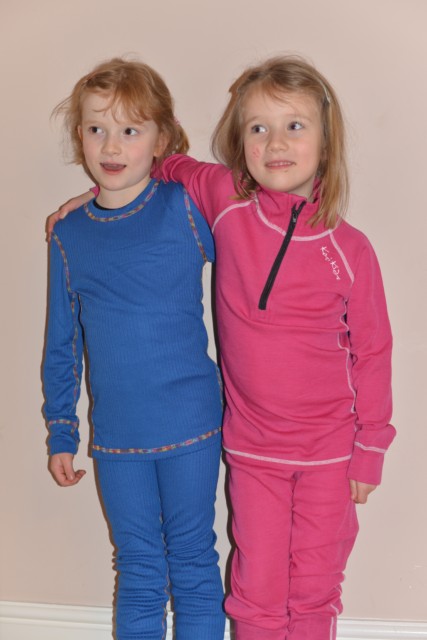 Ski Jackets
Good quality ski jackets and trousers are also essential. These should be warm but not too bulky. As the children were wearing helmets we removed the hoods. Zippable pockets were very handy for storing lift passes and essential slopeside snacks.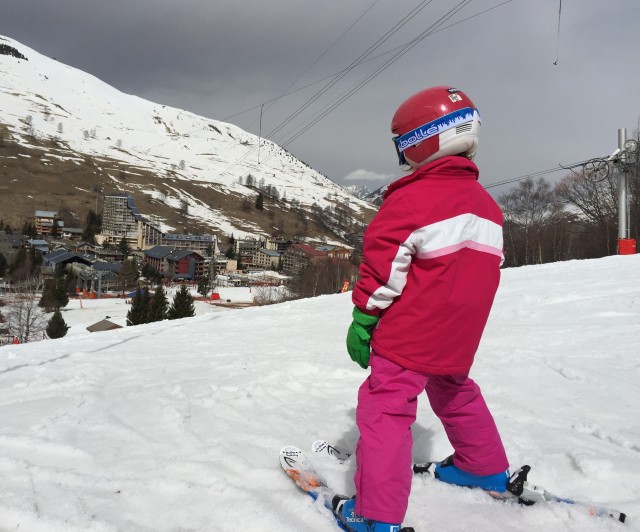 Goggles
Our favourite goggles were these from Uvex, they were easily adjustable and cat. 4 so as high level protection as possible.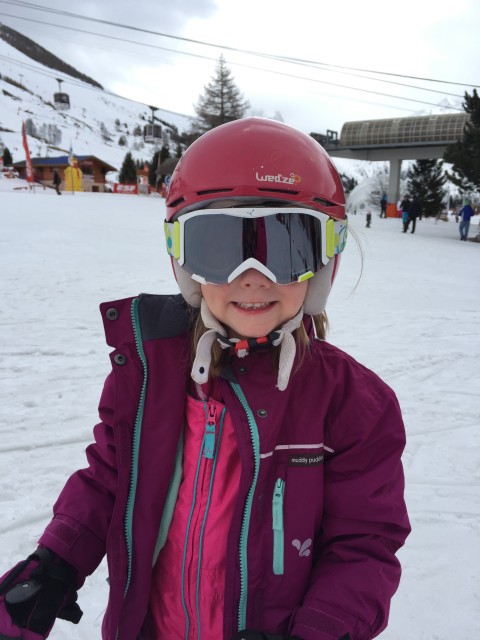 Gloves
Remember to get very waterproof, proper ski gloves, as it's no fun trying to hold poles with frozen hands.
Helmets
We hired helmets, if you ski frequently it'd maybe be worth buying your own, but for our first holiday we hired and they were fine.
Snow Boots
If you're not ski -in, ski-out snow boots are a good idea for changing in to once you leave the slopes to make the walk back easier. We hired a locker by the slope and stored our kit there to save carrying it around.
It makes me so nostalgic writing this. I hope we manage to get away this year.
You can read our top tips for a family ski holiday here and all about our ski holiday with Madame Vacances here.
We were sent two pairs of Wigwam socks and the Kozi Kidz thermals to review.