Rob and I spent most of our holiday at the waterfront, windsurfing in particular was one of the best bits of my week. I went along planning to stay for just an hour and ended up doing the whole 3 hour session and LOVING it, even if I did have to be rescued TWICE by the speedboat, which my 7 year old thought was pretty cool.
The instructors were endlessly patient and the sea beautiful, clear and cool, it felt amazing to be out on the water feeling the wind pull me along. I'll definitely be trying windsurfing again, which is not something I ever thought I'd say!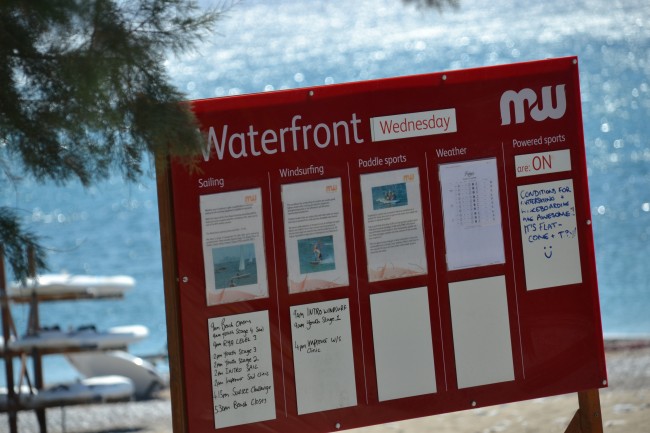 Rob is now going to tell you his windsurfing experience.
It's day 2 and I've already injured myself sailing (twisted knee), had a tennis lesson and signed up for mixed doubles tournament and today it is the windsurfing Intro session.
Windsurfing and I have been introduced before, many years ago. I am VERY familiar with the terms self rescue. I used to go as a school kid during PE to a local frozen wind tunnel, or as they call it in Scotland a loch. It wasn't actually frozen, but may as well have been.
What I remember a self rescue is when the wind blows you all the way across the lake and you then have to fold up your sail and lay it on your board and paddle back with your hands. Great! So it still exists as a concept, that's not what I want to hear.
Well as Josh explains (and I am still totally clued up from my previous days sailing) it is possible to actually tack on a windsurf board and head up wind. So no worries, I don't think that had been invented when I was little.
On this occasion I also had my wife to impress. She, in a very unusual decision, decided she wanted some windsurf action and so was on the same intro. I started to concentrate on Josh's tutelage and nodded my head sagely at the appropriate moments, making sure that my wise head was in Emma's eyeline. I have this covered I reassured her using my body language.
The intro included a dry land demo, which with the aid of a wind donkey (It's more fun if you find out what this is yourself) we all got to practice our footwork for turning through the wind.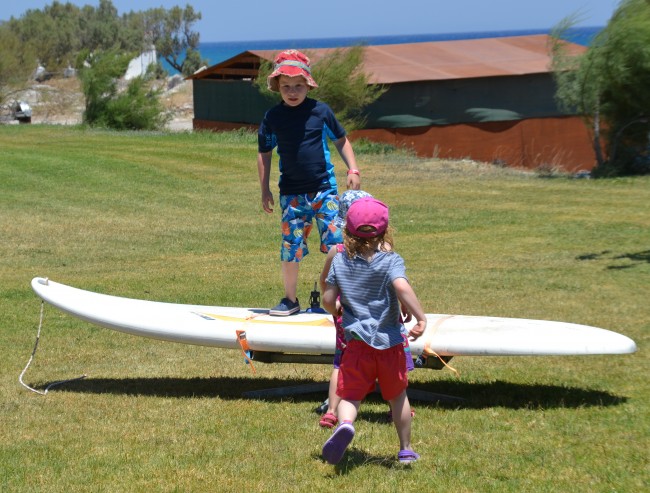 After a mere 30 minutes, us newly qualified "expert"s were taken to the shore, presented with a sail and given a board. There wasn't much wind and what there was didn't really care which way it blew, but be that as it may we all set off.
For the record, it was noted by the instructors that my board was too small*. After 10 minutes of giving it all of my focus, 30 or so falls later I was exhausted. I crawled onto my clearly broken rig and lay there. Self Rescue time. This I know how to do, but it really never used to be this tiring did it?
I managed to get back to where my comrades were and noticed that Emma was sailing along with the wind very poised, balanced and moving pretty well. Clearly she had found a random piece of straight wind and was luckily able to balance. I then noticed that Emma was not in the slightest bit wet. Not a single drop of water was on her swimming costume.
At the recommendation of Josh I swapped my board with a more gifted athlete and proceeded to make use of Emma's pocket of wind. Splash. (At least this water is beautiful, clean and warm).
After about 90 minutes of trying I finally managed to get on a nice run. I then decided to tack and for the first time in my life managed to turn the board through the wind and proceed in the other direction. I had found my balance (the bigger board helped me a lot I suspect).
From that moment on I was able to go up and down parallel to the beach). I looked over to Emma to make sure she could see I could also do it….and fell in. Not before noticing she was still bone dry.
Oh well, one more self rescue got me to the shore and, exhausted, I took my rig back and put it away.
On asking Emma her secret she simply said, there is no way I am falling in the sea, and we left it at that.
I actually had a great time. I knew I wouldn't be great at wind surfing but I did manage to tack and move in more than one direction. This erased all the bad memories I had from my weeks on the lake in Scotland. Sure, it helps that its 35 degrees, the water is warm and clear and the equipment is pretty much brand new. But that's why we came.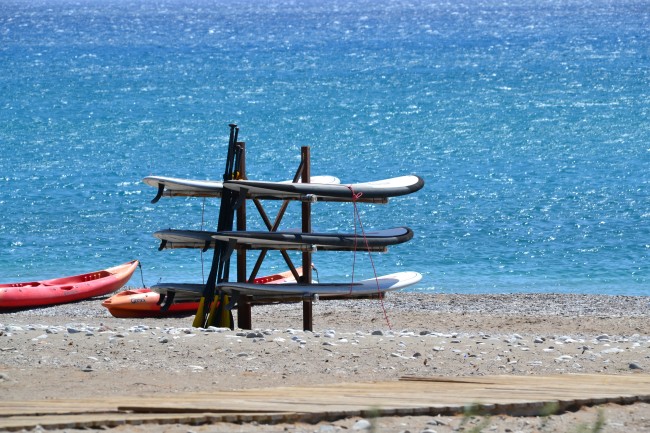 Free windsurfing lessons and tuition are included for all levels are included in the price of the holiday, and RYA course are offered for an extra cost.
Adult RYA courses from £70
Youth RYA (10-13 years) from £50
Private tuition from £50 for 60 minutes
Other activities available at Mark Warner
We are Ambassadors for Mark Warner
I'm really pleased to be able to offer my readers £50pp discount on all Summer 15 and 16 bookings made by 27th July. Just use the code EmmaBlog50.
Not valid for free child places and can't be offered in retrospect.