The fact that I'm almost a month late writing this probably gives you a little insight as to how busy we've been recently. We decided not to have a party for Charlie as we thought he would rather have our undivided attention for the day rather than us frantically trying to tidy and prepare food for a party, although I might have a little garden party for him in the summer to make up for it.
We made a dairy and egg free cake and I bought a little cake smash kit. Charlie mostly looked a bit bemused, deftly kicked his leg over the cake and headed towards the balloons, much to my husbands relief as he was worried about his floor. Looking back I should've given him a spoon to bash it with!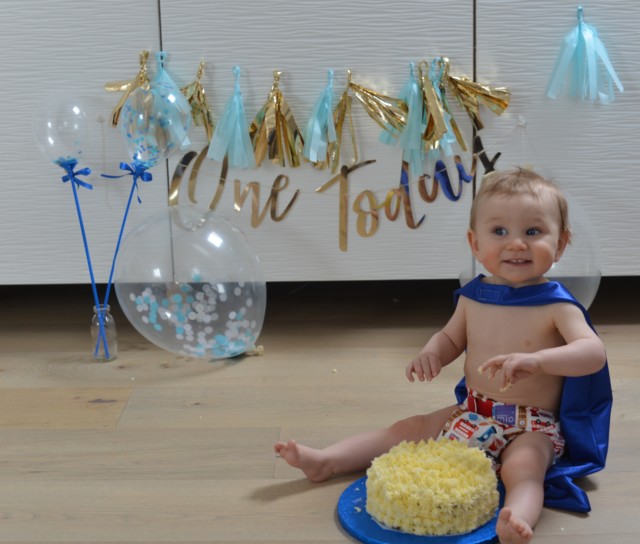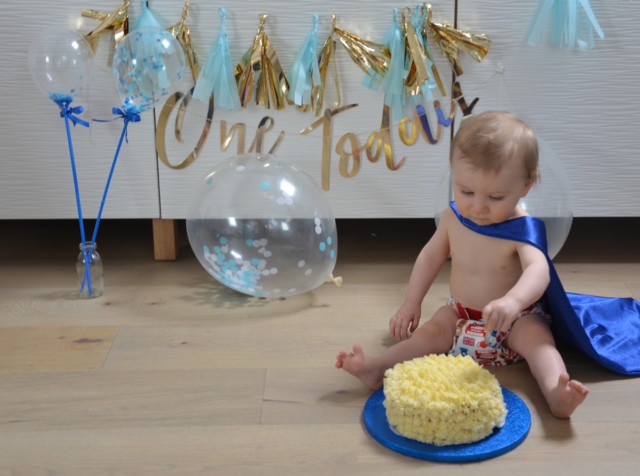 Our messy play celebration was a little more successful. I used our Messy Play Grab and Go Kit kindly sent to us by TTS to set up a cornflour gloop and jelly messy area outside which he loved! He mostly just banged the wooden spoon inside the bowls so again there was a disappointing amount of mess to photograph but he had a very, very happy hour chuckling away to himself.
Look at that gorgeous little face!
I can't quite believe he is one already. He's still right at the bottom of the growth charts and we are still struggling with his allergies but I'll write more about that separately.
Charlie loves:
Bouncing balls
Thomas the Tank Engine
Dairy free chocolate – obviously only small amounts
Charlie can say:
Thomas ( Tongle )
Car
Hot
Choc – ooops – in my defence, the fact that he's dairy and egg free means there are very few treats he can have.
It's been a complete whirlwind ( and sleep deprived ) year with our funny little boy, but he has most definitely slotted into our lives perfectly. I love that he has a little gang of cheerleaders for everything he does. We're very lucky to have our little ray of sunshine.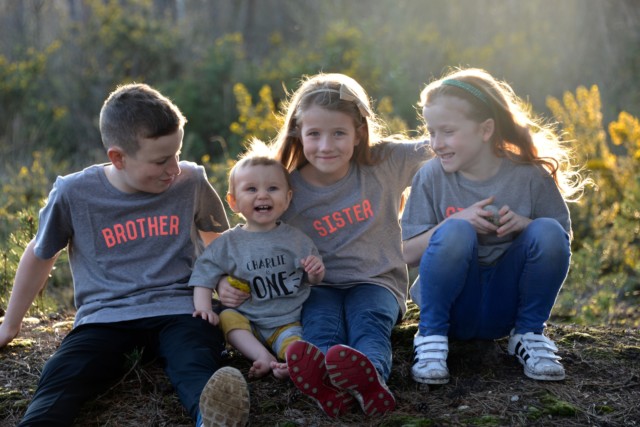 SaveSave