I promised my 13 year old that we'd visit an inflatable park on a lake last summer, but it didn't happen for various reasons, and then he hoped to visit one for his birthday earlier in the year, but of course lockdown happened. So, when Aqua Parcs in Milton Keynes asked if we'd like to visit them I jumped at the chance.
Aqua Parcs is located on the beautiful Willen Lake in Milton Keynes. The course is over 120 metres long, featuring over 30 obstacles, with slides, challenges and even bouncing balls!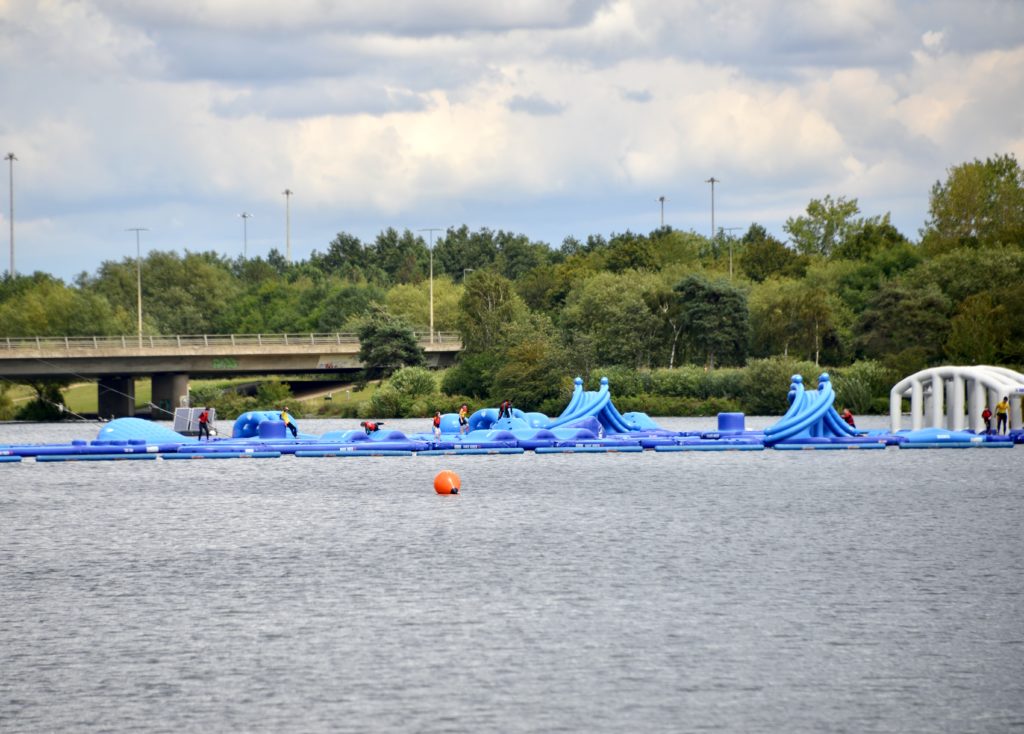 All three of my children came off shouting 'that was so much fun' and my husband ( I was busy watching the 3 year old ) said he would love to do it more often. It was a great bonding experience for them all and apparently an hour with no arguing, which is a huge achievement!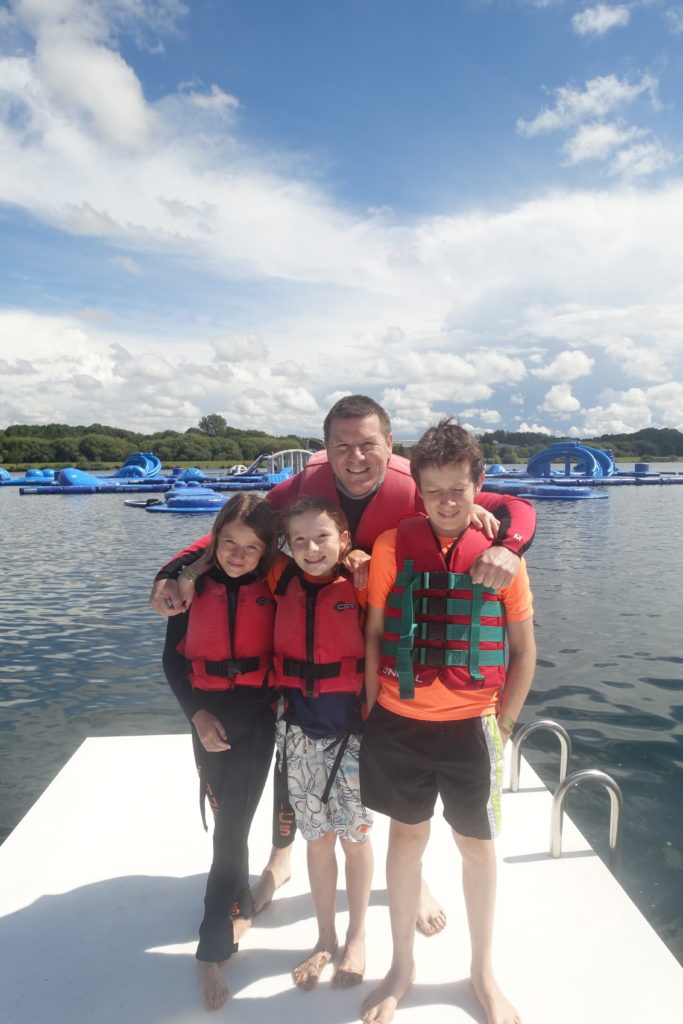 Each session lasts an hour. Each party stays in their own group and has 20 minutes on each of the three sections of the park. This is great for social distancing and I'm assured everyone felt very safe and far enough away from other guests.
There's a lifeguard with each group who stays out of the way unless needed. It's all fantastically set up from a social distancing perspective.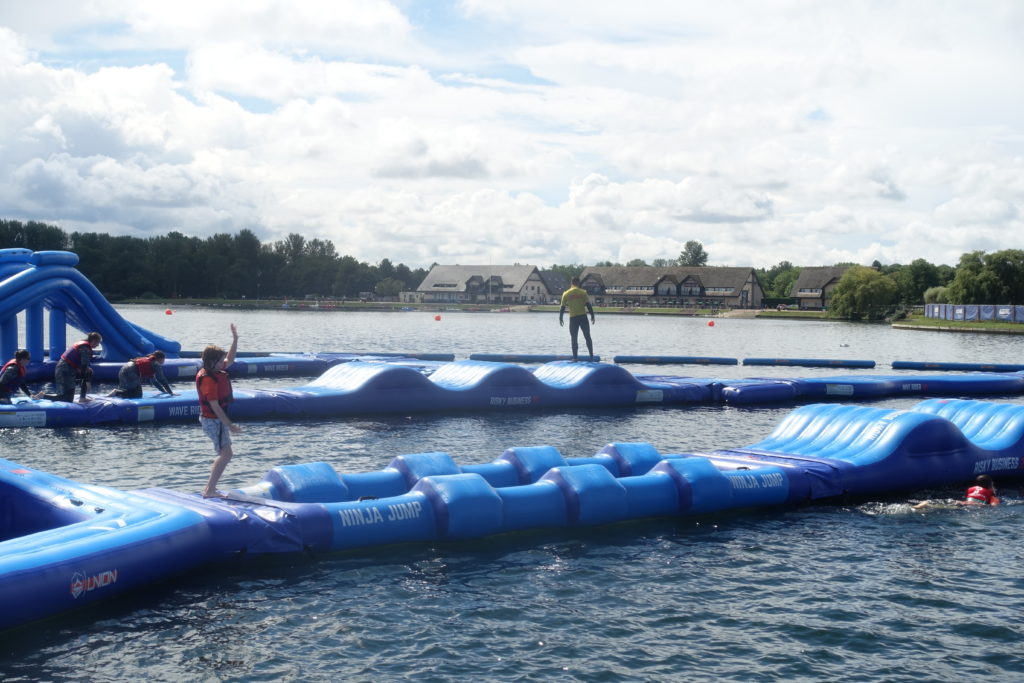 From my 13 year old..
The aqua parc at Willen Lake, Milton Keynes was brilliant! From slippery slides to huge leaps over obstacles, it's all just amazing. I loved that there were lots of different things, monkey bars, swings, slides, jumps and eve a bouncy castle type zone. I especially liked the swing into the water and jumping off the bouncy tyres. Overall it was a great day out and would be fun for everyone from young children to adventurous adults.
From the 11 year old
WHAT A DAY! On the 17th of August 2020 me and my family went to Willen lake. My Dad, my sister, my brother and I all went on the giant inflatable on the lake. In short, it was awesome. The staff members were so helpful and reassuring, not a bit was boring, and I would recommend it to everyone
The inflatable was a series of obstacles and challenges. You get 20 minutes on each section, so you have an hour on the lake
It isn't just the inflatable at Willen Lake there is wakeboarding, windsurfing and lots of other water sports too. There are 3 play parks and picnic tables and countless other activities
A perfect family day out
From the 9 year old
On the 17th of August 2020 me and my family went to Willen Lake. First, we went on a walk as we were a bit early. There were a few parks and certain gym challenges, then we headed to the lake. When we got there, we were given wet suits to wear. Me, my dad, my sister, and brother all went on the lake. We had 20 minuets on each section and there were three sections. First, you swim to the first section. This area had loads of fun obstacles to climb on and through. Then we swam to section 2 which had a swing you jump off into the water and really big slides, this was my favourite section. Section three was our last section there were loads of places to jump off. I will always remember the amazing trip to Willen lake. A perfect family day out if you ask me!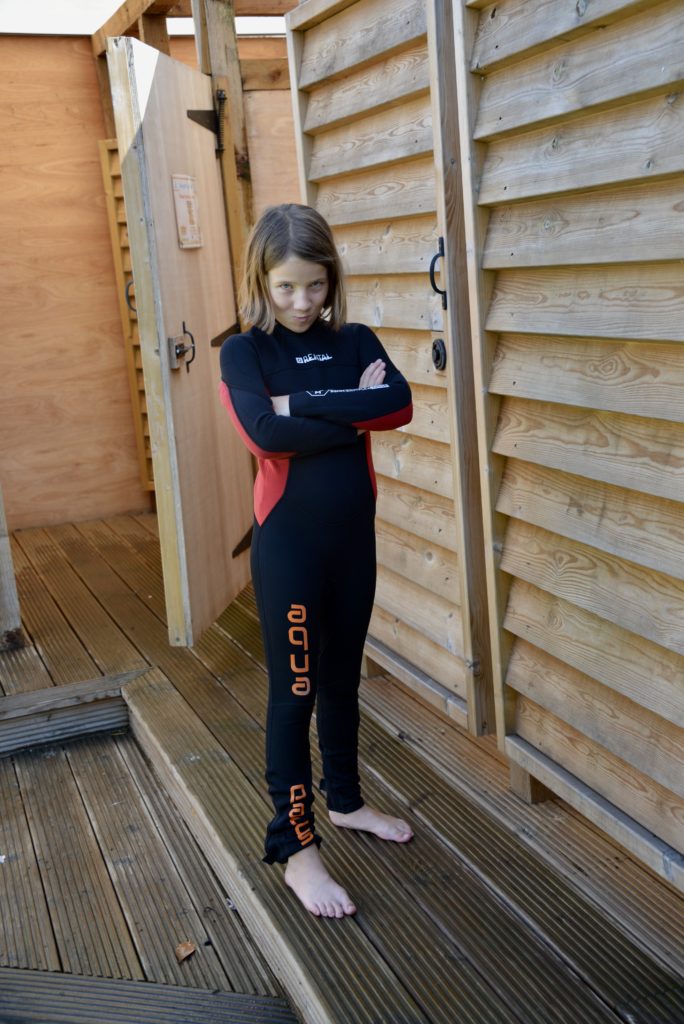 Getting there
Willen Lakes is easy to find and well signposted. The car park is big and spacious and very reasonably priced.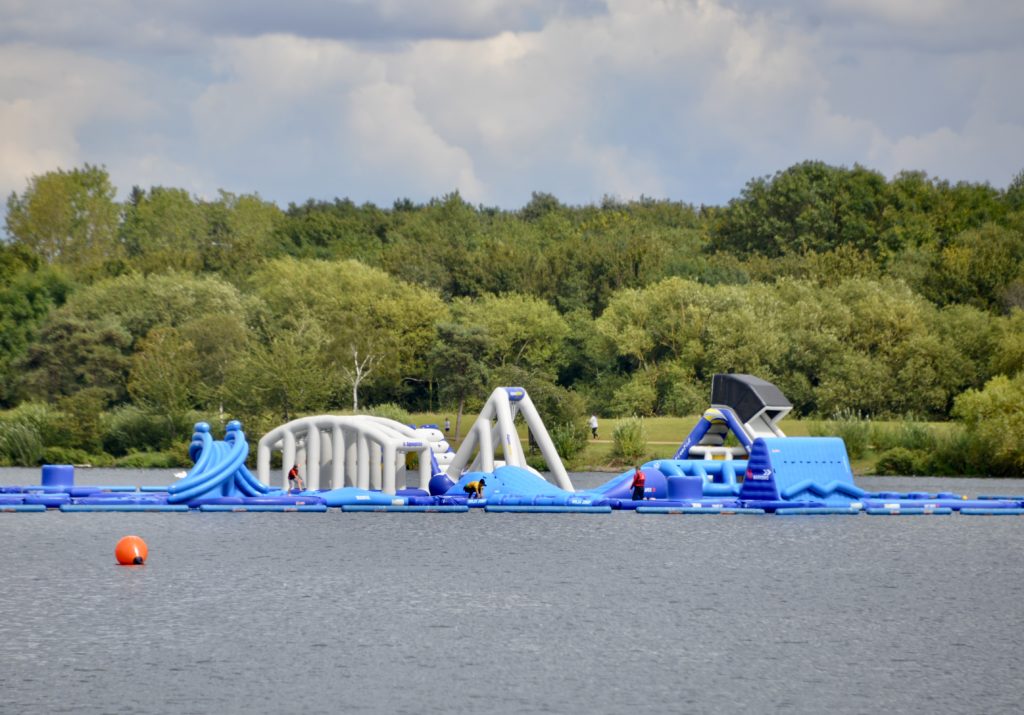 How much does it cost?
The current price is £20 for a single ticket, but you have to book a minimum of 3. This includes wetsuit, buoyancy aid and everything else you need.
What else is a at Willen Lake?
There are boats, kayaks and SUP boards to hire, as well as walks and play areas. My 3 year old loved the look of the Splash and Play area, but you need to book online in advance which I hadn't done. There's definitely enough at Willen Lake to keep the whole family busy all day long. Check the website before visiting as some activities need to be prebooked.
Huge thanks to Aqua Parcs for a brilliant afternoon