I've said it before, but our house is starting to fall apart a little. On the surface it all looks fine, but it's 10 years old and with 4 kids running round is starting to look more than its age. The kitchen has taken a real beating over the years. Balls have been kicked at the plinths so often that at least half of them have fallen off. We started off with integrated appliances, but when they broke it was cheaper to buy non integrated replacements so those cupboard doors were taken off. We're on our third sink and tap, which was a terrible impulse purchase of a black sink…..black is REALLY not good if you live in a hard water area.
We got some kitchen quotes last year, but they were WAY over our budget. I had in my head around 10,000 which looking back was extremely optimistic. We decided a big kitchen update wasn't something we could do at that time and instead are hoping to possibly replace the worktops, sink and hob as an interim measure. If you know me, you won't be surprised to learn we've made no progress in our kitchen planning apart from being just slightly jealous of all our friends who do have a brand new, shiny kitchen with kitchen units that aren't lopsided and plinths that actually stop things going under the cupboards.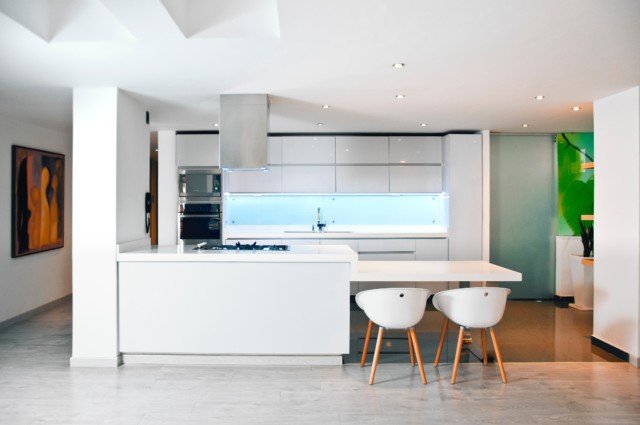 I've also spent rather too much time scouring Pinterest and kitchen websites for ideas and plans for when we do get around to doing the work. Kitchen Warehouse have some amazing matt black handless units that I just love. I'd maybe pair them up with a wooden worktop and splash back.
I'd love to know about your kitchen, what do you love about it and what would you change? I am definitely going to incorporate as much storage as possible if we have a new kitchen and possibly add an island to split the room in half a little as we have a kitchen/diner ( our dining room is used as a playroom ). I'd love full length tiles or splash backs instead of just half way tiles and just a very clean ( easily wipeable ) look.
Our kitchen floor is another thing that I really don't like about our kitchen as it's matte black tiles with grout so always looks dirty. I would love to replace it with karndean or something similar. That's actually another one of our interim plans, but also something else I haven't managed to organise!
Do you have any home or interior projects planned this year?
Collaborative Post