The first half of the Spring term has flown by in a blur of gymnastics runs, swimming club, swimming lessons, ballet, tennis and a seemingly endless amount of school projects and homework. As much as I love a good creative project, there is very little joy in building an Anglo-Saxon house with an unwilling 8 year old, especially when you have busy weekends and only one free night in the week. We have however had a lot of fun putting together a Viking costume and two World Book Day Costumes this week.
I decided at the start of the week, not to put too much pressure on myself to go on day trips this half term, the kids were exhausted from all their activities in term time and I really think just needed a proper break. Time to play, make up imaginative games and spend some quality time with me. We've been on a late evening pinecone collecting walk in onesies, made "babies" from latex gloves ( not my idea ), had LEGO building races and baked a lot of cookies. Generally the children have had time to just be kids, which with all our commitments in term term isn't something that happens a lot. I have watched and listened with a big smile on my face as they dressed up as elves and delivered "presents" around the house, dressed up as shopkeepers ( Sydney and Hannah wearing Zak's uniform is a sight that will remain in my memory for a long time to come ), read books and magazines, played a lot of board games, made a rabbit school and just generally been free to choose what to do, rather than have me constantly rushing them in and out of the house. We've been to the park a few times, and stuck with our gymnastics and swimming club commitments which continue throughout the year, but on the whole it's been a lovely relaxing week.
I've resisted the urge to look at Facebook knowing it would make me feel guilty for not doing more, but I really believe we all needed the downtime, especially Sydney who is so busy during the week and so utterly exhausted by Saturday lunchtime that she comes home and puts her PJ's on for the rest of the day. I can't decide whether it's a sad or happy reflection of our life that a week of "downtime" still involved 2.5 hours of swimming  and 15 hours of gymnastics though.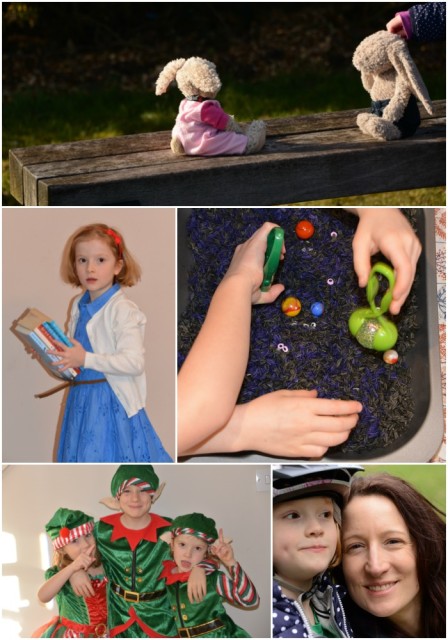 I am finally feeling better after ending the term with a very nasty cough and generally feeling exhausted and run down. I'm trying very hard to eat more healthily, drink less coffee and basically look after myself better.
We've all been taking these fab probiotics, Fit for School which contain a unique blend of Lab4 friendly bacteria to help keep coughs and colds at bay as well as  immune boosting vitamin C and Vitamin D which we often lack in the winter months. I've been adding the probiotics to water and the kids have happily drunk them. Fingers crossed they make a difference.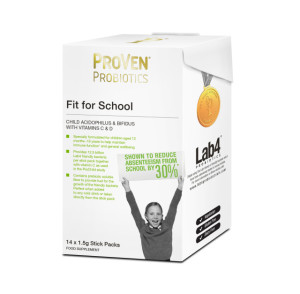 A month's supply of Fit For School Stick Packs is £14.95, and is available from www.provenprobiotics.co.uk and independent health stores.
I'm also ready for the dreaded nits, which seem to appear every now and then. So far this preventative spray has worked, despite a class outbreak, which is great, because last time one of my kids had nits it took several evenings to clear even though there were only a few of them.
I love that Picksan is a natural formula because I very much dislike using chemicals on my children's heads, especially when it happens quite frequently.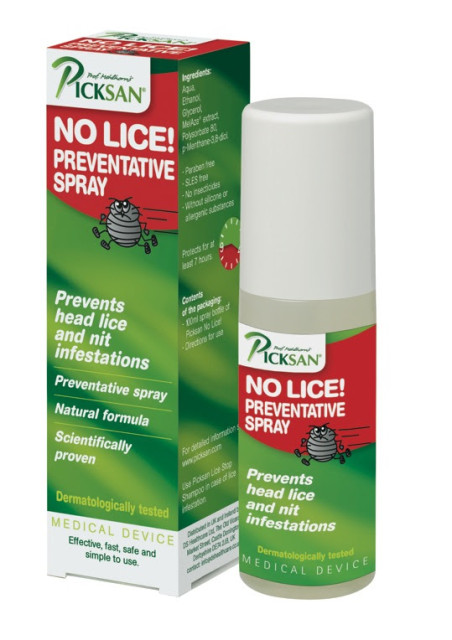 Picksan NO LICE! Preventative Spray and LICE STOP Shampoo Treatment are natural and scientifically proven applications for preventing and treating head lice for the whole family, from children age 3 to adults.
Picksan is £8.95 for 100ml and are available from Holland & Barrett, Victoria Health and other independent health stores.
We were sent the items above for the purpose of this review.