I'm still in denial that it's almost the summer holidays? Where did the rest of the year go? I'm sure Christmas was only a few weeks ago. I feel like a bit of a failure at the moment, we've just had so much going on ( mostly kid's sporting activities ) that I didn't manage to organise a birthday party for either boy and now the girl's birthdays are looming and there's not much time or money to do anything for them either. We are going on a lovely holiday soon though ( don't feel too sorry for them ) so I've told them we will have some special day trips out to make up for the lack of parties!
Before we go away I'm hoping to have lots of FREE fun in the garden! Although, I say free, I may have to buy some outdoor toys to keep them busy. We have a slide that's about 10 years old ( and still works fine ) but all our other garden toys have been used so much over the years that they've either broken or rotted away. The girls were horrified when we took down the playhouse a few months ago, but it was literally falling apart and leaking every time it rained. We definitely had a lot of use out of it though. Over the last 4 years it has been a school, veterinary centre, doctors, library, secret hideout and more. I was sad to take it down, but the extra patio space has been nice.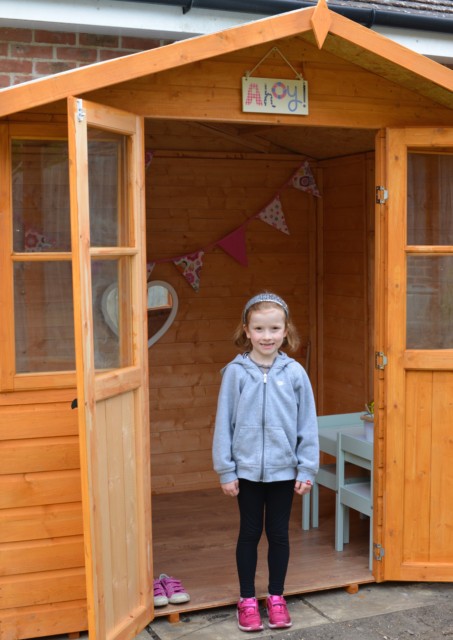 My big three loved our TP Explorer frame that we had a few years ago, and I know Charlie would think it was the best thing ever as he loves to climb, but it's a bit harder to justify the cost for just one child to use! I'm also really tempted buy a Thomas garden rollercoaster ( have you seen them? ) but we're trying to reduce our plastic usage so it seems a bit wrong to buy one.
Hannah gave me a birthday list yesterday which included a netball net and go-kart from Wicken Toys so it's good she's on board with the summer of garden fun I have planned! My favourite gifts to buy are active toys, I much prefer those to screen type things, and I like them even more if more than one child can use them! Our slide has certainly been worth every penny.Originally it was attached to the TP Explorer Frame, but when the frame broke I bought the steps to turn it into a free standing slide! Charlies new favourite thing is to slide down sat on a tea towel so he goes faster!
I managed to find this photo from about 5 years ago of the girls in the garden, possibly making a den under the climbing frame, it was so well used so maybe I should get one for Charlie too!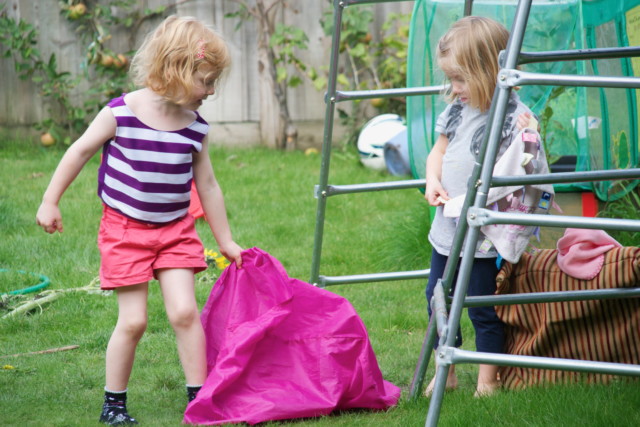 I need to stop searching for climbing frames now to go an do something useful, what are you up to today?
Collaborative post