Moors Valley Country Park and Forest is located on the Dorset/Hampshire boarder. It's the most amazing place for a great family day out with miles of tracks through forest, health and woodland, perfect for exploring on foot or by bike. We've visited several times now, and would go more if we weren't so far away.
We were invited last weekend to try archery, which is available on a pay as you go basis ( £3.50 for 10 arrows ) or private lessons can also be booked. The archery is suitable for children aged 4 and upwards. My 5 year old managed really well and the grown-ups were challenged too.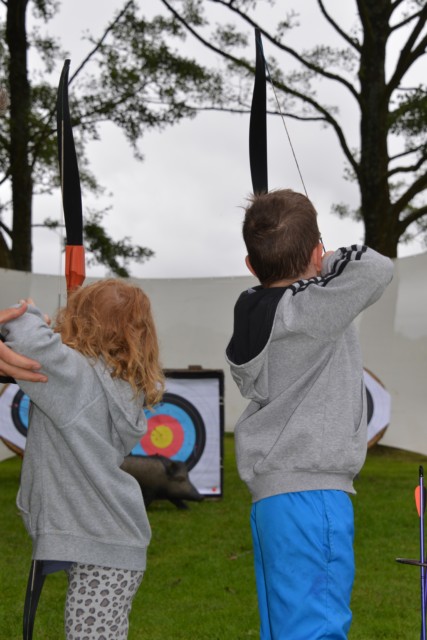 Our lovely instructor was very patient with my three exuberant children and explained everything clearly and fully as well as helping the girls who needed a bit more guidance than Zak. The whole experience was very calm, safe and really enjoyable. They all loved trying to hit the pig and there were many, many giggles as they got him the ear and leg.
I was really impressed with all three kids, who seemed to have a good aim and an appreciation for the safety aspects. Even I managed a couple of arrows in the yellow area. We are all desperate to have another go, I might have to find a local club.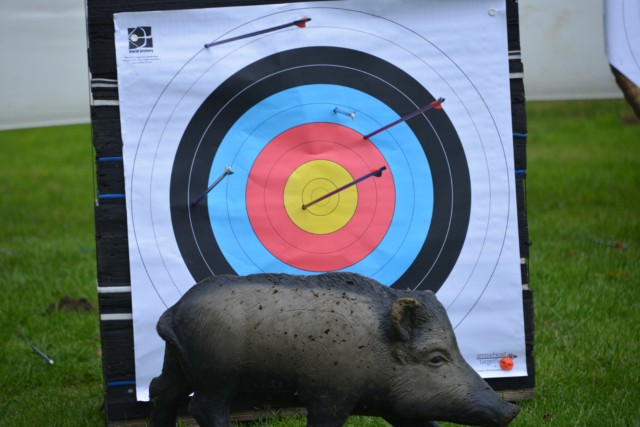 Everything we needed was there ready for us and little left hander was very pleased to have a special bow!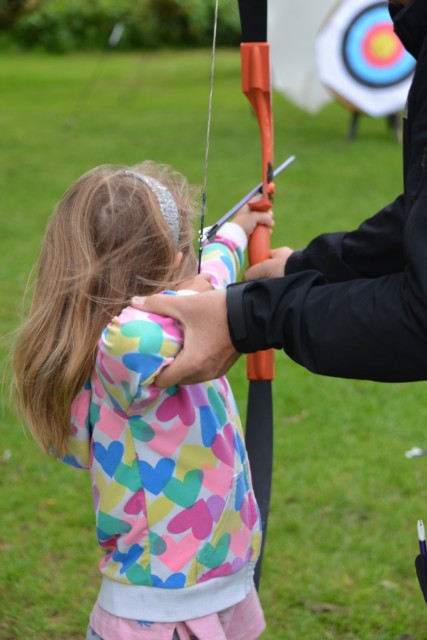 We would definitely recommend trying archery this summer if you're in the area.
Great reasons to visit Moors Valley
It's an inexpensive day out
As you only pay for parking, Moors Valley is very reasonably priced. You do pay extra for bike hire and a nominal free for the train, but there's plenty to do completely free.
Play Trail and Play Areas
Moors Valley has many play areas, my children love the big area with slides and a zip wire near the entrance and the play areas along the play trail are AMAZING. No one ever complains about walking at Moors Valley as if you follow the Play Trail there's always another play area in sight to happily run to. The 1 mile trail always takes us at least 2 hours as we stop at each of the 10 play structures.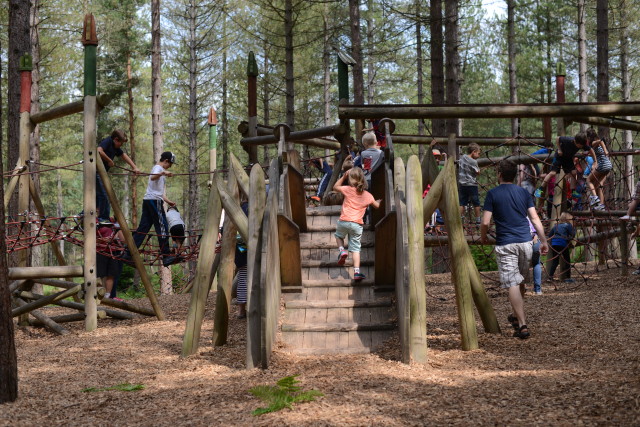 Special Events
There are often special walks for children, we tried the Super Worm Trail last year and currently there's a Stick Man trail which we haven't tried at Moors Vally, but it was great fun at Alice Holt Forest.
The rangers organise over 500 events each year, so it's definitely worth checking the website frequently so you don't miss anything.
Find The Gruffalo
The beautiful sculpture of the Gruffalo is located near the bike hire area, and is great for a photo opportunity.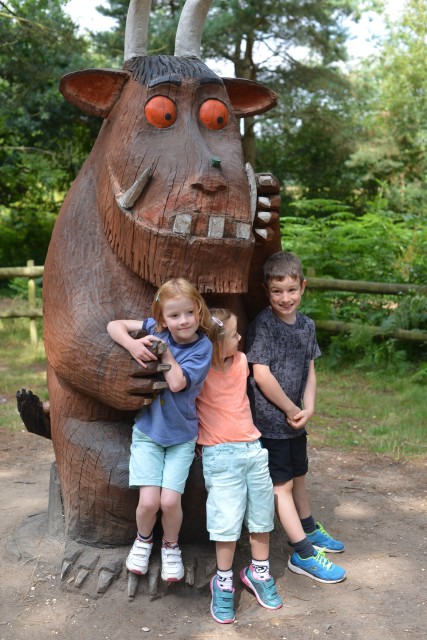 The Fitness Trail
The fitness trail is a two mile route through the forest with 10 exercise stations along the way. There are instructions at each station with differing levels of difficulty. My little gymnasts especially enjoy the bars.
You can ride a steam train
My 5 year old adored her ride on the miniature steam train. You catch the train from the station and go on a 1 mile round trip along the banks of the Moors Lake. A definite must do for any little train fans.
Go Ape and Segway Adventures
For an extra charge you can try Go Ape or have a Segway Adventure through the forest. Remember you'll probably need to book these in advance.
You can hire bikes
Bikes, trailers and tag -alongs are available to hire for a fee. We received complimentary bikes during our visit and the children loved the new experience of cycling through the forest instead of walking.
Moors Valley is definitely one of my favourite family days out, I can't recommend it highly enough.
Thank you to Moors Valley for providing us with bike hire, train tickets and a wonderful archery experience