My Charlie updates have unfortunately been few and far between. The run up to Christmas was completely crazy with swim galas, gymnastics training, shows and the usual school and home festive madness. I can't quite believe Charlie is 9 MONTHS OLD!! How did that happen? He'll be 1 before I know it.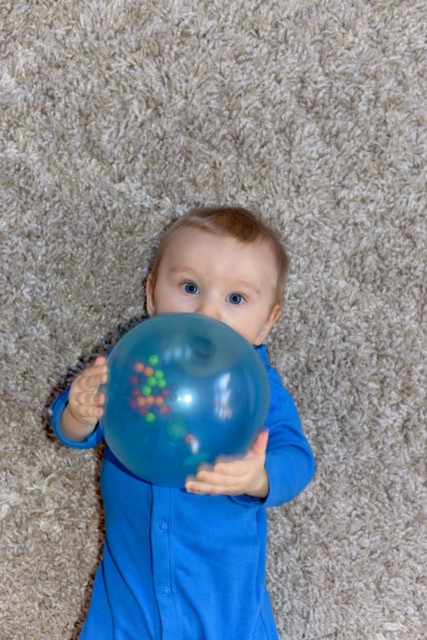 Since my last update we've started weaning properly, which has been great apart from struggling to work out which foods he's allergic to and the fact that he just can't seem to tolerate the slightest lump without starting to choke. I've been worried about a tongue tie again, but the hospital consultant said he looks fine. We've had allergies to cows milk protein and eggs confirmed and I suspect tomatoes and peas, but I will write about our allergy struggles separately.
He's still under consultant care for being on the small side and his allergies, but I'm hoping he will start to catch up soon.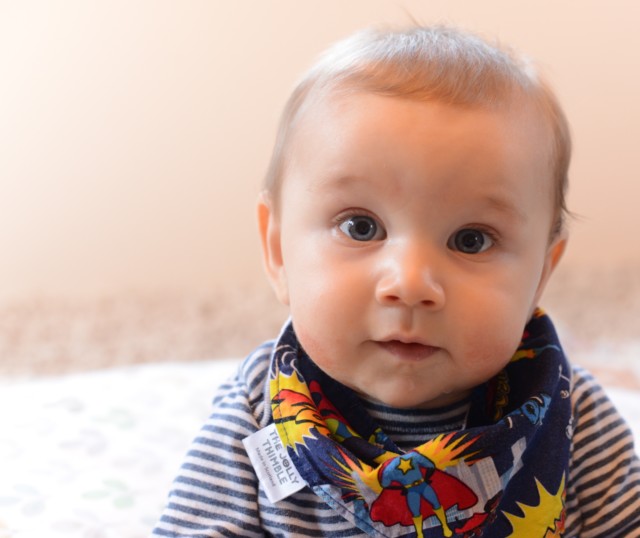 Luckily for us Charlie is a very happy, placid baby who isn't in a rush to move. He has finally started to roll a little, but doesn't venture off his playmat. He sits up beautifully, but still can't be trusted not to throw himself backwards at any moment.
We took Charlie on his first holiday abroad when we went to Villages Nature Paris in November. He was a brilliant little traveller and didn't seem to feel the sea sickness like the rest of the family. There was one point on the very windy return ferry to Calais where Rob and the big children were all lying under coats on the sofas trying to sleep away the sickness while Charlie and I entertained each other. I've decided I'm not a fan of ferry travel after that. The Eurotunnel was much easier!
Christmas was great fun with a baby. Charlie of course didn't have a clue what was going on, but he loved the hustle and bustle and his big brother and sisters loved opening his presents for him. Look at  this gorgeous little elf.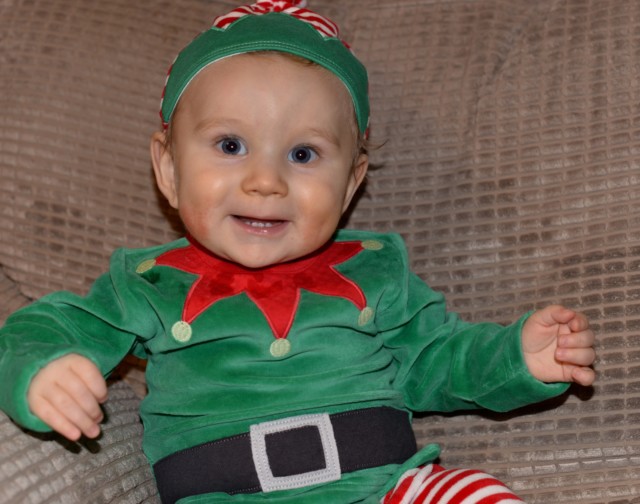 Charlie Loves:
Hugs
Anything he can chew
Singing
Books – especially touchy feely ones
Balls – he has a new skill where he can roll the ball back to us and laugh
Milk all night long 😉
People dropping things
I Love:
Ella's Kitchen Purees
Baby socks and leggings from Joules
Charlie snuggles
So far Charlie has just slotted into out mad life perfectly, and we all love him to bits.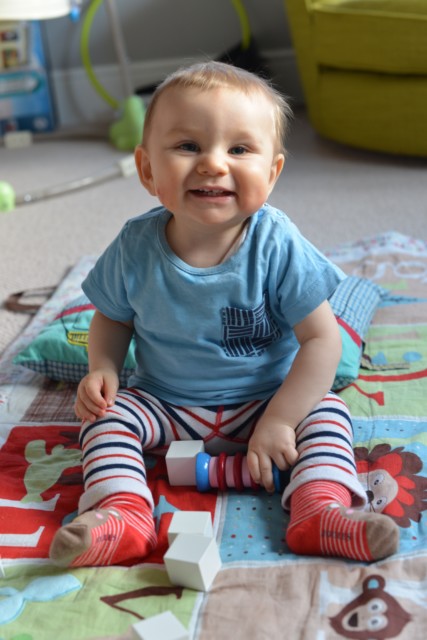 SaveSave
SaveSave
SaveSaveSaveSave
SaveSave