I'm really pleased to be able to offer my readers £50pp discount on all Summer 15 and 16 bookings made by 27th July. Just use the code EmmaBlog50.
Not valid for free child places and can't be offered in retrospect.
One of main attractions and at the same time my biggest worry before our holiday was the childcare at Mark Warner. My husband and I don't have much help with the kids at home as all our family is very far away so time to ourselves is a real rarity and a big treat. We couldn't wait for the chance to play tennis, relax and try some water sports whilst knowing the kids were safe and happy in childcare.
I was a little nervous as I've never really left the kids anywhere other than school and nursery so the thought of kids club for a week even if only a few hours a day was a little daunting for me. I needn't have worried. Both kids clubs we experienced surpassed my expectations. I never dreamed that we'd be able to enjoy drinks and a meal in peace for every night of the holiday or that the kids would enjoy themselves so much with their new friends.
On our first evening there was a meeting in the childcare room, which gave us chance to meet the staff, hear about the programme for the week and ask any questions.
Mini Club  – 3 – 5 years
My two girls were in Mini Club and had the most amazing time. During our holiday there were two groups running, Sharks and Turtles. S and H were Turtles and referred to Mini Club as Turtle Club throughout. From the first evening they couldn't wait to get there, especially when arts and crafts were mentioned. I remember watching and smiling as they walked holding hands up to the childcare staff during our briefing by the resort manager to ask when Turtle Club would start. Every morning they bounced around the room asking when it was time to go.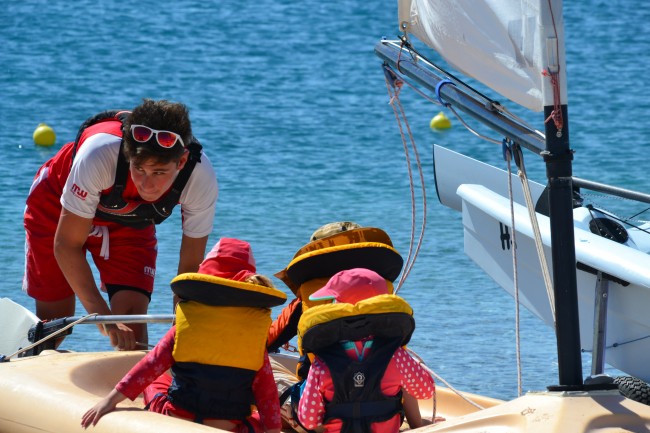 What do they do?
Mini Club have a fun, varied programme of events both indoors and outdoors. For example, they would often start with some crafts, then go to the pool for games, then maybe to the play area, the beach for watersports or tennis. Each morning session started at 9.30 and finished at 12.30 with a different activity for each hour. My girls especially enjoyed ( and have not stopped talking about ) windsurfing, sailing and kayaking. As a parent it was lovely to hear squeals of delight from the pool while they played 'sharky sharky' and seeing them walk by in their little groups singing songs.
The childcare staff were super friendly, absolutely lovely with my children and didn't even seem to mind me popping up with a camera every now and then. One of my big worries on a sunny holiday is keeping my children safe in the sun. Again, I needn't have worried, their suncream was topped up before going outside and they were always wearing hats when out and about with Mini Club. I felt very confident that my girls were  well looked after.
Mini Club on the Water Front
The beach area reserved for water sports at Levante felt incredibly safe. There were always speed boats on hand if anyone got into trouble and everyone wore life jackets. Even when Mini Club were in the pool Jonny the life guard was in with them playing and chatting. S and H adored him and always made a special effort to say hello when we saw him around the resort.
Evening Creche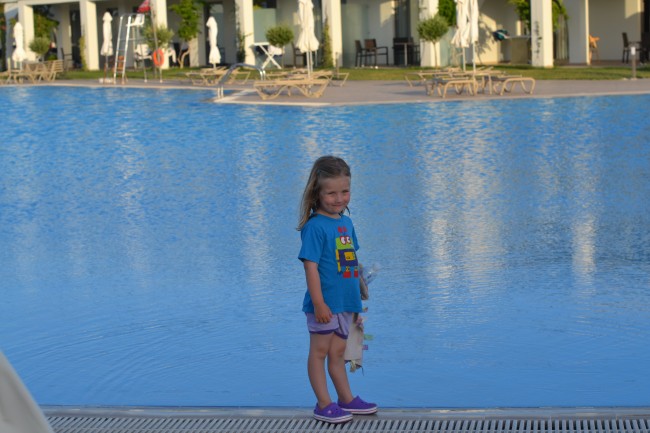 Evening creche started at 7.30pm and finished at 11pm. The children would watch TV for half an hour in their pyjamas then would get into little beds to fall asleep during a movie. The movies were all age appropriate, and again the staff were just lovely with the children, stroking and patting them to sleep, or equally keeping them awake if that's what the parent wanted. When we returned after our meal, we'd be told when they'd fallen asleep. My girls were asleep by 8.30 almost every night, as they were so exhausted from the day's activities. It made going out in the evening very relaxing, knowing that the girls were safe and sleeping just a few rooms away.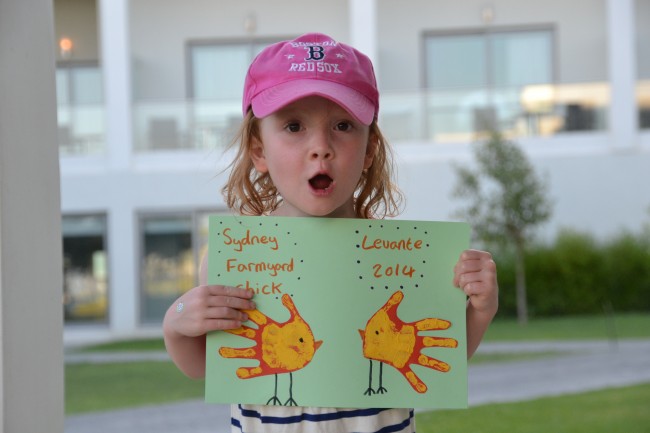 At the end of the week the kids sang a song for the parents and were presented with a certificate, S was very pleased to win the Art Attack Award for her enthusiasm about all things crafty and H the Colgate Award for being so smiley. They both adored their key worker, Rachael and wrote her a little thank you note.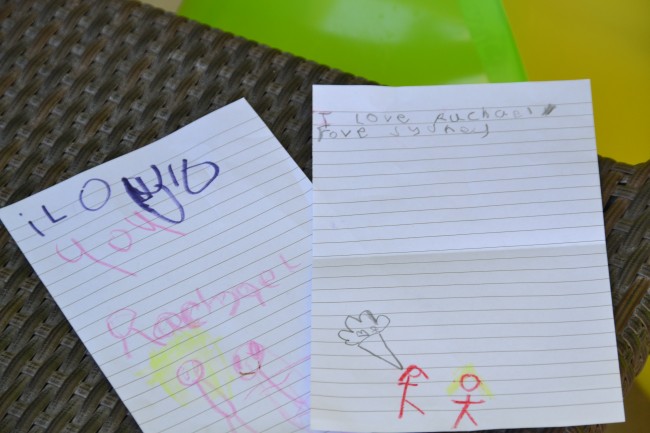 Mini club is included in the the price of the holiday for either a morning or an afternoon, you can pay extra for both sessions.
Junior Club 6 -9 Years
Z at age 7 was in Junior Club, my worry for him was that he'd be alone whereas the girls had each other, but from the first evening playing games with the other children he was absolutely fine and a couple of days in couldn't wait to get there.
Junior Club are a bit more active than Mini Club and do an afternoon sessions from 2.30 till 5.30 as well as the morning session. Z tended to hang around with us in the afternoon, but did ask to join his friends for a couple of the afternoons when they were doing an activity he really wanted to take part in.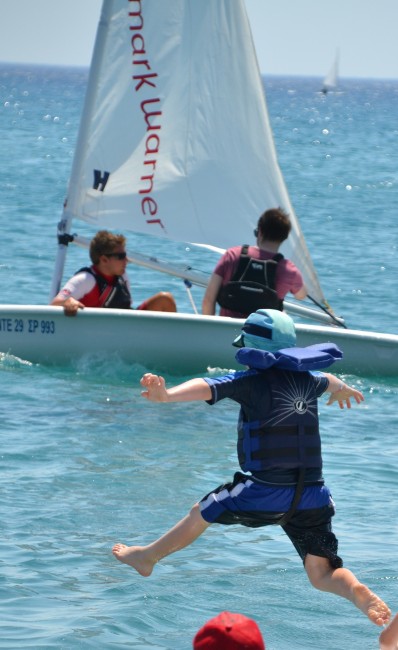 What do they do?
Junior Club generally started off with pool games for an hour, followed by something a bit calmer, then they'd spend time on the waterfront, sailing, windsurfing or kayaking.
In the Kayaks, Z loved the race to collect the most tennis balls from the sea and when lots of children climbed onto one kayak to make it capsize. He was also very jealous of the group pulled back to shore in the speedboat.
It was fun capsizing in the kayak very deep out to sea, luckily I was wearing a life jacket. Z – July 2014
Back on dry land Junior Club played tennis, beach volleyball, football,  relay races and lots more. Z especially enjoyed the quieter games in The Shack by the beach. It was always lovely to pick him up from there and see him chilling out in the shade after a busy morning with his new friends.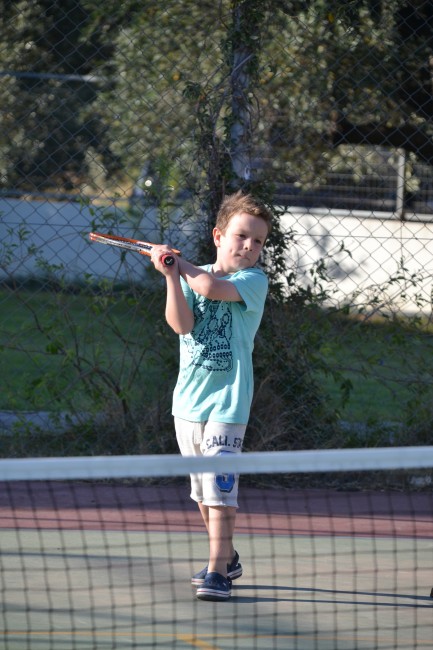 It was really fun playing Eagle with my new friends in the Shack. Z – july 2014
Junior Club in the Evening
Junior club generally spent the first hour of evening childcare outside, playing tennis or other games on the sports pitches. They'd then watch a movie on bean bags indoors, occasionally falling asleep. We'd often go to pick Z up and he wouldn't want to leave.
At the end of the week, Junior Club performed a dance routine for the parents and were presented with a certificate. Z was thrilled to be given the Sportsman Award. He isn't a child who takes easily to new situations so the fact that he took part with such gusto in all the activities available really is testament to the wonderful childcare and facilities at Levante.
Junior Club is included in the holiday price.
Top Tips
Take a waterproof bag for each child, as they'll often bring wet swimming clothes back, something like a Trunki PaddlePak is perfect for the little ones.
Make sure you have separate mini suncreams for each child and yourself as they need to take suncream to club with them. Z found a stick the easiest to apply himself, but in Mini Club the cream was applied for them.
Waterproof hats for swimming are essential.
Check what activities your child will be doing the night before so you can be organised in the morning. We found the kids slept later and later as the week went on, so mornings could be a rush.
Crocs or waterproof sandals were great for the beach.
Enjoy yourself, the kids will have a ball!
We are Ambassadors for Mark Warner
Related posts