KidZania is an indoor city, where kids can independently choose from lots of real-life, fun activities in a very safe and secure environment. Activities include Police Officer, Firefighter, dancing, drumming, radio presenting and so much more. Whatever your child is interested in, they're sure to find plenty to keep them entertained. Children start each visit with 50 KidZos and then either earn or spend them on the activities in the city. We've never run out of KidZos, and it's not really worth saving them as although you can spend them on the way out, you don't get much for your money.
Both my girls really enjoyed this experience too, they spent a good 30 minutes playing with the different pieces of kit, so it wasn't rushed at all and definitely a great way to spend some of our time at KidZania.
There's also a Nike pop up where children get to design Nike Air trainers. We didn't manage to try this one, but it looked great fun, however it's only around till the 5th May, so be quick if you want to see it. Kids also get the chance to win a trip for themselves and a parent or guardian to Nike HQ in Portland, USA!
Our favourite KidZania Activities
Window Cleaning
I wish my children were as happy to help out cleaning at home. This is one the highest paying activities and all the children cleaning the windows looked very happy with their task. The windows throughout the city were definitely sparkling!
Starlink Space Station
This was another of Zak's ( age 12 ) favourite experiences, it also involved a Nintendo Switch and a journey through the solar system after building a Starship.
Burger Shop
This is a another firm favourite although we were disappointed to see that there is now a £3 charge which wasn't there on our last visit. Kids get to assemble their very own delicious GBK burger and eat it!
Hotel
Oddly enough, this is another activity my children love that they have no interest in at home, but making the perfect bed and towel art is always appealing in KidZania!
Courier Service
Seeing kids move parcels around the city on little trolleys always makes me smile and this was the first activity my girls rushed to last week.
Fire and Ambulance Service
A trip in the fire engine or ambulance is always a highlight of our visit! In this activity the Police, Ambulance service and Fire Fighters come together to fight a fire, it's great fun and very entertaining for adults to watch too. Little Charlie ( age 2 ) was desperate to have a go, but this is strictly a 4+ activity.
Climbing Wall
The climbing wall has always been a big highlight of previous visits, but this is currently only open on weekends, which was a little disappointing.
KidZania for Toddlers and Early Years
This was our first visit with a toddler and I wasn't sure what to expect, but Charlie was perfectly happy in the Early Years area where there was a well stocked play kitchen, giant beds to climb on and other soft play like features. He could also have joined the baby disco, been a shopper in the supermarket, visited the library or been a passenger on the plane.It could be frustrating for children who are almost 4, but our bouncy 2 year old had a great time.
The city is very pushchair friendly, but you can also store them inside for a small fee. The toilets and baby change facilities were perfect too.
It was lovely to see so many new activities since our last visit and there are always special events for Easter, Halloween, Christmas and other times of the year, so do check the website before visiting to see what's on. You won't be disappointed.
This Easter the special event was Yoshi's Egg Hunt which like great fun, but my children were too excited about everything else and then we ran out of time. I did see lots of happy kids racing round with their egg hunt booklets though.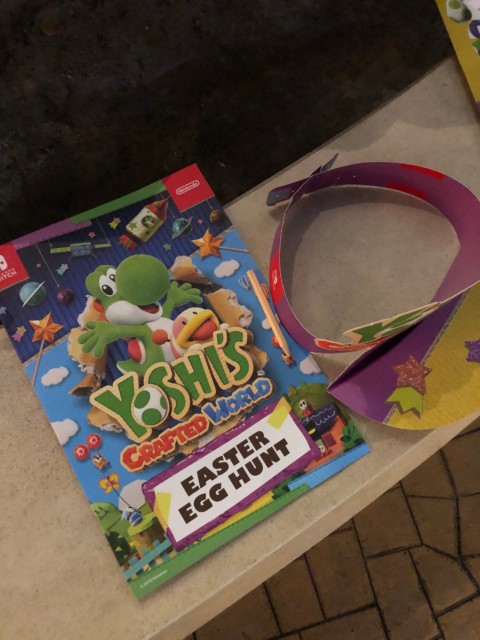 All in all we had a great time at KidZania and I'm sure will be back again very soon. As our bigger children are now all over 8 we had the option of leaving them in the city while we shopped which allowed us an hour or so in peace while they loved the independence of being able to do their own thing.
We were kindly given press tickets for our trip to Kidzania