We all know we need to drink lots of water, but do you know why?
Our bodies are made up of about 60% water which makes it pretty obvious why we need to stay hydrated. Symptoms of dehydration include tiredness and reduced motivation. Staying hydrated helps people perform at their best which is especially important when exercising.
Did you know your blood is 90% water! A lack of water can make the blood thicker which increases blood pressure!
Hydration and Brain Function
Did you know that even mild dehydration (1-3% of body weight ) can impair brain function leading to changes in mood and concentration.
Dehydration and Headaches
Dehydration can lead to headaches and even migraines in some people and water can also relieve headaches in people who are dehydrated.
Other Health Benefits of drinking water
Water can help prevent and relieve constipation and even help to treat kidney stones.
Basically, for your body to perform at optimum levels it need to be hydrated. This is especially important when exercising. My children all do a lot of exercise and so I always make sure they take water wherever they go ( even if they often don't drink it ).
We've been making a real effort recently to use reusable water bottles instead if plastic and recently came across the Ion8 Leakproof bottle which has been great for taking to school and gymnastics. The lid is handily 100% leakproof meaning homework has stayed dry inside school bags and the textured grip and with its innovative OneTouch lid makes it great for holding one handed and drinking on the go.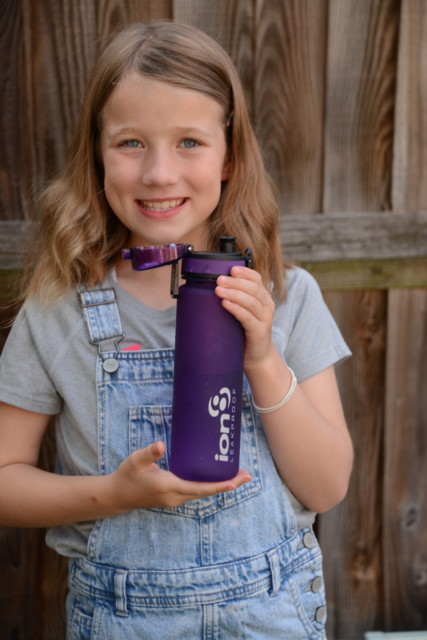 I've been using it to try to help me drink enough by drinking a full bottle ( 1 litre ) before lunch and the same after. It really helps!
The Ion8 Leakproof 1 Litre Bottle is available in a range of funky colours and designs from Amazon. There's also a 500ml bottle, perfect for younger children.
Why you should use reusable water bottles
The manufacture and transport of plastic water bottles is a wasteful use of resources.
Plastic water bottles leach potentially harmful toxins into water. This is especially likely if they are exposed to heat and light.
The waste created by plastic bottles is causing disposal problems all over the world. Every water bottle you've ever drunk from is still somewhere on the planet, potentially being a hazard to wildlife.
ZeroWater Filter
If you don't like the taste of tap water, try a water filter. We especially love our ZeroWater filter which has an incredible 5 stage filter. It even comes with a meter which tells you the level of impurities found in the water ( zero after filtering! )
ZeroWater has a patented, 5-stage Ion Exchange Filtration system which removes virtually all dissolved solids from water, including Minerals, Salts, Metals, Chemicals and Runoff as well as 99% of fluoride.
It does change the taste of the water which takes a bit of getting used to, but we love knowing that all our drinking water is so much cleaner. ZeroWater filters are available in lots of different sizes. I'm going to buy the fridge door version next and maybe the water bottle too!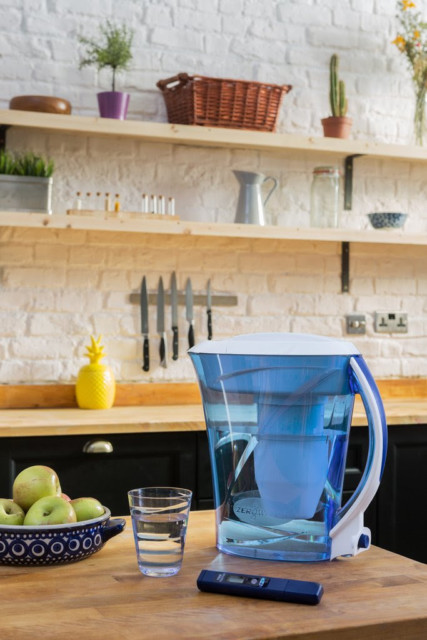 Do you drink enough water?
We were sent the Ion water bottle and ZeroWater filter  to review.