As a parent to four children I know how expensive it can be to even take the kids to the supermarket, let alone on a day trip or holiday, both of which soon become astronomically expensive if I'm not careful. Buying an ice cream at the beach is easily £8-10 and then if you buy lunch, plus an entrance fee to somewhere, you've spent £100 and still need to get home.
Luckily, I've learned lots of tips and tricks for saving money over the years when it comes to trips and here's a few handy ways to ensure your pockets don't get completely emptied at the first hurdle!
Take your own water
A bottle of water is easily £1 if you have to buy one when out and about, so by taking your own water you can save a LOT. The only downside is carrying six bottles of water is heavy, so another idea is to give everyone a backpack so they can carry their own water and some snacks too!
Take snacks and a packed lunch
I always take some snacks and if I can a packed lunch too, then if we buy a nice drink or an ice cream the kids still feel like they've had a treat as part of the day and we haven't spent a fortune on food.
If you're going on a longer trip, check out special offers on lounges in airports (you might even get free access with a credit card). Or how much extra a first-class train ticket is. It might be worth the extra cash to get food for the family as part of your travel.
Look for a special offer
If you're travelling by train look for special offers, family tickets or packages which include entry to a local attraction. Whether you're looking for trains travelling to Luton or London, there's bound to be somewhere fun you can visit while you're there! Loyalty schemes are always good to check out too!
Use cash back sites
I always check cash back sites before booking a trip, you can often get a good percentage off your spending back which comes in handy later!
Book breakfast
If you're staying overnight, it's often cheaper to book a hotel with breakfast than take the family out to eat. Another top tip is to take sealable bags so you can sneak out a few muffins or some fruit to have as snacks during the day.
Remember spare clothes and wet wipes
Many a time I've had to buy clothes because one of the kids spilt something or decided to walk through a water fountain fully clothed…so spare clothes are a must and wet wipes just in case!
Do you have any money saving travel hacks to share?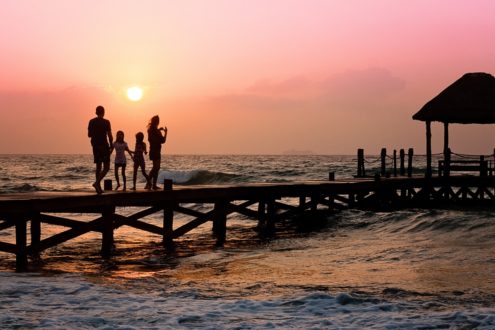 Collaborative Post