We haven't really taken the kids to many cities as we live a bit out in the sticks, but are near enough to London to visit for the day occasionally. It's always very exciting for the kids, even the train and tube are a novelty. When they were little London with kids was a nightmare, lugging pushchairs, changing bags and three small children around, but now everyone is a bit older it's much easier. One of the best things about London for us is that it doesn't have to cost a fortune to have a brilliant day out.
London has something to offer for kids of all ages, there are wonderful museums, amazing shows, fantastic shopping and of course sightseeing, London is full of history. When my 6 year old was studying The Great Fire of London a lot of his friends went to Pudding Lane to see where the fire started.
These are our favourite places to visit in London with kids.
The Science Museum
You know we love Science, so no trip to London is complete without a quick trip to the Science Museum.
The London Eye
We were lucky enough to have a go on the London Eye a few years ago and it was AMAZING!! definitely a must see if you don't visit London often.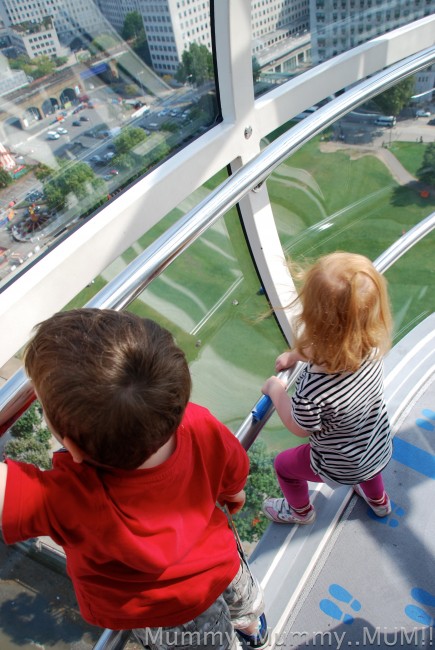 The V and A Museum
The V and A Museum is lovely in Summer, as kids can paddle in the big paddling pool in the courtyard and they sell delicious ice creams!
London Zoo
London Zoo is fantastic, there are lovely play areas, amazing animals and lots of special events. We'd definitely recommend it as a family day trip.
Museum of London Docklands
The Museum of London Docklands is great for children and even has a play area for the under 12s, Mudlarks, with a soft play section for under 5s. Mudlarks is themed around life in the London docks, big kids can weigh cargo while the small kids can crawl a London bus and even pretend to drive a DLR train.
Explore Art Galleries
We've never taken the kids to an Art Gallery, but this post from Red Ted Art tells you all you need to know.
Hidden Gems
As a not very frequent visitor to London it's easy to get stuck in a rut visiting the same old places, this local's guide from Tots100 is a fab guide to some great kid friendly places a little off the beaten track.
Do you visit London with kids? Have you visited a fab city with the family? Do you stay overnight?
I'd love to take the kids of a proper city break. Hotel Direct have some fab deals, I might just have to get something booked.
This is a collaborative post.