When we first started planning our loft conversion three years ago, my main priority was daylight. I wanted the rooms to have a clean, bright, fresh look filled with natural light, which meant we needed lots of roof windows. We added as many as possible into the design of our loft conversion, which has two rooms and a small hallway. All the windows are VELUX roof windows apart from those in the two dormer windows and I love them.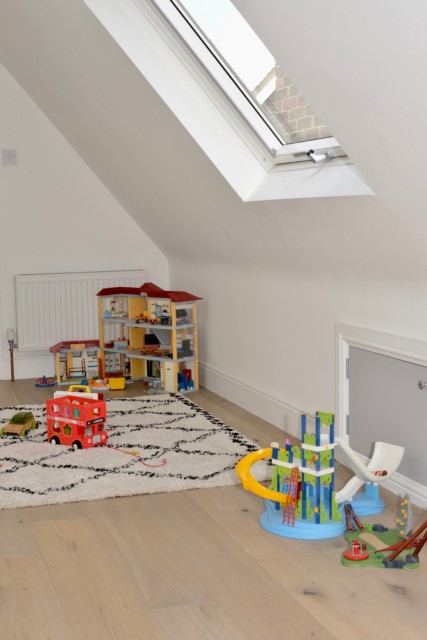 Even if the rest of the house feels dark and gloomy, our loft conversion still feels bright and cheerful thanks to the natural light. As VELUX roof windows are installed into the slope of the roof, they don't fall into shadow, which maximises the daylight potential of the room. On a sunny day we can open the windows wide and fill the room with fresh air. It really is such a lovely environment and is my favourite place to play with Charlie. He seems to enjoy the open space and fresh air as much as I do.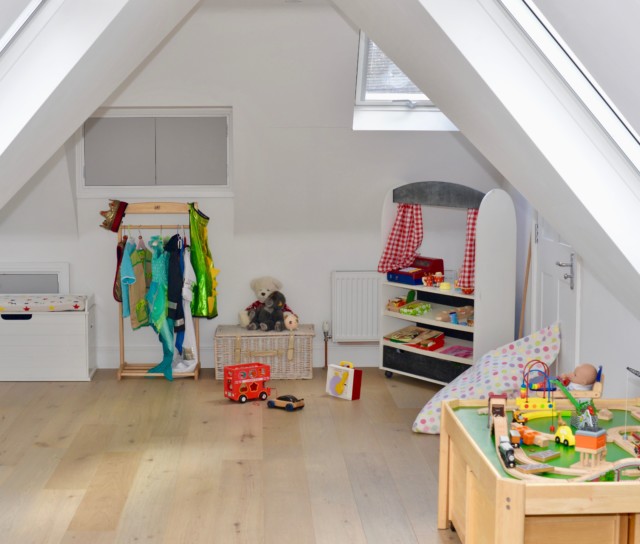 We had the loft conversion done as we couldn't afford to move house and we were in need of some extra space. I was very unsure about spending so much money, but it was definitely the right decision. There was very little disruption — the building work was completed as the builders entered the house via the loft. It was only right at the end when they came through with the staircase that we even noticed they were there, apart from the scaffolding and noise of course.
Most people would've used the space to create a master bedroom and bathroom, but we have a playroom, mini storage room and bedroom. It's given us huge amounts of extra space and hopefully as the kids get older, it will become a set of second living area for them to hang out in.
If I'm ever feeling a bit gloomy, I head up there for a bit and it never fails to lift my spirits!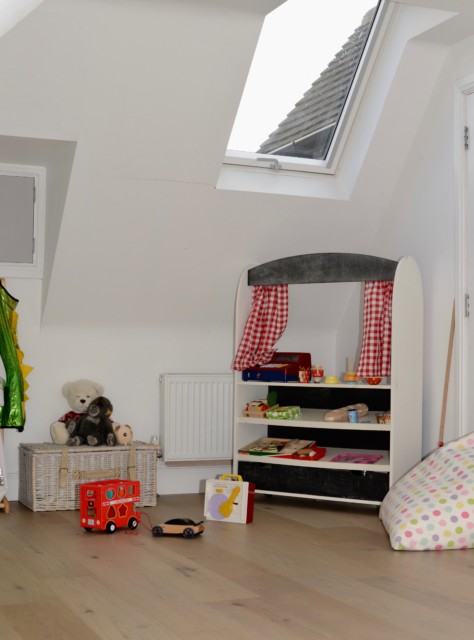 Our loft rooms really are a fantastic addition to the house, and I'm so very glad we made the decision to do the loft conversion.
Do you have VELUX roof windows or are you thinking of getting some? We'd like to extend out the back of our house next, and I'd definitely get VELUX roof windows if we go down that route in the future. I'd love a single storey extension with bifold doors at the back and VELUX roof windows overhead.
More VELUX roof windows inspiration
I've been working with a group of fantastic bloggers who also have VELUX roof windows. You can see from the photos just how much light the roof windows let into the rooms.
Jenni from Chilling with Lucas loves her VELUX roof windows in her bedroom extension. You can see in the photo how lovely the extra daylight is. She also has VELUX roof windows in her kitchen. Head over to her post to see how bright and cheerful they look.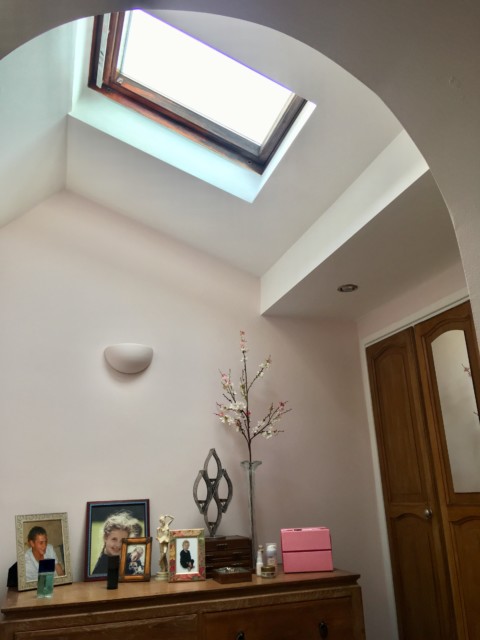 Laura from SideStreetStyle has the most amazing loft bathroom, filled with lovely natural daylight thanks to her windows. She's also got some fab tips for styling a small bathroom if you have one too!
I love this Scandi-style bathroom taken from her Pinterest board, can you imagine how relaxing it would be to take a bath in this gorgeous room?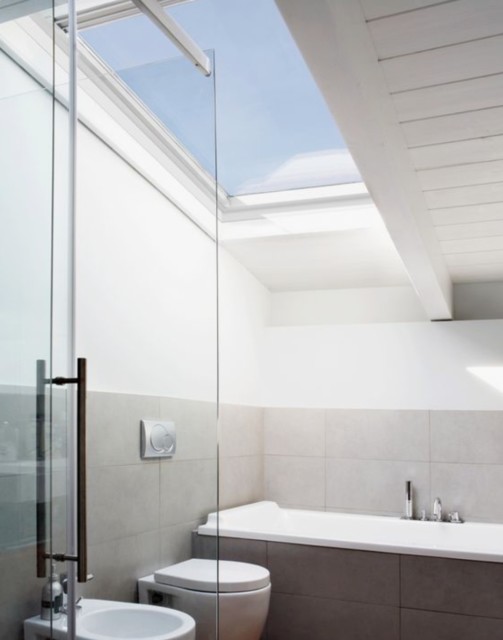 Clare from Maybush Studio shares how she has brightened her daughter's bedroom by adding two VELUX roof windows to let in daylight.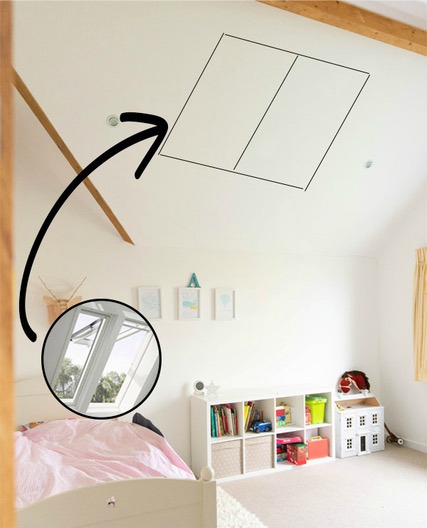 Chrissy from Organise My House has shows how VELUX roof windows have transformed the natural daylight in her kitchen extension.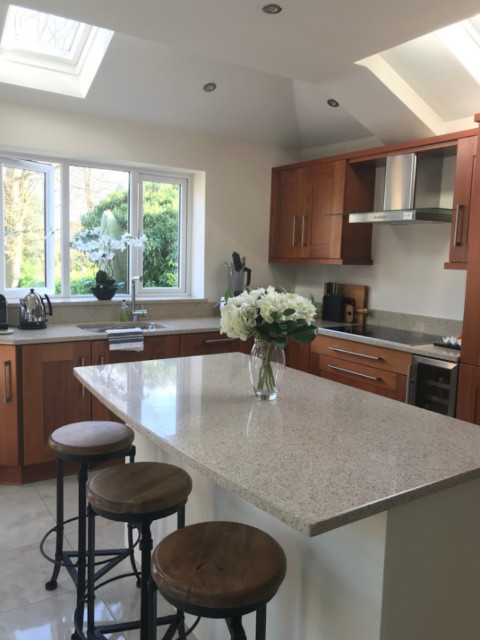 Catherine from Growing Family also has VELUX roof windows in her single storey kitchen extension. I really like how the room is so open and filled with natural daylight. It looks so bright and cheerful.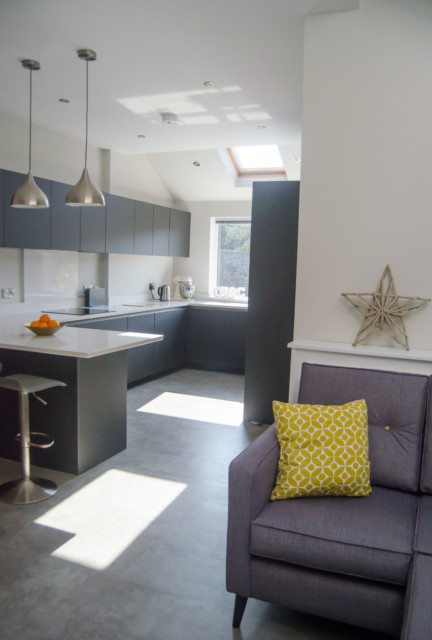 Gill from A Baby on Board also has a loft conversion. I just love her open plan office space. It looks so welcoming under the light of the windows.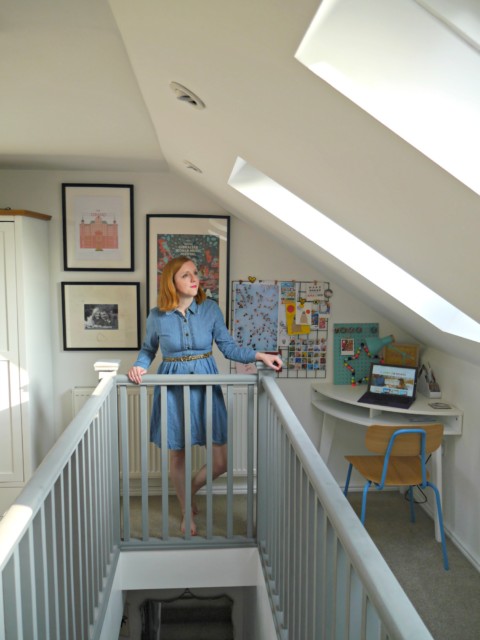 Sarah From Extraordinary Chaos has the most beautiful loft bathroom. She very cleverly uses a mirror to bounce natural light coming through the VELUX roof windows to make the room feel extra light and bright.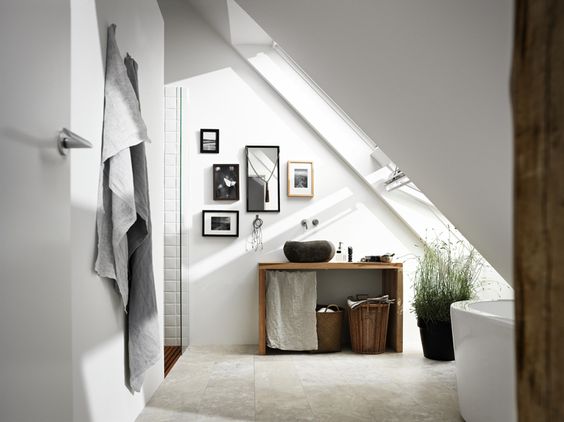 Becky from A Beautiful Space talks about the benefits of VELUX roof windows in a kitchen and how natural daylight can affect our mood. I definitely agree with this. I am so much more cheerful when it's light outside, I tend to move around the house in the day following the sun, which is why our loft room is so lovely as it always feels bright. Perhaps I need to move my office up there.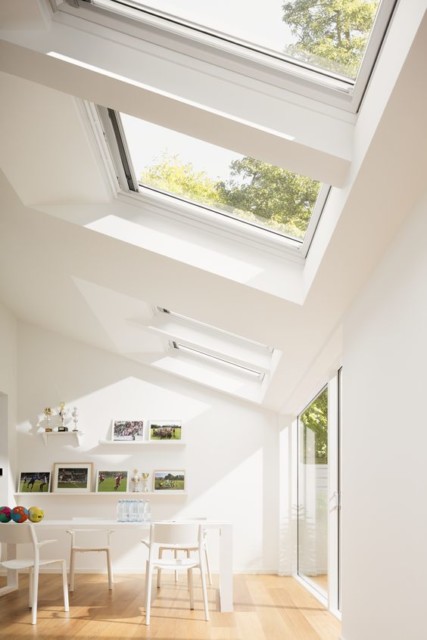 WIN with Britmums & VELUX
VELUX are running a competition on Pinterest where you can create your own boards to win prizes. To enter #VELUXdaylight you need to complete your own Pinterest moodboard showing how VELUX roof windows bring daylight and fresh air in to the home. This can include images from your own home or plans you are making to add more space from adding a single-storey extension or loft conversion.
We have a £200 John Lewis voucher for first place and 8 £75 John Lewis vouchers for runners up.
The competition will launch on Tuesday 23rd April on BritMums website and Pinterest board.
Have a nosy at my Pinterest board (Pinterest board linking to mine) too for some inspiration.
This post is part of a sponsored project for the BritMums #VELUXdaylight Project, sponsored by VELUX. Learn more about how VELUX can improve daylight and mood in your home on www.velux.co.uk/extensionsand www.velux.co.uk/lofts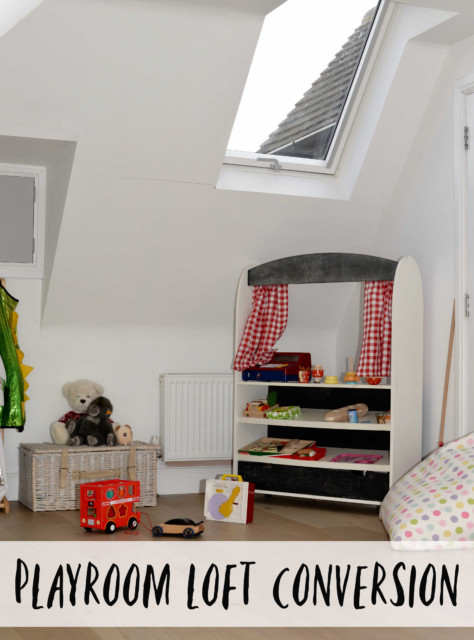 VELUX can improve light and mood in your home at www.velux.co.uk