We've just about recovered from our epic 18 night California adventure. We covered over 1800 miles, stayed in 9 different hotels and generally had the most amazing time. We flew in and out of San Francisco and drove in a big loop down the coast on Highway 1, then over to Anaheim, Yosemite and Tahoe. Our stop in SLO CAL was brief and if I could go back in time I would definitely allocate a few more days to explore as we didn't scratch the surface of this beautiful part of California.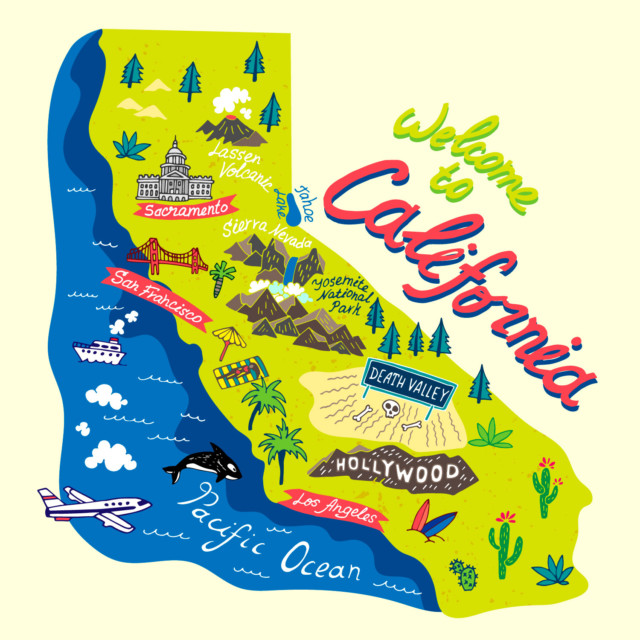 Our SLO CAL stopover day started in Monterey, we left early, keen to get started down Highway 1 before the traffic built up. It was very foggy to start with and we did wonder if we should've taken the faster route down Highway 101, but once the fog cleared the views were incredible. If we were to go back tomorrow I'd want to drive it again. Highway 1 is a spectacular drive not to be missed.
We stopped for walk around Big Sur to break up the driving and then headed straight to Morro Bay where we had a boating adventure with Bay Cruisers booked for 2pm. I'd seen photos of Morro Bay online, but hadn't quite grasped how big the rock actually is. As it came into view through the lingering fog I was reminded of a scene from a movie where an alien space ship arrives. It is HUGE.
Research tells me that Morro Rock was formed about 23 million years ago from the plug of an extinct volcano. It stands 576 feet tall and is perched on the edge of the Pacific Ocean at the mouth of Morro Bay Harbor. The rock is home to peregrine falcons and is part of a chain of nine volcanic peaks that extend from San Luis Obispo to Morro Bay known as the Nine Sisters.
As I write about our road trip, I know I'll be saying over and over again that I wish we'd had more time to spend in the places we visited, and it's just so true! We didn't have enough time at any of our stops. If we went back to Morro Bay the first thing I would do is walk around the rock for a better view and rent a kayak on Morro Rock Beach.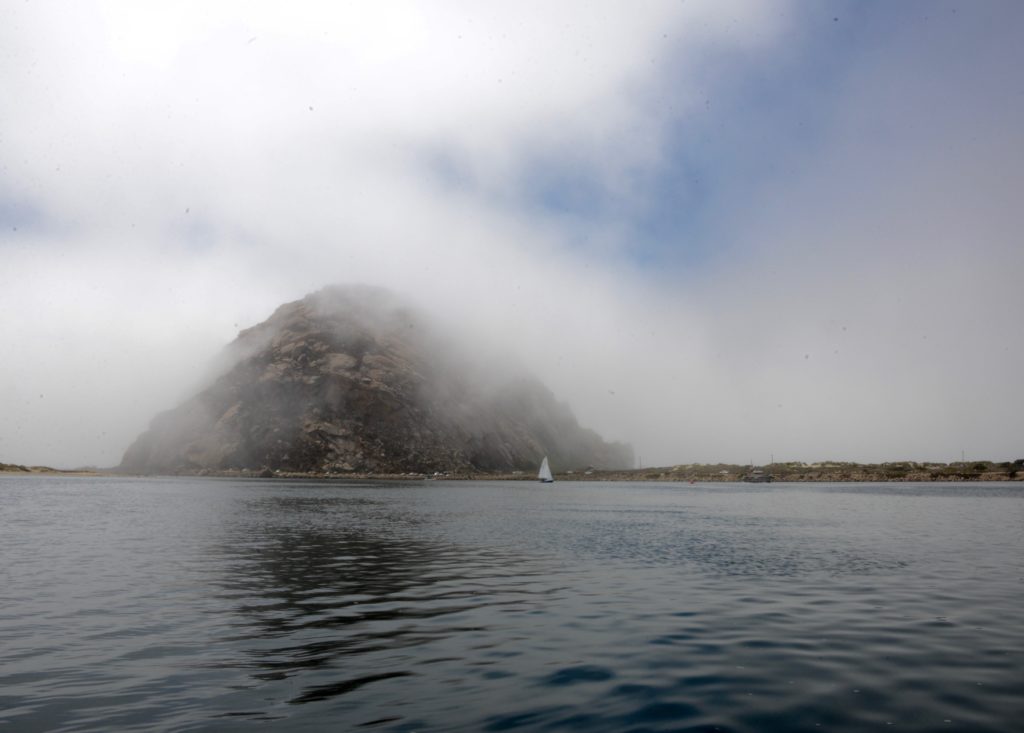 Boating with Bay Cruisers
The highlight of our trip to Morro Bay was our hour on an electric boat hired from Bay Cruisers. Bay Cruisers is located along the lively Embarcadero right in the centre of Morro Bay. The boats seat up to 8 adults so had plenty of room for the 6 of us and even had a bluetooth stereo for music. It was a great ( and very chilled out ) experience for the whole family. Food and drink are allowed on board, the boat was super easy to drive, 100% electric and emission free! Lifejackets for kids are available as part of the rental.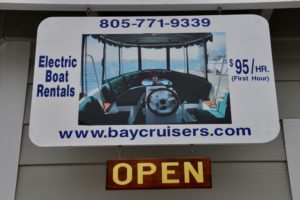 We easily filled the whole hour and could've happily stayed out longer. The kids loved looking for sea otters which popped up every now and then. It was a really magical experience for kids who don't get to see animals like that very often. We giggled a lot at the seals lazing around making noises on their platform, and generally just sat back and enjoyed the view. Boaters are allowed to get within 20ft of seals, but must stay further back from the sea otters as they can be a bit playful. There was a lot of excited shrieking from our boat whenever a sea otter popped up.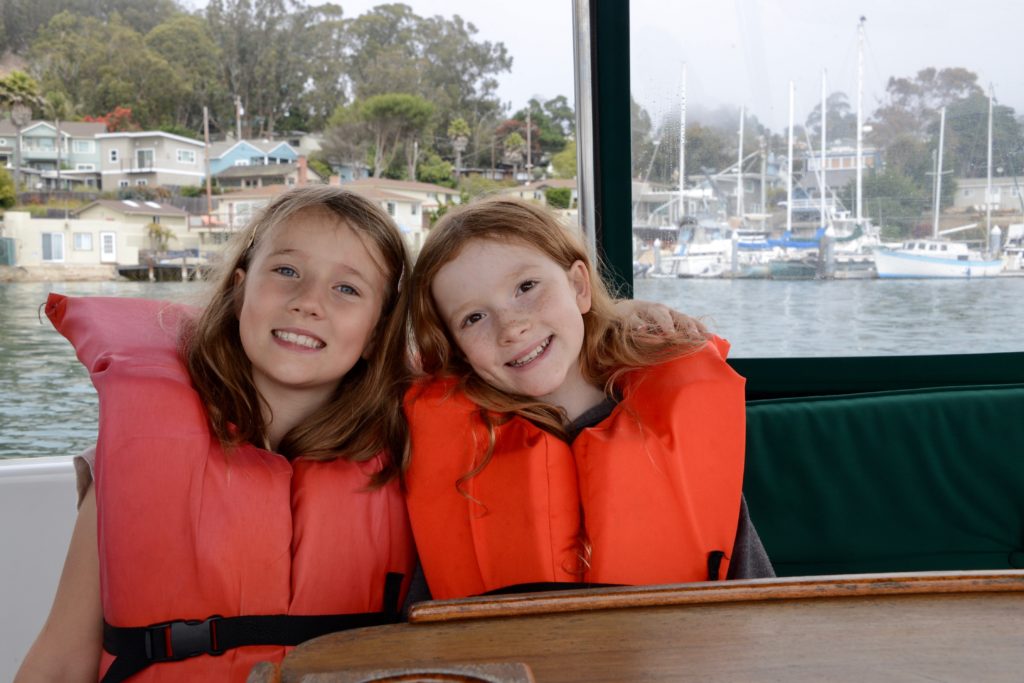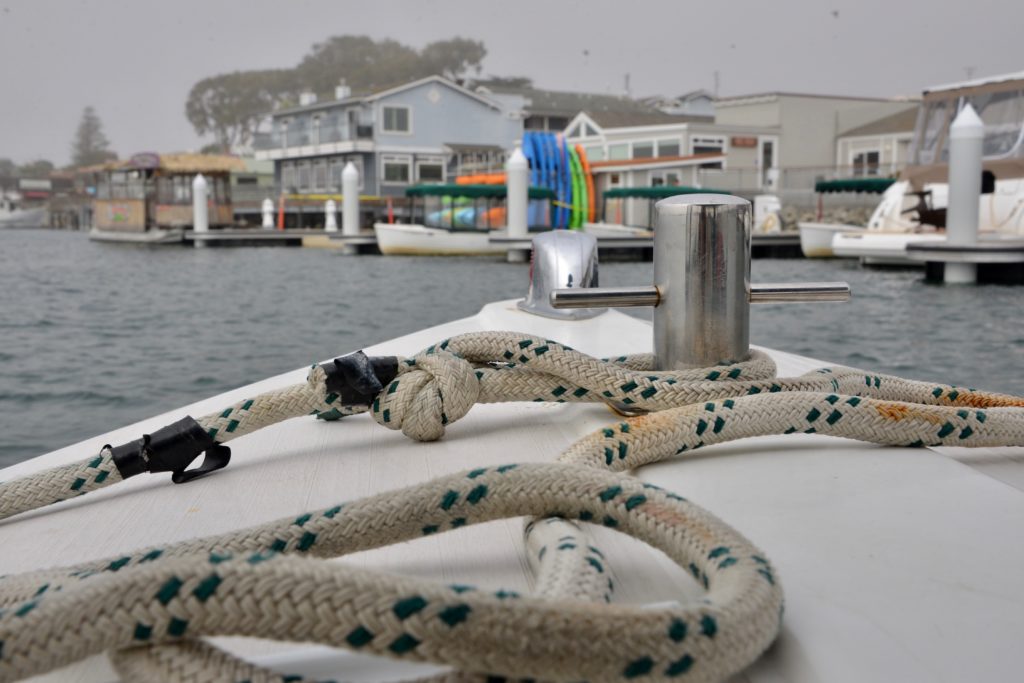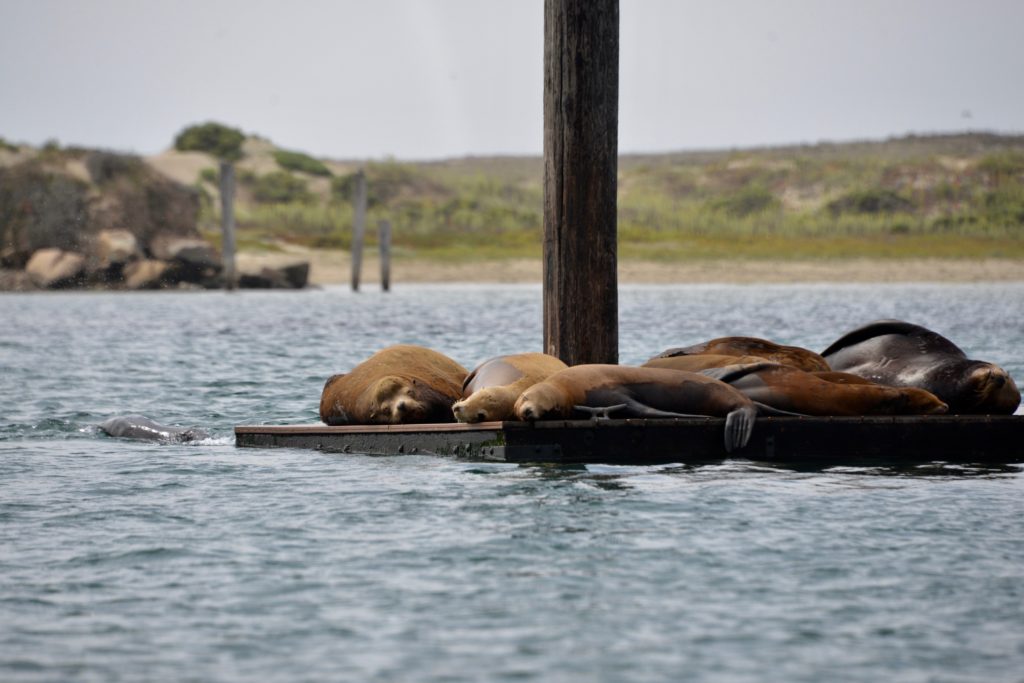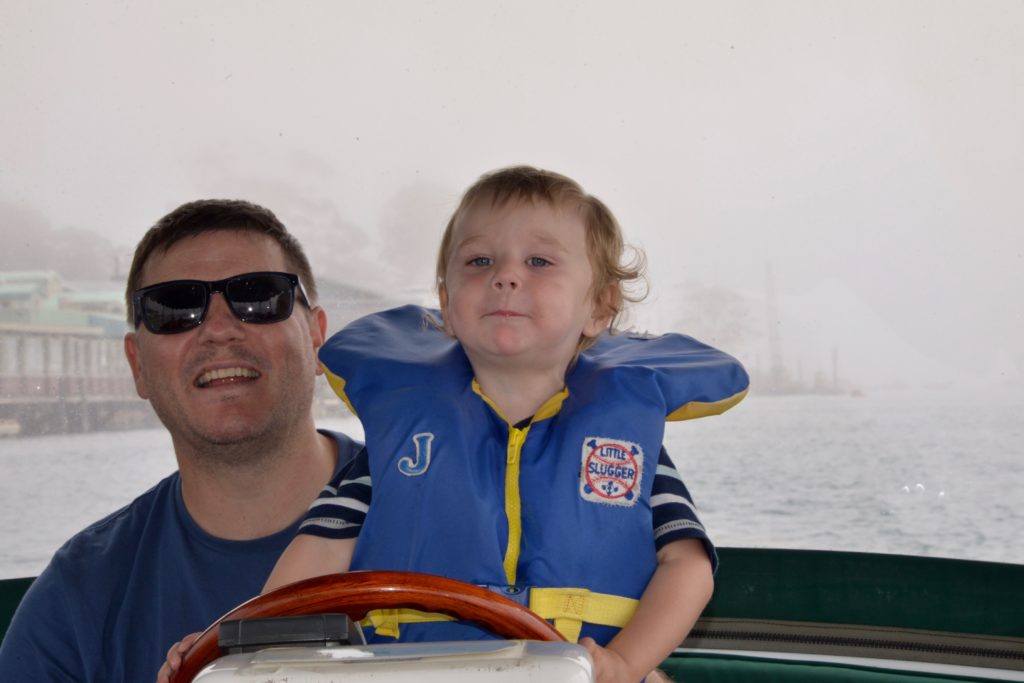 Huge thanks to Bay Cruisers for a fantastic afternoon on the water.
More things to do in Morro Bay
Kayak, Canoe or Stand Up Paddleboard
Morro Bay's temperate climate and protected waters make it the perfect place to try some watersports.
Cycling
Morro Bay has miles of beach trails, paths and bike lanes if you fancy leaving the car behind to explore this beautiful area. I wish we'd had the time to cycle the trail system, next time!
Crill's Salt Water Taffy
Visit here for gorgeous fresh cinnamon rolls and colourful taffy.
Morro Bay Skateboard Museum
Zak was very keen to visit the skateboard museum and actually found a new passion for skateboarding during our holiday, but unfortunately we needed to get to our hotel after the boat trip.
The museum contains over 200 skateboards including John Lennon's board and ever-changing exhibits. There's also a new Vans exhibit which features a look back at Vans history in skateboarding. Sounds very cool!
Where to stay in San Luis Obispo
The Madonna Inn
We stayed at the Madonna Inn. In all honestly I wasn't sure when I booked whether it would be amazing or a bit of a dissapointment, but it was one of the most incredible, wonderfully quirky hotels we've ever stayed in. Each room is differently themed. I chose the Pick and Shovel room as it had plenty of room for us and it far exceeded any expectations I had. Zak who had spent much of the previous 8 night sleeping on sofa beds was thrilled to have not only his own bed, but a spare bed too! Our suite had a very large living area with the biggest sofa I have ever seen, two ensuite bathrooms, a staircase and three bedrooms. We were completely blown way by how amazing it was.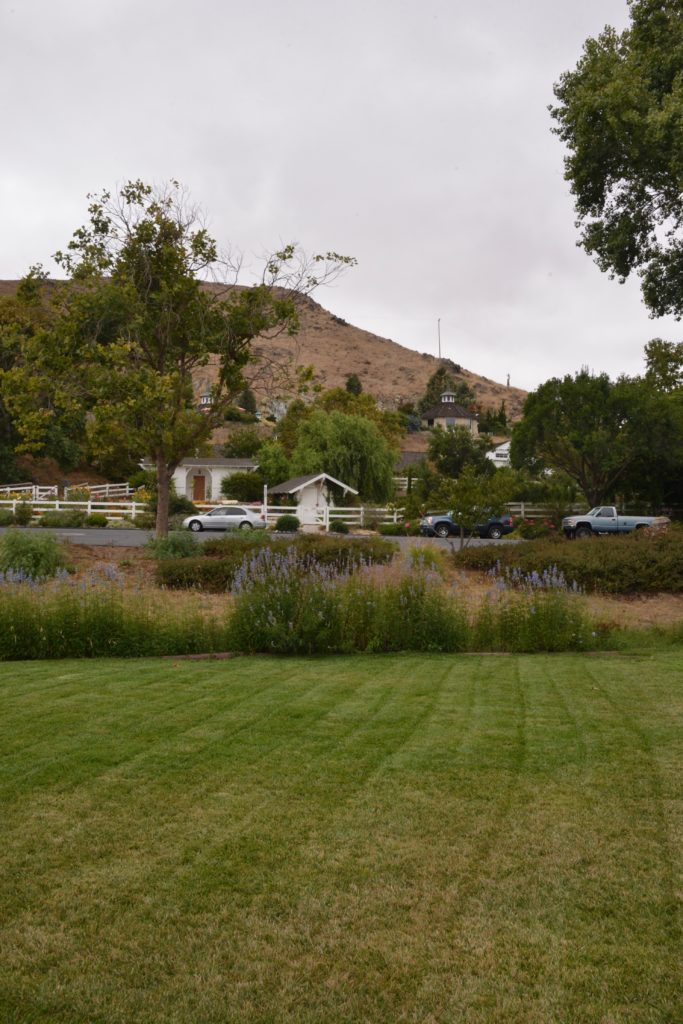 The hotel is just off a main road so easy to get to, but backs onto the 1000 acres of the most incredible scenery. We sat by the pool admiring the hilltops and valleys, feeling so lucky that we'd chosen to spend some of our holiday there. I could happily have stayed another week. It was Hannah's birthday during our stay and they very kindly brought her out the biggest piece of chocolate cake you've ever seen with breakfast which just made her day. We ate in the Copper Cafe which was great for dinner and breakfast and very reasonably priced. There is a more expensive ( and exquisite looking ) steakhouse too, but we decided not to impose our rather lively and loud toddler on the other guests in there.
Hannah had a brilliant birthday morning playing basketball and tennis at the Madonna Inn. Visitors can also hire bikes and cycle to downtown San Luis Obispo or around the bike trails at the hotel. Horseback riding is also available and there is a spa as well as a great pool. The tennis, basketball courts and bikes and a lot of the decoration at the Madonna Inn are bright pink, perfect for a 9 year old's birthday. We couldn't have planned it better.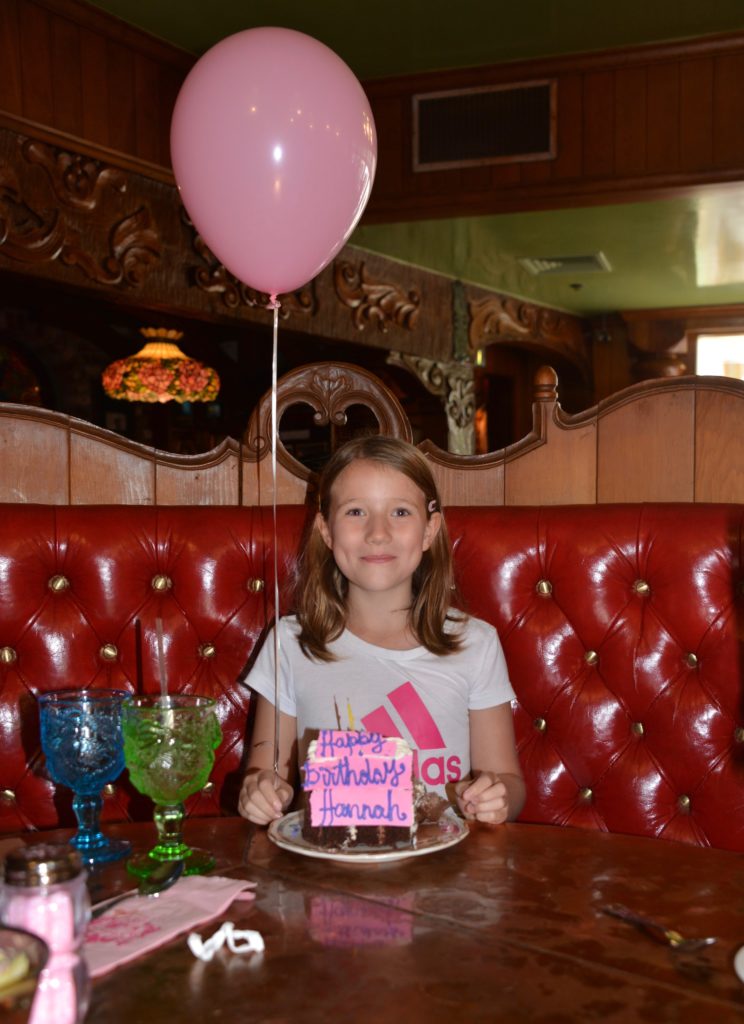 The Madonna Inn is one of my favourite ever hotels, and somewhere else I'd love to visit again. I'll be recommending it to everyone.
Places to Eat in San Luis Obispo
Burger Village
698 Higuera St, San Luis Obispo, CA 93401
We tried to visit Burger Village but they were fully booked with a longer wait time that my 2 year old could tolerate at that particular time ( it was quite late ), but it looked and smelled amazing.
Burger Village offers organic grass-fed beef or cage-free organic chicken and turkey burgers. Visitors can also enjoy exotic meats like bison, elk, wild boar & lamb. Tasteful organic veggie, black bean & mushroom patties are also available.
TASTE! Craft Eatery
After renovating the historic Brickworks Building in San Luis Obispo, the team at TASTE! Craft Eatery have created a solid foundation of creative mini burgers and unique wines & beers.
Downtown San Luis Obispo's Farmers Market
Higuera Street, San Luis Obispo, From 6 to 9 PM
This is the largest farmers market in SLO CAL, bringing together together fresh produce, local BBQ and artisan crafts each week on Thursday night. Stroll along Higuera Street for an abundance of fresh, local products unique to SLO CAL.
Explore San Luis Obipso
Touted as one of the "Happiest Places in America," San Luis Obispo is a vibrant town full of outdoor and cultural adventures. The kids really wanted to see the Bubblegum Alley, but once again we ran out of time! I really need to go back and do the holiday again! It's esimtated that almost 2 million pieces of gum adorn the alley!
San Luis Obispo Children's Museum
1010 Nipomo St, San Luis Obispo, CA 93401
The San Luis Obispo Children's Museum provides a fun place for children and families to explore, discover and learn through hands-on exhibits and programs. Three floors and an outside playscape are jam-packed with exhibits for children ages 1-10.
Things to do in SLO CAL
I had hoped to rent bikes and cycle around Avila Beach or Pismo Beach, but you guessed it, we ran out of time. We really needed several days to explore the area properly and I'm really disappointed that I didn't schedule that time in. Top of my list was the Bob Jones Trail where you can cycle from the city to the beach through valleys and the San Luis Obispo Creek. In Pismo my plan had been to kayak in the sea and then visit Dinosaur Caves Park.
The Visit SLO CAL website has lots more ideas to keep you busy in SLO CAL. Reading about it all again makes me realise how much we missed by not spending more time there.
SLO Cal was the best stopover we could've hoped for and we would love to visit again soon.
We were kindly given electric boat rental for an hour from Bay Cruisers free of charge, but paid for travel, hotels and food ourselves.
Huge thanks to Visit SLO CAL for helping us plan this part of our trip.