While it might be difficult to imagine a time when the world isn't uncomfortably warm, it's important to remember that autumn and winter are approaching fairly quickly. Once the autumn season begins to roll around, we'll see green trees turning beautiful colours, the nights getting darker, and living rooms becoming places to get cosy and warm. It's understandable why this time of year is a favourite for many, with bonfire night and Halloween planning underway and the busy yet exciting Christmas period. While many of us may have spent time and effort gutting our homes and implementing light and airy fabrics and décor to complement the hot summertime, it's time to start casting our minds forward and making plans to stave off the cold instead. To help you with this endeavour, we've put together this handy guide to sprucing up your home and getting it ready for the colder months to come.
Bedroom

Your bedroom should be a place of warmth and respite during the cold winter months, so it's important to consider how you decorate your bedroom in time for the colder weather. There are a number of different additions you can make to your room, some more obvious than others.
Add Some Cosy Bedding
The first thing to think about is obviously going to be your blankets and bedding. Once the cold months roll around, you'll want to be prepared during the nights with a nice thick duvet and some warm and fluffy pillows. It's also important to remember to layer your bed, allowing you to add or remove extra blankets when it's colder or warmer, respectively.

Use Warm Lighting (sun clock too)
The general appearance of your room can have an impact on a lot more than simply how well you can see the room. Different colourations of lighting can affect your mood, which is why smart lights are a great idea, allowing you to add warmer colours and dim the lights accordingly. You could also consider using a sun clock too, helping you wake up in the morning as it simulates a gentle sunrise at the time you need to awaken.

Hang Some Heavy Curtains
While you might think curtains should be lighter in the winter to allow for more light to come into the house, heavy curtains are much more beneficial than thinner ones. However, this is less to do with light and more to do with keeping the heat in and the cold out. A heavy curtain will act as an extra layer of insulation, helping to fight off any cold air that may get through your windows.
Living Room

During the wintertime, the chances are you will stay indoors a lot more than during the summer. Entertaining guests indoors becomes much more commonplace, and spending nights in with family and loved ones watching movies, playing games and socialising. This often ends up making the living room a much-frequented zone in your house, so getting the area ready for the winter is very important.
Add Some Blankets
No matter where you are, a blanket can be the perfect way to keep a chill at bay, and having plenty dotted around your home, especially in your cosy living room, will allow you and your guests to grab one when needed. A blanket is a perfect way to complete that warm and relaxed feeling you get from being snuggled up on the sofa in front of your favourite movie or a roaring fireplace. 

Choose An Eco-Friendly Log Burner
Speaking of fireplaces, there's a strong possibility that, while you've always wanted to have a lovely fireplace as a focal point in your living room, you're also extra conscious of the environmental impact of a wood or coal fire. However, today you can find log burners that are eco-friendly in that they filter a majority of the soot and carbon out of the smoke. Burning logs is also much more economical than having your central heating on, making it an excellent choice for the home in general.

Choose A Comfy Rug
Another way to make your living room a warm and welcoming space during the winter is to add a lovely new rug to the space. This is especially good if you have a wood floor as this can be unpleasant in the winter if you don't have underfloor heating. Alternatively, you could go all out and decide to lay a new carpet, replacing an old and worn one or covering a cold hard floor. You can look into a range of carpets at suppliers like Designer Carpet. You could find a carpet to suit your living room's aesthetic, no matter what style you've gone for. Just make sure it's suitable for a cold winter.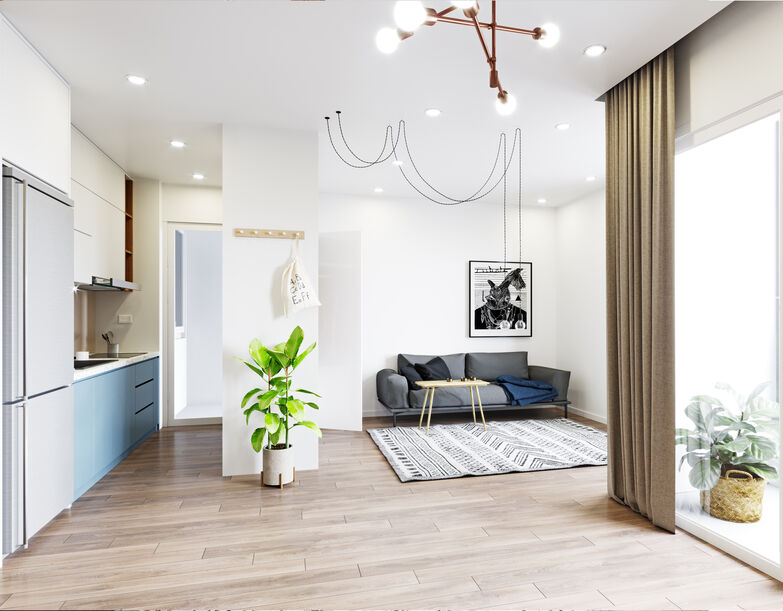 Kitchen

Alongside our living rooms, our kitchens have gradually become a space fit for entertaining too. A large focus has gone into modern designs that make the kitchen perfect for congregating and keeping those working on a meal or preparing snacks and drinks for the party. If you've got the space and there's a strong possibility that people will be in and out of your kitchen area, you'll want to consider how to make this area seasonally appropriate, too.
Use Seasonal Décor 
There are many different themes and styles that you can choose for a kitchen area, and the more generic you go when designing your kitchen in the first place, the better you'll be able to change up the décor to suit different times of the year. Suppose you have a nice clear design for your kitchen with subtle tones and shades for walls and countertops. In that case, you could switch up the décor easily. Go for some nice autumnal colours and ornamentation, such as pumpkins, and then change things up for Christmas with wreaths and garland.

Add Some Seasonal Scents
The kitchen area is the place in your home that is going to be the most associated with pleasant smells from cooking and baking. That being said, sometimes those scents can be overwhelming, especially if you've made a spice-heavy dish that emits a clinging scent. Now is the perfect time to search for some seasonal scents. For the autumn, a pumpkin-spice candle is going to be a perfect choice, whereas, in the winter, you could find more Christmassy scents like gingerbread and winter spice.

Bring The Outdoors In
One thing that many people forget when it comes to decorating their kitchens, especially during the winter, is to bring some greenery in to liven the place up. At the end of the day, it's well known that one of the benefits of the summertime is being able to get out and spend time in nature much more often. This is why it's worth bringing some plant life into your home to get that nature hit that can benefit your mental health. Houseplants are said to help those affected by seasonal affective disorder (SAD). You could also bring in trimmings from evergreen plants to add around your kitchen area, which has a similar effect.
Garden

Just because the weather has turned, however, doesn't mean you have to cordon off your garden area until the snows melt. In fact, spending time outside in your garden in the evenings can be a very cosy and pleasant experience if you do it right. Here are some ways in which you can get your garden area ready for the winter so that you can enjoy this space even when the days are getting darker.
Use An Outdoor Heater
Naturally, the first thing you'll be thinking about when it comes to being outside during the winter is that it's going to be cold. While wrapping up warm and wearing woolly hats, scarves, and gloves are going to be almost a necessity; you'll want to help take the chill off even further with some form of heat emitter. This can be a gas heater, an electric infrared heating lamp, or even an atmospheric firepit, providing you and your guests with the feeling of camping out under the stars.
Provide Cover From The Elements
While sitting out under a blanket of twinkling stars is going to be a pleasant experience, especially when grasping a warm mug of hot chocolate or a mulled wine. However, the weather isn't just cold during the winter. In fact, as you'll likely be aware, precipitation is commonplace throughout this season. However, with some cover from the elements, such as an awning or some other form of shelter, you can enjoy the outdoors even during the rain and snow.

Prepare The Garden For The Winter
A large part of decorating your garden during the winter will naturally come from simply taking care of it. Maintaining your garden at this time isn't the easiest task, and this space can often feel barren and lifeless during the cold seasons. However, keeping dead leaves and plants trimmed back and the place tidy will instantly make the place more welcoming. It's important to look after your furniture too. You should make sure to clean your decking, outdoor seating, and tables regularly to keep them looking nice, and don't forget to treat your woods with furniture and decking oil to protect them from the wet and cold weather.