I asked my 10 year old to write this for me as she always has her head stuck in a book! Here are her top 5 books for 10-11 year olds.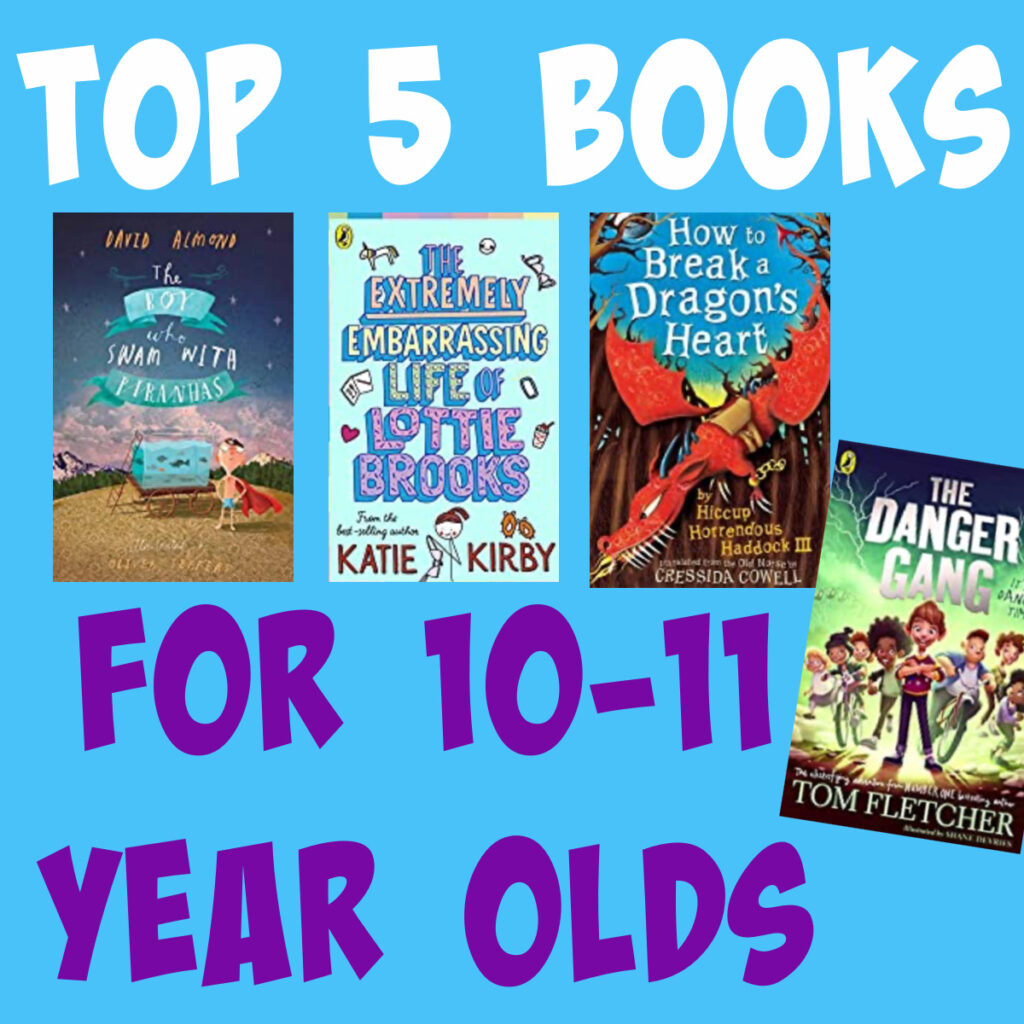 The Boy Who Swam With Piranhas – David Almond
Stan lives with his Uncle Ernie and Auntie Annie because his Dad died in an accident and his Mum of a broken heart. That was when the craziness started. Ernie lost his job and all of a sudden became fascinated with canning fish.
Stan soon becomes fed up of the fish canning and goes in search of his own destiny thanks to superstar Pancho Pirelli who swims with piranhas.
How to Break a Dragon's Heart – Cressida Cowell
This book is from the infamous How to Train Your Dragon series and is my favourite. If you haven't read any of the series, though it's probably best to start with book 1.
Fish Legs falls in love with the daughter of a chief, but he's not of royal blood so Hiccup steps in. Can he complete the impossible task and save Fish Legs from the beast? You'll have to read to find out.
The Boy Who Made the World Disappear – Ben Miller
Harrison tries his best to be good. He doesn't steal, cheat and always shares with his sister, but he just can't manage to control his temper.
At a parry Harrison is given a black hole instead of a balloon and for a while loves getting rid of things that annoy him, but he soon realises you need to be careful what you wish for.
I love this book as the author takes something factual ( black holes ) and turns it into an adventure.
The Extremely Embarrassing Life of Lottie Brooks – Katie Kirby
From starting High School to annoying brothers, venture into Lottie's crazy life as she attempts to make friends, avoid too many nicknames and not get bullied. Lottie takes on sleepovers, crushes , best friends and extremely embarrassing situations with the help of a secret diary and a large supply of Kit Kat Chunkys.
I love this book as it portrays a very funny version of becoming a teen, it made me laugh out loud a LOT!
The Danger Gang – Tom Fletcher
Franky is annoyed that he has to move and especially that his old room is being turned into a gym. When he realises that a storm in his new street isn't normal he decides to try out the weirdness the storm gave him and his new friends – superpowers. The investigate and realise that the storm wasn't natural…Franky's part of a new gang, but there's trouble ahead.
This book kept me gripped from start to finish. A real page turner!
Thanks for reading and I hope you like my book suggestions. Hannah, age 10