I was most excited when Katie from Mummy, Daddy and Me makes Three asked if I would like to receive her chosen book from the Tots100 Book Club with Tesco, after all I LOVE to read, but when it came to me picking a book to review I suddenly realised that the last time I read a book was on holiday last summer.
As a child and before having children I was never without a book, but since having my second and third children and starting my OU course  I have hardly read anything apart from textbooks and kids books. So, I am reviewing mine and Z's favourite book of the month, The Enormous Crocodile.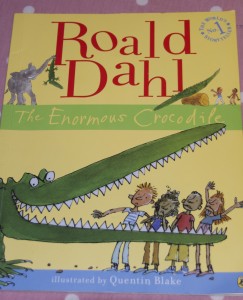 I have lots of happy memories of reading many many books as a child, and none were enjoyed more than Roald Dahl, apart from maybe Enid Blyton. My children are still a little young for most Roald Dahl books ( I am not ready to explain Matilda's terrible parents or scary witches just yet ) so we have started with The Enormous Crocodile.
The story is told in the hilarious style expected from Roald Dahl. The greedy crocodile wants to eat a child, but the other animals find a way to foil his nasty plan leading to a most amusing ending that always fills our house with little giggles.
I hope Kerry enjoys it as much as we do, we even made an egg box Croc!