I'm trying not to think about it, but I'm 40 in about 18 months time and would love to take us back to Disney World Florida to stay in the Animal Kingdom Lodge for a week and then maybe spend a few days exploring Universal before hitting the beaches and less touristy parts of Florida. It's going to cost a lot of money so I'm frantically trying to save every spare penny, which is proving very difficult with four children who have expensive hobbies. Hannah needs a new gymnastics leotard, there's three gymnastics competitions and a swim gala to pay for as well as holiday items and expenses for this year. Four lots of swim suits, sunglasses and a travel pushchair  don't come cheap. I'm pretty much fighting a losing battle, but every little helps right?
My latest unncessary expense was a fancy dress costume for baby Charlie. I only take him to one baby class and they had fancy dress week last week, which meant i spent 2 hours searching the internet for a nice but inexpensive outfit. I eventually found some great savings on Groupon and bought a cute little Captain America costume. What do you think?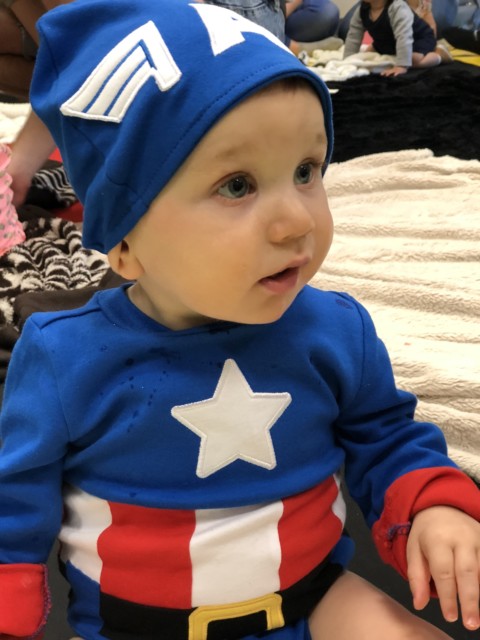 I tend to do most of my shopping online as I just don't have time to visit actual shops, this gives me the added bonus of being able to shop around for the best price easily. I've also got some more top tips to save you money when shopping online.
How to save money when shopping online
Look for voucher codes – a quick search for a promotion code before checking out can save you a huge amount of money over a period of time.
Watch out for special offers. I subscribe to e-mails for all my favourite shops then I'm first to know when there's a sale or a special promotion.
Use cash back websites. I used my cash back to get a coffee shop voucher which gave me extra bonus money and has kept me in coffee and cake for the last 9 months!
Club together with friends. When I'm buying school uniform or something I know my friends also need to buy I always ask if they need anything so we can split the postage cost, making it cheaper for everyone.
Shop around and look for price match options.
Do you have any top tips for shopping online?
Collaborative post
SaveSave
SaveSave
SaveSave
SaveSave