At Ad Lab, we believe that balancing work commitments alongside raising children is not only achievable but can actually help improve your career prospects for the long term. Within our team, we have three mothers who have managed to enhance their working capabilities whilst ensuring they have enough time and energy to love and care for their kids.
We work alongside many businesses that are spearheaded by strong and capable mothers, such as Tracey Backhouse who is head of marketing at Ironmongery Experts. She is an integral part of the company, having utilised her time effectively between her job role and family commitments.
Figures reported by The Guardian suggested that unemployment among women rose by 20% between 2009 and 2012, compared to 0.32% among men. This has created a perception that motherhood takes too much time out of the career trajectory for women.
It's time to forget about the age old notion that men have the upper hand when it comes to balancing family life with employment. So, here are six examples of females who have managed to build an impressive working resume as well as successfully raise children.
Cheryl Sandberg, Facebook COO. (Mother of Two)
Cheryl is the Chief Operating Officer of the biggest Social Media website in the world. In 2012, she became the very first female on the board at the company, having previously worked at Google and as Chief of Staff for the United States Secretary of the Treasury. She now works on the growth of Facebook and has spent time implementing new initiatives to help address the gender gap that currently exists within the Tech industry. As well as working for a globally recognised brand, she is also on the board of Women for Women International.
Susan Wojcicki, YouTube (Mother of Five)
Susan was part of the Google team during the early days of its operation. Within the first few years at the company, she set up their office in her own garage before being named Marketing Manager in 1999. In the present day, she is the CEO of the world's biggest video streaming site YouTube, where she has successfully managed to balance her career alongside life as a mother of five children. Over the years, Susan has written a number of highly regarded articles that discuss the importance of paid maternity leave and finding balance between family and career.
Meg Whitman, HPE President and CEO (Mother of Two)
Megan has an impressive resume that includes a successful period at online marketplace eBay, where she helped transform the company into a multibillion business. She now works as the President and Chief Executive Officer at HPE as well as the Chairwoman of HP Inc.
Angela Ahrendts, Apple SVPR (Mother of Three)
Angela is Apple's Senior Vice President of Retail, having formerly been the CEO of Burberry. She is currently responsible for online sales channels as well as brick and mortar shops at the largest company in the world. She is the only female on Apple's executive board, hoping to inspire more women to reach the top.
Safra Catz, Oracle Co-CEO (Mother of Two)
Safra has been the Co-CEO of Oracle since 2014. The company is now one of the biggest tech firms in the world. In 2016 she joined an executive committee for the Presidential transition team in place for Donald Trump, whilst continuing her role with Oracle.
Sarah Wood, Unruly CEO (Mother of Two)
Sarah is the Co-founder and current CEO of Unruly. The company began life as a three-person set up and has now grown to become one of the world's leading ad tech companies, with 300 employees, 20 offices and revenues north of $50 million.
These inspirational figures are living proof that motherhood and work commitments can be balanced. Having children should be seen as a positive drive for anyone going back to work, since there is now even more reason to perform and achieve career ambitions.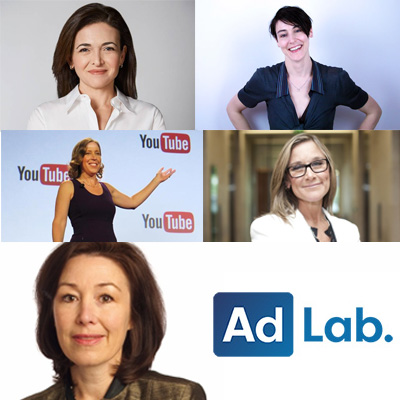 Collaboration with AdLab
SaveSave