Do you supplement your diet with vitamins and minerals? I'm a big fan of supplements for myself and my children. We all take a basic multivitamin and extra Omega 3, I've also recently been trying wheatgrass powder in fruit juice once a day, which I'm sure is giving me more energy. Many years ago I had a lot of digestive problems, mostly due to stress and too much coffee drinking at work. I found taking a probiotic really helped me out, but I haven't taken them since having the children, although I know I'd still find them beneficial.
These new Bioglan  Biotic Balance ChocBalls contain the bacteria essential for healthy digestion. The range is available in both Dark Chocolate and Milk Chocolate variations each has just 14 calories and are a source of fibre, you don't even need to store them in the fridge making them perfect to take on the go.
For more details about "good" and "bad" bacteria and how they can be beneficial to your diet see the Bioglan website.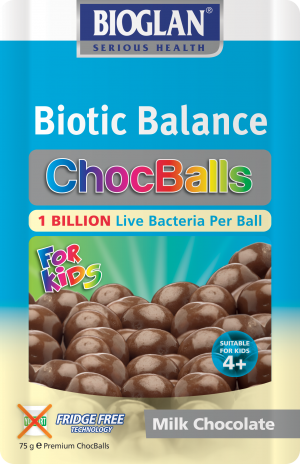 Nutritionist Suzie Sawyer said:
"Probiotics have proven benefits for maintaining a good-working digestive system – promoting healthy bowel movements and helping to relieve the symptoms of constipation, bloating and flatulence. A good balance of bacteria in the gut is also needed as this helps us to better absorb macronutrients and produce the B vitamins as well as vitamin K."
If you don't fancy the ChocBalls how about Bioglan Biotic Balance capsules. Each of these has 20 billion live bacteria from four scientifically studied strains – equal to the quantities found in 4 tubs of yoghurt, saving you the calories, fat and sugar.
Bioglan Biotic Balance ChocBalls are available in most Holland & Barrett stores priced from £9.99. Bioglan Biotic Balance capsules are available from Boots and Holland & Barrett stores, priced from £19.99 for 30 capsules.
If you'd like to win a bag of Bioglan ChocBalls worth £9.99, just complete the rafflecopter form below.
Terms and Conditions
a Rafflecopter giveaway

Prize is one 75g pack of Bioglan ChocBalls
There are 10 prizes available, each entrant can only win one bag.
UK Delivery addresses only
Competition closes midnight Thursday November 27th 2014
No cash alternative available
Winner must respond to the notification e-mail within 2 weeks or the prize will be withdrawn.