Pregnancy is a funny time. On the one hand it seems like 2 minutes since we found out back in August, but then the thought of 8 more weeks till the baby arrives feels like an eternity. The reality of course is that the time will fly by as always. It's just a week and half till half term, then I have a scan at the beginning of March, then a few weeks after that I'll be 37 weeks and really on the countdown.
I've been feeling great up until the last week or so, when the baby seems to have a new hobby of constantly punching me in the hips, which is a very odd sensation and sometimes quite painful. I've also been having lots of very strong braxton hicks contractions, which I am finding a little concerning, but plan to ask the Midwife about at my appointment tomorrow. I have a feeling this baby might come early, which probably means he'll be two weeks late, now I've said that!
The thing with already having three children is you just don't have time to stop and think. I still have work to do, school and gymnastics runs to do, homework to fit in, food to cook. There really isn't much spare time to sit back and appreciate being pregnant or think about how our lives are going to change very soon.
We're still in a bit of house chaos too, parts of the loft are unpainted and the baby's room is full of the contents of the loft piled up. Every week we say we're going to clear it all out, I've even picked a paint colour for the walls, but something always gets in the way.
I have ordered some bits from Boots which makes me feel slightly more organised, including waterproof mats ( I'm still hoping for a home birth ) and some nappies ( on buy one get one free ).
Boots Mini Club kindly sent me this super cute outfit, which has made me quite excited about having a boy! We STILL don't have a plan for a name, do you have any ideas for me? Something not too obscure, definitely not very common and a bit cool?
The camera is my treat to myself for finishing a huge piece of work, although I have yet to try it.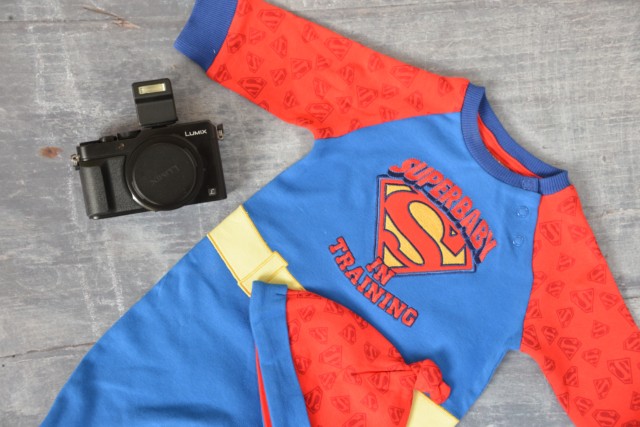 If you're getting organised for a new baby or have a baby, you might be interested in these great offers from Boots too! I will definitely be checking out the clothing range again.
Week 2 (8-14 Feb): 300 extra Advantage Card Points when you buy SMA PRO Follow-On Milk 6+ Months 800g
Week 3 (15-21 Feb): Free single wipes pack when you buy Bepanthen 30g Nappy Rash Ointment, £3.39.
Week 4 (22-28 Feb): Only £1 for Pampers New baby sensitive single wipes.
Plus from weeks 1-3 you can buy one get second half price on mini club baby clothing++
If you can think of any must-have baby items I should buy this time round, please let me know in the comments.